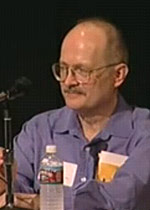 Vernor Vinge was interviewed, last month, by Locus Magazine, where he laments the difficulty of near future fiction, and then gives up a few hints about a sequel to Fire Upon the Deep, which he says:
"…takes place on the Tines' world about ten years after AFUD ends. There are many of the same characters, though some of the refugee children are now adults. The super hyper bad guys are still way out in space, rushing as fast as they can rush (in their sublight way) to reach the Tines' world. And then there are the Tines, which for me (and I think for most readers) were the most attractive part of AFUD. (Though I've run into some readers who preferred the Zones stuff, in terms of emotional attraction and novelty, the Tines are the winners.) The nature of Tinish collective intelligence interacts with practically every idiom and cliché. Things like 'I'm a little bit hungry' or 'Why don't you let your conscience go for a walk?' all take on new meaning. Of course, this can also be a problem. I think Samuel R. Delany has pointed out that literalized metaphors put a constraint on science fiction that is not so common in other forms. We science-fiction writers also want to use, and have to use, 'real' metaphors, so we have to write in such a way that the reader can distinguish whether we're using a phrase in the conventional way or if its literalization is what's intended."
Oh, and about that near-future stuff? According to Vinge, Rainbows End, "cries out for a sequel", but may still be a decade away.