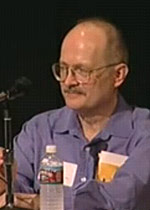 Vernor Vinge was interviewed, last month, by Locus Magazine, where he laments the difficulty of near future fiction, and then gives up a few hints about a sequel to Fire Upon the Deep, which he says:
"…takes place on the Tines' world about ten years after AFUD ends. There are many of the same characters, though some of the refugee children are now adults. The super hyper bad guys are still way out in space, rushing as fast as they can rush (in their sublight way) to reach the Tines' world. And then there are the Tines, which for me (and I think for most readers) were the most attractive part of AFUD. (Though I've run into some readers who preferred the Zones stuff, in terms of emotional attraction and novelty, the Tines are the winners.) The nature of Tinish collective intelligence interacts with practically every idiom and cliché. Things like 'I'm a little bit hungry' or 'Why don't you let your conscience go for a walk?' all take on new meaning. Of course, this can also be a problem. I think Samuel R. Delany has pointed out that literalized metaphors put a constraint on science fiction that is not so common in other forms. We science-fiction writers also want to use, and have to use, 'real' metaphors, so we have to write in such a way that the reader can distinguish whether we're using a phrase in the conventional way or if its literalization is what's intended."
Oh, and about that near-future stuff? According to Vinge, Rainbows End, "cries out for a sequel", but may still be a decade away.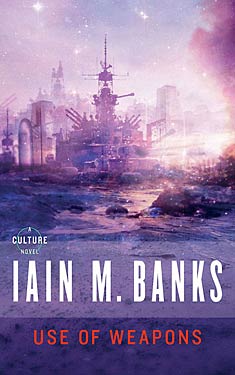 Sure, we want you to buy this book from our Amazon store, but sometimes the competition is so good, that we have to give props.  Orbit is offering a different e-book every month for one dollar, each.  In February, it will be Use of Weapons, the 1991 Clarke and BSFA nominee by Iain M. Banks.  There's your chance to snag two more squares in your award book collection.
Of course, if you like ebooks and want to save some cash, WWEnd has a few for $0, in our Project Gutenburg ebook page.  The 24 authors represented include 14 award winners from our database, including such luminaries as Poul Anderson, Marion Zimmer Bradley, Cory Doctorow, and Kurt Vonnegut.
Since I travel so much, and rarely stay in the same city more than a year or two, I've been investing in e-books for a while, now.  Hey, I don't have to pack as many books when I move, and now I can carry large portions of my library in my pocket, when I fly.  These ebooks are readable by any reader (I have two Sony Readers, but I currently use the Amazon Kindle for its built in browser and e-store), and can even be imported in to many smartphones.

The nominees for the 2009 British Science Fiction Association Award have been announced:
Flood by Stephen Baxter
The Gone-Away World by Nick Harkaway
The Night Sessions by Ken MacLeod
Anathem by Neal Stephenson
Check 'em out on the BSFA page.
It seems everyone's dream is coming true. First, we find out that Ender's Game, after a 24 year wait, is getting a true sequel. Now, another 1980′s classic, Nebula and Locus winner, Cyteen, is getting a long awaited follow up. CJ Cherryh is a superstar on the WWEnd database, ranking #6 on our all-time winningest authors list, racking up a whopping 24 award nominations with 18 different books. She kept busy with all those books, but a sequel to Cyteen was what we kept eagerly waiting to read.
The new book, called Regenesis, can be found in our Amazon store. If you read it, please email us your opinion. We expect to see it in our database when it gets nominated for something (as will surely be the case) next year, and we'd love to have your reviews to publish when it happens.
I haven't been this excited since Stephen R Donaldson finally ended his decades long Thomas Covenant hiatus with Runes of the Earth.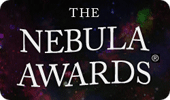 The SFWA announced the candidates for the Nebula Awards, ceremony to be held April 24-26 at UCLA (alongside the Festival of Books). This first round of nominees will be shortened before the actual ceremony, and when it is whittled down further, we'll add the books to the list. For now, the candidates for nomination are:
Abraham, Daniel: A Betrayal in Winter (Tor, July 2007)
Barzak, Chris: One for Sorrow (Bantam, September 2007)
Bull, Emma: Territory (Tor, July 2007)
Doctorow, Cory: Little Brother (Tor, April 08)
Goonan, Kathleen Ann: In War Times (Tor, May 07)
Le Guin, Ursula K.: Powers (Harcourt Children's Books, September 2007)
McDevitt, Jack: Cauldron (Ace, November 2007)
McDonald, Ian: Brasyl (Pyr, May 2007)
Pratchett, Terry: Making Money (Harper/Collins, Septempber 2007)
Rothfuss, Patrick: The Name of the Wind (DAW, April 2007)

It is Hugo nominating time again. If you would like to participate in this year's nomination process, you'll need to become a suporting or attending member of Anticipation, which will host the 2009 Worldcon in Canada. You'll also be able to vote on the 2011 Worldcon location (personally, I hope you vote for Seattle). Once a member, you can nominate up to five works in each category, so get to work!
The big news, however, is the new Best Graphic Story category. Geezers like me might call it the "comic book" category, but I know you afficianados would correct me. Since the Hugo is not technically a science fiction award (fantasy novels also qualify), I wonder how loose the eligibility requirements would be for this one. Is it enough that a work is drawn, or must it be otherworldly? Could Batman receive an award? What about a classy title that isn't techy or fantastic at all, like Ghost World? Me, I'm rooting for the great one: Asterix!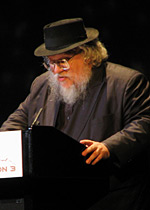 If you can get to Colrado Springs this weekend, you have a chance to meet several sci-fi legends at the 6th annual COSine science fiction festival, January 23-25. Several award winning authors from the WWEnd database will be present, including:
George RR Martin, a three-time Locus Fantasy Award winner, and an 18 time nominee for virtually every award in our database, will be the guest of honor. You can catch him on Friday at 3:00 when he'll be part of a panel on science fiction literature with Connie Willis and Mem Morman, and then at the opening ceremonies at 7PM with Ted Monogue. Both Mr. Martin and Ms. Willis will be around pretty much all day on Saturday and Sunday.
Wil McCarthy, a Phillip K Dick and double Nebula nominee, will also be present on Sunday, with appearances at 10 and 2.
Check out the full schedule for these authors and many other guests. We'd suggest a Sunday ticket, if you want to meet all three award winners/nominees (it's only $10 on that day), but you can hang out all weekend for $45. By the way, if you snag a pic of Wil McCarhy, we'd like a copy.
If you like near future books, like I do, you'll be interested in Walter Jon Williams' upcoming book, This is Not a Game. We have high expectations for this book, not only because Mr. Williams has been nominated for so many awards (including the Hugo, Phillip K. Dick, Locus Fantasy, and two Nebulas), but also because he is apparently a hard core gamer with some impressive street cred. The same can be said of the main characters of this thriller, that takes the reader into what he sees as the not-so-distant future of gaming.
You'll have to preorder this one, as it doesn't come out until March 24. You may as well read it on the 25th, though, because we're guessing it'll get a nom from somebody, and he might finally win one this time. Think about how cool it would that you already read it before it was a winner. You can check out the latest review (such as it is) at Publisher's Weekly.
In case you weren't convinced by the sexual conquests of the Tri-Lams in Revenge of the Nerds,  io9 has uncovered more proof that it's hip to be square.  In an article mostly about careers that sci-fi authors used to hold, out comes some 1960s porn by Robert Silverberg.  That was, of course, before he snagged his first noms for both the Hugo and Nebula awards for Thorns, in 1968.
Campbell winner, PKD and double-Nebula nominee, Barry N. Maltzberg was apparently dipping his pen in the illicit well, according to the article.
That got us to wondering, how many more pornographic authors might be in the WWEnd database?  I suppose that depends on whether you count Stranger in a Strange Land as porn.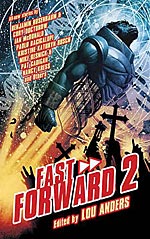 UPDATED: Turns out Endgame was published in 2007, not 2008, and has consequently been replaced with Plague War by Jeff Carlson.
The nominees for the 2009 Philip K. Dick Award have been announced:
Emissaries from the Dead, Adam-Troy Castro (Eos Books)
Fast Forward 2, Lou Anders (ed.) (Pyr)
Judge, Karen Traviss (Eos Books)
Plague War, Jeff Carlson (Ace Books)
Terminal Mind, David Walton (Meadowhawk Press)
Time Machines Repaired While-U-Wait, K. A. Bedford (EDGE Science Fiction and Fantasy Publishing)