The nominees for the 2008 Nebula Award have been announced:
Little Brother – Doctorow, Cory (Tor, Apr08)
Powers – Le Guin, Ursula K. (Harcourt, Sep07)
Cauldron – McDevitt, Jack (Ace, Nov07)
Brasyl – McDonald, Ian (Pyr, May07)
Making Money – Pratchett, Terry (Harper, Sep07)
Superpowers – Schwartz, David J. (Three Rivers Press, Jun08)
Check 'em out on the Nebula page.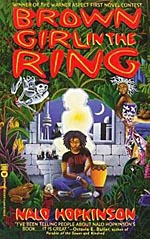 Nalo Hopkinson was interviewed by the folks at the Nebula Award site, yesterday. Nalo had lots to say about her writing process, and various other projects she has going on. The part that piqued our interest? She has not one, not two, but three new novels in the works:
"I'm working on finishing those three novels; two adult fantasies and one young adult one. First out of the pipe should be Blackheart Man, which is sort of an alternate history fantasy set in the 18th Century in a region something like the Caribbean."
Hopkinson already has four books in our database that have collectively nabbed seven nominations for awards as big as the Hugo and the Nebula, and as brainy as the Philip K. Dick and John W. Campbell awards. All of this puts her easily in the top quintile of Worlds Without End tracked authors. With three more books coming out, might she skyrocket into the top 10%?
I was shocked – shocked! – this week to learn that Tor Books has a blog. Well, not so much shocked that they have a blog as the fact that I didn't know about it…. especially since its URL is www.tor.com. What really surprised me is that the blog isn't exclusively about books (the top post on Sunday was about Battlestar Galacica), and that it is not limited to science fiction.
In fact, the post that caught my eye announced the death of John Updike. This, of course, is big news in the world of any fan of literature (speculative or not), but it was an anecdote at the end of the post that really got my blood boiling. You see, one might get away with talking about John Updike on a site like tor.com, if you referenced some of his more surreal work, like The Centaur, which they did, of course. That, however, buys you no credibility among some literati. What do I mean? Here's the money quote:
"A Harvard professor had said something dismissive about science fiction, and a colleague reminded her that she had taught The Left Hand of Darkness. 'That's true,' she explained patiently, 'but that's not science fiction. It's literature.'"
Oooo…that makes me sooo aaangwy.