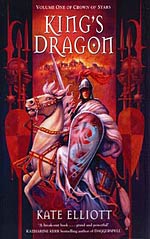 This weekend I made an effort to get some more women authors' works into the database starting with Ursula K. LeGuin's Earthsea Cycle. I added the first 3 books in that series: A Wizard of Earthsea, The Tombs of Atuan and The Farthest Shore . We already had Powers (Nebula winner 2008 ) from her Annals of the Western Shore so I completed the trilogy with Gifts and Voices.
Next up is C.J. Cherryh. Completed The Faded Sun and The Merchanter Novels series with 5 more books, bringing her total to 31 books in the WWEnd database.
Kate Elliott's Kings Dragon , part 1 of the Crown of Stars series was nominated for a Nebula in 1997 . I added in the other 6 books with the really nice re-print covers from Orbit. Be sure to check those out.
Christopher Fowler's Bryant and May Series is popular with the British Fantasy Society. They've nominated 3 out of 7 books in that series including The Victoria Vanishes. These look intriguing.
Mark Chadbourn's third trilogy, The Kingdom of the Serpent, is up to date now. Nice cover art for these as well. Nice to see a fantasy series break from the norm.
The Bridge Trilogy from William Gibson is now complete with the addition of Idoru and All Tomorrow's Parties. They join Virtual Light his Hugo and Locus SF (1994) nominated book.
Last, but not least is Brian Stableford's Emortality Series. Six books in this one including Dark Ararat, Campbell nominated in 2003. This one is kind of strange in that the books were written out of series order. How is one supposed to read this series? The order in which they were written or the series order? I've listed them in series order because that seems to be the way it's done everywhere I've seen.
For those keeping score, that's 33 new books added. Only a billion more to go.