Are the audiences for Science Fiction and Fantasy waning? Not if the attendance at this year's Big Apple Comic Convention in New York City is any indication. Fans packed New York's Pier 54 to see, talk about and/ or buy everything from the latest in comic trends to sci fi movies and TV shows. The convention space given over to Wii games was large, and always crowded. Science Fiction and Fantasy afficionados crowded into Q&A panels, and signing booths. Guests this year included William Shatner, Kate Mulgrew, Brent Spiner, and Nichelle Nicolls. The convention was packed into a 175,000 square foot space in Pier 94 on New York's Hudson River. Over 500 exhibitors represented the comic, science fiction, fantasy, and gaming vendors. Here are a few trends we can report on, from our interviews and product reviews:
1. Sex! More is better! The libidos of science fiction and fantasy fans are apparently asking for, and getting, more naughty bits. Guest William Shatner was eager to note his new comic book, based on his Tekwar series, was sexier than ever. And news of up-coming TV series and movie trajectories, from the Q&A sessions, confirmed that viewers will be served up more sex appeal in the near future. Which is an appropriate sequeway to our next trend:
2. Vampires! Who is not taking advantage of the current Fad of Fangs? There was a Princess Leia with vampiric incisors, and a Wonder Woman Wampyr, and who could sort out the bloodless undead from the average comic book fan, feverishly sorting through the vendor boxes for a needed back issue? The convention crowds flowed beneath posters and banners of vampiric tales, new and old. Vampire chic has never been more popular or more prevalent, as evidenced by the success of screen juggernauts "Twilight" and "True Blood". Are pouting, angst-ridden nubile teens more alluring, or more annoying, when they have fangs? The media and print industries know the answer. Where is Buffy when we need her most…
This year's Big Apple Comic Convention was an entertaining mix of the usual thrills and some new surprises. The buzz, and the total immersion in the genres, again was worth the price of admission.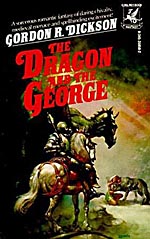 This week's additions are all Gordon R. Dickson. Dickson was a prolific writer of Fantasy and Science Fiction with over 60 novels to his credit. He is perhaps best remembered for his 2 big series: The Dragon Knight and The Childe Cycle (Dorsai) .
The Dragon Knight is a fantasy series of 9 books starting with The Dragon and the George (1977 BFS winner and WFA nominee) and finishing with The Dragon and the Fair Maid of Kent in 2000. This is classic "man from our world is transported to a fantasy land where he becomes a hero" fantasy that somehow escaped my notice all these years. This is just the sort of thing I would have flown through back in the day.
Dickson's Childe Cycle, also referred to as the Dorsai series, is his most famous foray into science fiction. The first book in the series is 1960 Hugo nominee, Dorsai! Dickson followed up with 9 other novels (I'm counting The Final Encyclopedia as 2 novels) plus several novellas and short stories. Dickson passed away in 2001 before he could complete the rest of the series he envisioned and the final Childe volume, Antagonist, was eventually completed by his long-time assistant David W. Wixon in 2007.
Happy reading.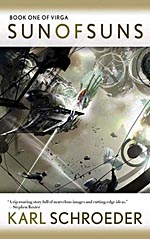 The last few weeks I've added in some serious fantasy series with Xanth, The Wheel of Time and Discworld topping the list.
This week I wanted to show that there are some sizeable SF series out there too. I started off with The Saga of the Skolian Empire by Catherine Asaro. This is a big SF series with 13 books. We already had The Last Hawk (1998 Nebula nominated) and The Quantum Rose (2001 Nebula winner) – books 3 and 6 respectively – so I added in the other 11 books ending with Diamond Star, out just this year.
To top that I went in for an old classic series from Marion Zimmer Bradley, Darkover. Twenty-two books! The Sword of Aldones (1963 Hugo nom), The Heritage of Hastur (1975 Nebula nominee) and 1978 Hugo nominee, The Forbidden Tower, are the most celebrated books of a series that spans 40 years. This is a series that you often hear mentioned when people talk about what got them hooked on SF.
Keeping in the SF vein, I've also finished out several smaller SF series like Peter F. Hamilton's Greg Mandel Trilogy, which includes 1995 BSFA nominee The Nano Flower, and Greg Bear's Anvil of Stars – the sequel to triple nominee The Forge of God (Nebula 1987, Hugo and Locus SF 1988).
Next comes Karl Schroeder's Virga, beginning with Sun of Suns (2007 Campbell nom) and ending with The Sunless Countries published by Tor in 2009. I love the Stephan Martinere cover art for these books and the excerpts sound intriguing. I've added these to my reading list!
Stephen Baxter's Xeelee Sequence is now complete with the 3 middle volumes added between Raft (1992 Clarke nominee) and Vacuum Diagrams, winner of the 1999 Philip K. Dick Award.
That's a lot of sci-fi but don't fret fantasy fans – I didn't forget you. I went old-school again by finishing out Barbara Hambly's Winterlands series with books 2-4 added to 1986 Locus Fantasy nominated Dragonsbane. And finally, to round things out, I give you the last volume of Orson Scott Card's The Tales of Alvin Maker. I somehow managed to miss The Crystal City last go 'round.
That's 46 new books for you to tag, so get busy.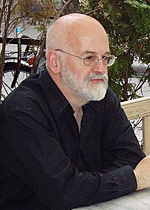 This weekend was all about Terry Pratchett and his enormous Discworld saga. Is there a longer SF/F series out there? Xanth was close at 32 books but Discworld is the current champ weighing in at 37 books!
Eight nominated novels were already in our data base including Hogfather (1997 BFS nom), Night Watch (2003 Locus nom), Going Postal (2005 Locus and Nebula nominated) and Making Money (2008 Locus Fantasy winner and Nebula nominee). The other 29 have been added starting with the first of the series 1983′s The Color of Magic and ending with the lastest installment, Unseen Academicals, out this year. If you're a Discworld fan you've got a lot of new books to tag as read.
You may have noticed that most of the covers for these are reprints from HarperTorch. I loves me a cover art series and these are fun and definitely colorful. This is a series that's been printed in many editions and translations over the years so I was happy to find the anniversary set from HT. If you're a fan of cover art AND Discworld, you're in luck. The Discworld Cover Wiki has an amazing collection of covers for all the books. Go ahead and check it out. It's mind-boggling. Just make sure to come back, OK?