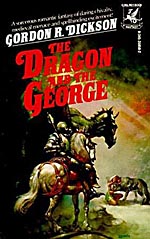 This week's additions are all Gordon R. Dickson. Dickson was a prolific writer of Fantasy and Science Fiction with over 60 novels to his credit. He is perhaps best remembered for his 2 big series: The Dragon Knight and The Childe Cycle (Dorsai) .
The Dragon Knight is a fantasy series of 9 books starting with The Dragon and the George (1977 BFS winner and WFA nominee) and finishing with The Dragon and the Fair Maid of Kent in 2000. This is classic "man from our world is transported to a fantasy land where he becomes a hero" fantasy that somehow escaped my notice all these years. This is just the sort of thing I would have flown through back in the day.
Dickson's Childe Cycle, also referred to as the Dorsai series, is his most famous foray into science fiction. The first book in the series is 1960 Hugo nominee, Dorsai! Dickson followed up with 9 other novels (I'm counting The Final Encyclopedia as 2 novels) plus several novellas and short stories. Dickson passed away in 2001 before he could complete the rest of the series he envisioned and the final Childe volume, Antagonist, was eventually completed by his long-time assistant David W. Wixon in 2007.
Happy reading.