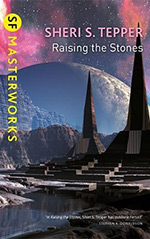 It's been a few weeks since I last posted an update with new books. We've been busy with site updates this last month so I had to put them on hold. This latest addition is a bit thin with only eight new books but it does complete four series.
First up is Sheri S. Tepper's Arbai Trilogy:. I've added Raising the Stones, the middle volume between 1990 Hugo and Locus nominee Grass and 1993 Campbell nom Sideshow.
For Michael Moorcock I added 2 books to complete The Dancers at the End of Time trilogy. An Alien Heat and The End Of All Songs bookend 1976 BFS Winner, The Hollow Lands. I looked high and low for synopsis and excerpts for these with no joy. The older books are such a pain to find info for.
Tanith Lee's Tales from the Flat Earth series is now completed with the addition of three books: Delusion's Master, Delirium's Mistress and Night's Sorceries. Book 1 Night's Master was nominated for the 1979 WFA and book 2, Death's Master, was the 1980 BFS Winner.
Last, but not least, is His Dark Materials by Philip Pullman. I added in the first 2 books of the trilogy: The Golden Compass and The Subtle Knife. The Amber Spyglass was a double nominee in 1997 for the WFA and Locus Fantasy awards.
Until next time… Stay curious my friends. ™