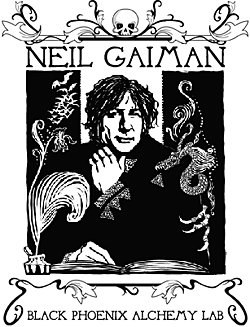 The great thing about fantasy books is that they transport you. They manage to do it in ways that are often more immersive than movies, which have the advantage of sight and sound. For some of us, though, the story isn't quite visceral enough. You haven't been truly transported until you've experienced the sights, sounds, and smells of your favorite characters. If you are one of those types, Black Phoenix Alchemy Lab has something for you. Their own collection of Neil Gaiman scents.
No, they don't actually smell like Neil Gaiman, but one of them smells like Mad Sweeney from American Gods. Apparently, he smells like whiskey and oak. If you'd rather sniff Mr. Ibis, well, you're in luck, they've distilled his essence as well. Want to inhale characters from other books? You can choose from many varieties inspired by the worlds of Stardust, Anansi Boys, and The Graveyard Book.
We're not sure that this is what Shakespeare meant when he said "verse distills your truth", but at least they're doing their best to truly distil verse.
Profits go to the Comic Book Legal Defense Fund.