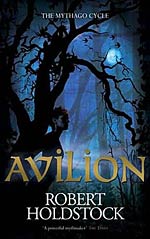 This week has been a bit hectic with the Holidays coming on so we don't have a lot of additions to talk about but what we lack in quantity we make up for in quality.
Robert Holdstock passed away last month unexpectedly at the age of 61. From all accounts he was a genuine and lovely man in life and an excellent writer with a loyal following. There are some nice articles about his life and writings including this one from David Barnett in The Guardian.
Holdstock is perhaps best known for his multiple award-winning Mythago Cycle. The first book, Mythago Wood, won the British Science Fiction Association award in 1984 and the World Fantasy Award in 1985. He followed that up with Lavondyss which also won the BSFA award in 1988. Gate of Ivory, Gate of Horn, book 6 of the series, was nominated for the British Fantasy Society's August Derleth Award in 1999. We've just completed the cycle with the addition of The Bone Forest, The Hollowing, Merlin's Wood and the last volume, Avilion, which came out just this year.
Last week we completed a bunch of trilogies including Gwyneth Jones's Aleutian Trilogy. This week Gwyneth makes another appearance with her Bold As Love Cycle. The first 3 books in the series all had nominations starting with Bold as Love which won the 2002 Arthur C. Clarke Award and also garnered nominations from the BSFA in 2001 and the BFS in 2002. Castles Made of Sand (2002 BSFA nominee) and Midnight Lamp (2003 BSFA and 2004 Clarke nominee), books 2 and 3 respectively, have been joined by 2005′s Band of Gypsies and Rainbow Bridge from 2006.
These two series would make excellent gifts for any SF/F fan you've got on your last minute list… including yourself. Happy reading.
I've been thinking about doing a reading challenge here on WWEnd for some time but just never got around to it. I was just planning to start one for the New Year when I found Mind Voyages. Mind Voyages is a yearlong reading challenge and blog set up by Robin of My Two Blessings that focuses on the Hugo and Nebula award winners and noms. A perfect fit for me and WWEnd members as well, methinks.
The challenge is divided up into several "voyages" of differing lengths and themes. You choose the books you want to read within the loosely defined parameters of each voyage rather than having to read from a pre-determined list. You can set yourself a modest goal like the Moon Voyage, which is to read 6 Hugo winners, or you can go for a bigger challenge like Jupiter which is all the 1990′s winners. Of course you can go for as many voyages as you like throughout the year if you want a bigger challenge.
The savvy reader will find lots of ways to get max value out of the books they choose. Look for the books that overlap voyages like dual Hugo and Nebula winners (two birds, one stone) or pick 2 Philip K. Dick books for your Moon Voyage and knock out the Venus Voyage at the same time. Someone will eventually figure out the least number of books you would have to read to complete all voyages. I'm going for the Moon and will try for Mars as well. Along the way I'll knock out Venus, Mercury and the Slingshot Back to Earth by reading 12 books. Here's my list as it stands:
There are shorter ways to get there I think but many of those books I've already read so I had to dance around a bit to get to this list. The best thing about this challenge is that almost all these books were on my list anyway and I'm still trying to read all the Hugo and Nebula winners so this will bring me closer to that goal as well.
So who's in and what does your list look like?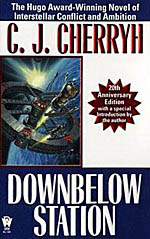 C. J. Cherryh is one of the most accomplished and popular names in the business. As you can see in our database, Ms. Cherryh has earned many plaudits for her work including 18 nominations across the 10 awards we cover here on WWEnd. Downbelow Station won the Hugo Award for Best Novel in 1982, a feat she repeated in 1989 with Cyteen which also won the Locus SF award that same year. Her Fortress Series and 9 volume Foreigner series have garnered many nominations and remain some of her most popular books.
Earlier this week, Ms. Cherryh was kind enough to answer a few questions on behalf of WWEnd readers. Here's what she had to say:
CW: We seem to be moving toward a world where books are changing into e-content, and the old familiar paradigm of author, publisher, bookstore, reader seems to be evolving. With many of your titles available now as e-books (or free downloads, thank you for that!) what do you think this means for the author- end of the food chain?
CJC: We eat better. Right now many publishers have the notion that, short-term, they can cut out the trucks, the warehouse, the printing, and all of that, yet still pay the author 8-10% of cover price—when I can do the same job myself and get 100% of cover price. I'm not even a bad cover artist, I live with a better one, and my brother is one. The publishers need to take a good hard look at this situation and make some meaningful proposals for the survival of New York Publishing as we know it, or something is going to give, and soon.
Not o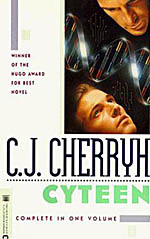 nly that—the oil companies that bought the publishing houses in the 70′s are now thinking they can just shove real science fiction aside and we'll just wilt and fade away. Wrong. We're the very people with the very readership who are most dangerous to their way of doing business.
CW: Are there any non- Science Fiction/Fantasy authors that have influenced your work?
CJC: Publius Vergilius Maro, Conan Doyle, if you can count him, and Jeffrey Farnol.
CW: What great new authors have you discovered recently?
CJC: None recently, but I've been re-reading. Project Gutenberg is a great resource.
CW: Do you have any advice for the new writers coming up through the ranks?
CJC: Get published in paper first, get a readership and THEN go e-book.
CW: Charles Dickens famously arranged objects into exact positions whenever he wrote. Stephen King took a vitamin with tea or water whenever he sat down to write. What would you say is your most interesting writing quirk?
CJC: I write to disaster documentaries on Science and Discovery.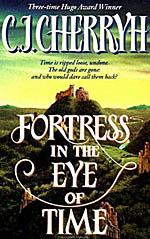 CW: Can you please tell the readers of WWEnd about your latest projects, what is forthcoming, etc.?
CJC: Closed Circle is a joint e-publishing venture with Jane S. Fancher and Lynn Abbey: we are recovering our backlist and bringing it out ourselves, and we may be doing new work specifically for our own publishing venture—as well as continuing traditional paper publishing via our usual publishers.
CW: Lastly, part of what we do at Worlds Without End is track the Science Fiction and Fantasy awards. If you could have your own award, the much-coveted "C.J. Cherryh Award", what would your criteria be?
CJC: Interesting question: I would say innovation, scientific information, accuracy, and literary quality.
Those are the very things that are evidenced in her own work.
We'd like to thank Ms. Cherry again for her time. She's obviously very busy these days with her new publishing venture. We look forward to checking out her Closed Circle work and her other new titles soon.

In past weeks we've been seeing a lot of big series coming into WWEnd with The Grand Tour, Discworld and The Dragon Knight counted among them. This week the magic number is three. Three for trilogy. We've added 22 new books to the WWEnd database completing nine trilogies.
Let's start with The Well-Built City Trilogy by Jeffrey Ford. The Physiognomy won the 1998 World Fantasy Award and to that we've added Memoranda and The Beyond in the reprint editions from Golden Gryphon Press. The cover art for this edition is a superb triptych from artist John Picacio. Very nice indeed.
Spider Robinson and wife Jeanne Robinson bring us The Stardance Trilogy with 1980 Locus SF Nominated Stardance and its 2 sequels Starseed and Starmind.
Gwyneth Jones' Aleutian Trilogy is complete with the addition of Phoenix Café to 1992 Clarke Nominated White Queen and 1994 BSFA and 1995 Clarke nominated North Wind.
Jeff Carlson's Plague Year Trilogy is now complete. We already had the middle volume, 2008 PKD Nom Plague War, to which we added Plague Year and Plague Zone. I'm feeling a bit woozy all of a sudden.
The Broken God, 1994 Clarke Nominee, is the first book of David Zindell's A Requiem for Homo Sapiens. We've added The Wild and War in Heaven, books 2 and 3 respectively.
The Marathon Trilogy by D. Alexander Smith is all in with Marathon and Homecoming added either side of 1988 PKD Nom Rendezvous. Never judge a book by its cover they say. Well these covers are pretty bad ass so be sure to check them out anyway. I love big spaceships.
We've finished out The Jewelfire Trilogy by Freda Warrington with The Sapphire Throne and The Obsidian Tower. They join 2000 BFS Nominated The Amber Citadel.
The Grigori Trilogy by Storm Constantine is made up of Stalking Tender Prey,
1997 BFS Nominated Scenting Hallowed Blood and Stealing Sacred Fire. Fallen angels live among us… interesting.
Last, but not least, we have The Minotaur Trilogy by Thomas Burnett Swann. This trilogy is different from most in that for reasons unknown Mr. Swann wrote the stories backwards. He started with book three 1967 Hugo Nominee Day of the Minotaur, then followed it with book two The Forest of Forever in 1971 and ended with book one Cry Silver Bells in 1977. How's that for confusing?