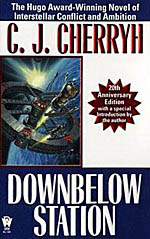 C. J. Cherryh is one of the most accomplished and popular names in the business. As you can see in our database, Ms. Cherryh has earned many plaudits for her work including 18 nominations across the 10 awards we cover here on WWEnd. Downbelow Station won the Hugo Award for Best Novel in 1982, a feat she repeated in 1989 with Cyteen which also won the Locus SF award that same year. Her Fortress Series and 9 volume Foreigner series have garnered many nominations and remain some of her most popular books.
Earlier this week, Ms. Cherryh was kind enough to answer a few questions on behalf of WWEnd readers. Here's what she had to say:
CW: We seem to be moving toward a world where books are changing into e-content, and the old familiar paradigm of author, publisher, bookstore, reader seems to be evolving. With many of your titles available now as e-books (or free downloads, thank you for that!) what do you think this means for the author- end of the food chain?
CJC: We eat better. Right now many publishers have the notion that, short-term, they can cut out the trucks, the warehouse, the printing, and all of that, yet still pay the author 8-10% of cover price—when I can do the same job myself and get 100% of cover price. I'm not even a bad cover artist, I live with a better one, and my brother is one. The publishers need to take a good hard look at this situation and make some meaningful proposals for the survival of New York Publishing as we know it, or something is going to give, and soon.
Not o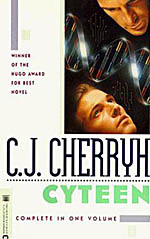 nly that—the oil companies that bought the publishing houses in the 70's are now thinking they can just shove real science fiction aside and we'll just wilt and fade away. Wrong. We're the very people with the very readership who are most dangerous to their way of doing business.
CW: Are there any non- Science Fiction/Fantasy authors that have influenced your work?
CJC: Publius Vergilius Maro, Conan Doyle, if you can count him, and Jeffrey Farnol.
CW: What great new authors have you discovered recently?
CJC: None recently, but I've been re-reading. Project Gutenberg is a great resource.
CW: Do you have any advice for the new writers coming up through the ranks?
CJC: Get published in paper first, get a readership and THEN go e-book.
CW: Charles Dickens famously arranged objects into exact positions whenever he wrote. Stephen King took a vitamin with tea or water whenever he sat down to write. What would you say is your most interesting writing quirk?
CJC: I write to disaster documentaries on Science and Discovery.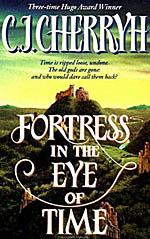 CW: Can you please tell the readers of WWEnd about your latest projects, what is forthcoming, etc.?
CJC: Closed Circle is a joint e-publishing venture with Jane S. Fancher and Lynn Abbey: we are recovering our backlist and bringing it out ourselves, and we may be doing new work specifically for our own publishing venture—as well as continuing traditional paper publishing via our usual publishers.
CW: Lastly, part of what we do at Worlds Without End is track the Science Fiction and Fantasy awards. If you could have your own award, the much-coveted "C.J. Cherryh Award", what would your criteria be?
CJC: Interesting question: I would say innovation, scientific information, accuracy, and literary quality.
Those are the very things that are evidenced in her own work.
We'd like to thank Ms. Cherry again for her time. She's obviously very busy these days with her new publishing venture. We look forward to checking out her Closed Circle work and her other new titles soon.