The SF Masterworks is a series of science fiction books published by Orion through its imprints Millennium and Gollancz. The idea was to bring the best out of print titles back into circulation so they could be enjoyed by new generations of readers. The series features some excellent books and some really great covers – two factors that make them extremely collectible.
Many of the books in the series were already in our database, as winners and nominees for the awards we cover, and the remainder has now been added to bring us to a total of 73. I've also gone in and replaced all the existing book covers with the Masterwork covers to complete the set. We've built a SF Masterworks page to display them all together so you can easily see how many you've read. Sounds like a good reading challenge to me. I've only read 11 from the list so far but I found that I already had 7 more on my reading list.
The folks at Orion really like Philip K. Dick. There are 14 PKD books in the series – far more than any other author – but you'll find many other greats in the list like Alfred Bester, Arthur C. Clarke and Robert Silverberg to name a few. I'm also excited to be adding many new authors including H.G. Wells to our database. The Time Machine and The War of the Worlds, The First Men in the Moon and The Invisible Man all pre-date the awards by many years but remain among the most familiar classics of the genre.
Take a look at the list and let us know what you think. How does this list compare to the awards? How many have you read? I'll be adding more lists going forward to complement and fill in some of the gaps from our awards coverage. For next week I'm already working on the companion Fantasy Masterworks list – to cover both sides of the SF/F aisle. What other lists should we consider?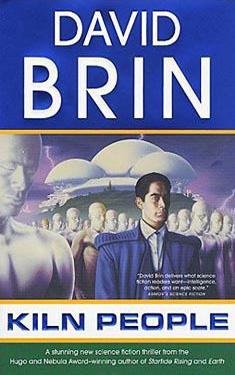 Let me start by saying I really like David Brin. I've read many of his books and have always enjoyed them. Earth was great and I loved The Uplift Saga in particular but as much as I like his other work, I just could not get into Kiln People. There is nothing particularly bad about the writing – some of the characters are interesting, and the story is a serviceable who-dunnit murder mystery – but the world of Kiln People is just a bit silly.
In this future, everyone has an in-home kiln that they use to make life-size robotic clay duplicates of themselves called "dittos". You get up in the morning, lie down on the machine next to a blank that looks just like you and imprint your consciousness on the blank. You send the new you out to mow the grass or to the office to work in your place or on a climbing expedition in the Andes. Whatever you don't want to do yourself, in person, your dit will handle for you.
There are different types of dittos for different tasks and each has a specific color. You make a green dit to do mundane chores, they're cheap to produce but not very bright. For work you'd make an expensive gray as they're more suited for complex thinking. White ones will have sex for you if you can't be bothered to show up in person or if you don't want to risk STD's. If you're a waiter you can make a yellow or two or three and off to work they go to do three times the work for you. The catch is that at the end of the day your dittos "die" so they have to be home before they expire so they can download the day's memories back into your brain and be recycled into a new dit for the next day. You get the benefit of the experience from a safe remove via the downloaded memories and emotions… orgasms and all.
The technology is common as any household appliance so there are millions of clones out and about on their owner's behalf. So many in fact that they outnumber real people on the street. The real people are busy gardening or reading at the beach or enjoying other recreational pursuits.
When I read, I form a mental image of the world I'm reading about. With Kiln People, it was a cartoon world over-run by Gummy Bear people. It was too hard to take seriously and I ended up baling after 140 pages. I only stuck with it that long because I like Brin's other stuff. Plus, I just read Dune, glorious book that it is, and I thought it was the comparison that was killing Kiln People for me. Turns out it was the gummies. For a book that garnered so many award nominations and an 8.5 rating, I was really disappointed.

Our main objective here at Worlds Without End is to bring you the best science fiction and fantasy books the genre has to offer. We've started by providing coverage of the top 10 "best novel" awards in the field. These books are the core of our growing database of over 1,700 books.
But we want to do more than just list the award winning books. We want to introduce you to some of the best authors around and get you to read them. Some are old favorites – giants in the field. Some you've heard of – the rising stars – but maybe never tried. Many you've probably never even heard of – new authors or those that have escaped your notice thus far. That's where we want to help. WWEnd currently has 498 authors for you to explore and by the time award season is over we'll have a couple dozen more.
We're working on updating our author information all the time: writing up bios, finidng author pics and web links etc. like the 40 new videos we just added to the author pages. We've got almost 300 vids on our Author Videos page for you to watch. We're also trying to get some more interviews lined up like the one we did with Rober J. Sawyer. There's a lot of great information on those pages that you can use to find your next read so take a look around. You may just find a new favorite author along the way.
Just for fun: How many of the authors pictured above can you name and how many have you read?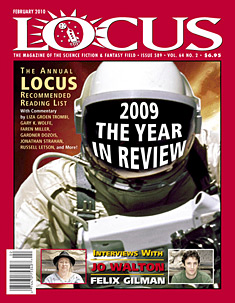 This week I took a break from the usual series updates to do a major addition to WWEnd, namely the Locus Magazine 2009 Recommended Reading List. We've now got all the novels on the Locus list for you to review – 61 new books and over 40 new authors!
In case you're not familiar with the list, it's Locus' annual run down of the books that they think merit your attention from the previous year – and this year's list is a doozy! You'll be seeing many of these books on the short lists for the big awards this year, in fact several are already on the BSFA Short List, so add 'em to your reading list now before awards season starts in earnest.
And speaking of awards, now is the time for you to vote in the Locus Poll. Anyone can vote but subscriber votes count double so if you've been thinking about subscribing, now is a great time to do it. So now, without further ado, the list:
Novels – Science Fiction
Novels – Fantasy
Young Adult Books
First Novels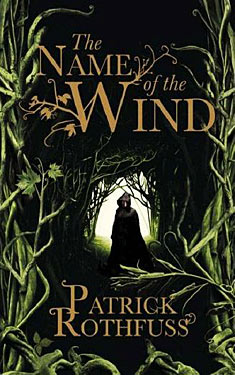 Patrick Rothfuss may be getting best known for the amount of time he takes editing his novels—he spent seven years editing The Name of the Wind, and it has been three years since its publication, with still no solid date set for the sequel—but judging by his first novel, it is time well spent. His is one of those rare fantasy genre novels that focuses strongly on the human element and only a little on the fantasy. For instance, Rothfuss, following in the great tradition begun by Tolkien, provides a map of his fictional continent, complete with cities, kingdoms and oceans; it is to his credit that I never once had to reference it. Magical powers and strange beasts also have their place, but it is subordinate to the memoirs of one Kvothe, the greatest hero still alive.
Kvothe is the storyteller, and he is telling the story of himself. From his young childhood as the son of traveling performers, to his Dickensian days in a monstrous city, to his unlikely admission into The University as a mid-teenager, he is certainly not the kind of man who doubts his own strength. If he were not so well-accomplished, he would be justly called a braggart. Indeed, one of the most fantastic parts of this fantasy novel is how easily he learns and grows. An arcanist falls in with the troupe, and the young narrator quickly learns all of the man's basic lessons and even some that he had never considered as possibilities. Kvothe is a prodigy similar to Ender in Ender's Game or Will in Good Will Hunting, and his quick rise is one of the few disappointments of the story. As a teacher himself, one would expect Rothfuss to be more sympathetic to the hard grunt work required to learn anything worthwhile, but Kvothe just makes it look a little too easy.
While some parts of the story are of higher quality than others, none of it is bad, and none of it is even particularly boring. The quick movement of the first half of the book grinds down when Kvothe joins The University, but that is only because Rothfuss is carefully building up a world of characters and relationships, not to mention the various sciences being taught and learnt. We learn almost nothing of this world's vast history or its varied geography, but by the end of the first novel it feels like we know the world intimately. That is not a mean feat.
Rumor has it that 2010 will finally see the publication of book two, The Wise Man's Fear, and hopefully that is the case. Reading this novel will leave you wanting more, and it will be all you can do to keep from writing nagging comments on Rothfuss' blog.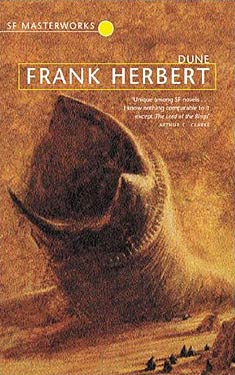 Dune, by Frank Herbert, is a book that's been on my list for ages.  I kept putting it off because there was a movie and a mini series at hand and there are so many other books on my list.  What put me over the edge was the Mind Voyages reading challenge.  I decided that this was the year I would finally read Dune so I could cross it off my list.
Let me start by saying that I really love this book and wish I had read it years ago.  Going in I was concerned I would be let down after all this time and all the hype.  Dune is on top of just about every "best of" list I've ever seen and people would boggle when I told them I hadn't read it yet.   I was expecting something amazing and in the back of my head I thought it would end up being a let down.
As it turned out my concerns were unfounded.  I love all the detail in this story: the Fremen culture, the political intrigue in the Empire, the Arrakis ecology, the Bene Gesserit manipulations and on and on. Dune is an excellent example of world building.  I find it nigh impossible to separate the book from the movie so it was great to see some characters I knew from the movie fleshed out.  The film version relegated some great characters to the side line.  My familiarity with the movie had me seeing Kyle, Jurgen, Patrick, Sting and all in my head as I was reading which turned out to enhance my enjoyment a great deal.
I understand why so many fans of the book don't like the movie but there are some scenes in the movie that turned out to be better than what was in the book.  The Water of Life scene in particular. In the book Paul goes off by himself to drink the water and falls into a coma for weeks.  Not very cinematic, or indeed dramatic, at all and frankly a bit of a let down. Give me the awesome "Shai-Hulud Salute" over "Muad 'Dib unconscious in the cupboard" any day.  The movie did sacrifice a lot as is the case with most movie adaptations but the feel was right.  The richness of a layered story like Dune gets lost in translation.  I've grown to accept the trade off as the price you pay to see this kind of stuff on the silver screen but I have been wondering what David Lynch could have done with Dune had it gotten the LOTR treatment.  Three films back to back to back to tell the story in full?  That would have been amazing.
The book fully deserves the accolades that have been heaped on it.  Indeed, I'll be able to add my voice to the chorus now but best of all, I can take my turn to stare with incredulity and gasp "You've never read Dune?!" when some poor soul admits the flaw.  I just have to find someone who hasn't read it.  The Sleeper has awakened.