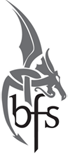 The British Fantasy Society released it's long list of books recommended for the 2010 award. Ninety-five books made the list which is the basis for the short list voting that starts in June. The winner will be announced at FantasyCon 2010 which takes place September 17-19.
I've linked the books we've got in our database already (too few!) and I'll be adding in the rest (too many!) over the course of the week, same as last time. There are a ton of new authors in this list that are new to WWEnd as well so it may be next week before I'm finished. Wish me luck.
So, what looks good to you? Have you read any of these that you would recommend?
Update – April 12: Done!