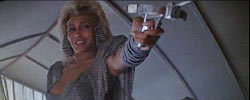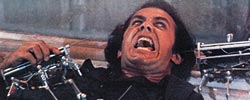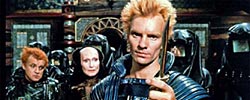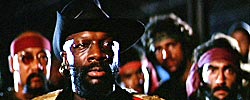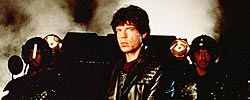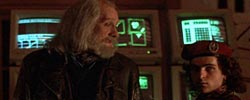 You may remember that a few weeks back I examined the influence of Kim Milford and Laserblast, science fiction's version of Reefer Madness.
This week, we're going to consider a different kind of reefer madness: namely, the use of pop musicians as actors in science fiction films.
Milford's star-crossed career (one-time lead singer of the Jeff Beck Group, as well as front man for Moon, a 1970s rock outfit) got me to wondering: What other ill-advised cross-pollinations have taken place between popular music and science fiction film?
I'm not sure what's the deal, but for some reason it seems that directors like to cast rock 'n' rollers in science fiction films. And I don't just mean cameos, which in themselves are frankly pretty annoying.
(Aren't cameos just a distraction that says, "Hey, don't forget you're only watching a movie and here's a famous person we roped in to pull you out of the story!" As if someone – i.e. the director – was trying to leverage his way into a Hollywood party via stunt casting. Either that or it's a goofy studio trick to get butts in seats.)
We decided to poll our readers to see what you think. So here we are, with a quest to discover the 10 most unnecessary rock 'n' roll crossovers into science fiction.
Here's the skinny. Listed below are the names of popular musicians and the films they've appeared in. Rather than give you our top 10, we figured we'd give you a list and you can decide for yourself which are the 10 that were the most unnecessary.
We limited our list to actual roles. Meaning no cameos, which generally range from the silly (Huey Lewis in Back to the Future) to the pointless (Ministry in A.I.). We also didn't include any actors who later tried and failed to become popular musicians (so no, Spock Sings and Keanu's Dogstar didn't qualify their thespians for the list).
Also, if we missed any candidates, feel free to add 'em to your list.
So here are the good, the bad, and the ridiculous. Happy voting.
From the list below, choose your top ten most unnecessary rock 'n' roll crossovers into science fiction:
Adam Ant / Cyber Bandits (1995)
Annette Funicello / Dr. Goldfoot and the Bikini Machine (1965)
Annette Funicello / The Monkey's Uncle (1965)
Billy Idol / Heavy Metal 2000 (2000)
Common / Terminator Salvation (2009)
David Bowie / The Man Who Fell to Earth (1976)
David Johansen / Freejack (1992)
Debbie Harry / Videodrome (1983)
Dweezil Zappa / The Running Man (1987)
Flea / Back to the Future II (1989)
Flea / Back to the Future III (1990)
Frankie Avalon / Dr. Goldfoot and the Bikini Machine (1965)
Frankie Avalon / Voyage to the Bottom of the Sea (1961)
Gene Simmons / Runaway (1984)
Grace Jones / Cyber Bandits (1995)
Harry Connick Jr. / Independence Day (1996)
Harry Connick Jr. / The Iron Giant (1999)
Henry Rollins / Johnny Mnemonic (1995)
Huey Lewis / Sphere (1998)
Ian Dury / Judge Dredd (1995)
Ice Cube / Ghosts of Mars (2001)
Ice-T / Johnny Mnemonic (1995)
Ice-T / Tank Girl (1995)
Iggy Pop / Hardware (1990)
Iggy Pop / Tank Girl (1995)
Isaac Hayes / Dream Warrior (2003)
Isaac Hayes / Escape From New York (1981)
Isaac Hayes / Oblivion (1994)
Isaac Hayes / Oblivion 2: Backlash (1996)
Jamie Foxx / Stealth (2005)
Janet Jackson / The Nutty Professor 2: The Klumps (2000)
Jennifer Lopez / The Cell (2000)
Jerry Garcia / Heartbeeps (1981)
Kris Kristofferson / Millenium (1989)
Kris Kristofferson / Planet of the Apes (2001)
LL Cool J / Deep Blue Sea (1999)
LL Cool J / Rollerball (2002)
Ludacris / Gamer (2009)
Mark Wahlberg / The Happening (2008)
Mark Wahlberg / Planet of the Apes (2001)
Martin Kemp / Cyber Bandits (1995)
Michael Des Barre / Nightflyers (1987)
Mick Fleetwood / The Running Man (1987)
Mick Jagger / Freejack (1992)
Mos Def / The Hitchhiker's Guide to the Galaxy (2005)
Pat Boone / Journey to the Center of the Earth (1959)
Queen Latifah / Sphere (1998)
Ruben Blades / Predator 2 (1990)
RZA / Repo Men (2010)
Sting / The Bride (1985)
Sting / Dune (1984)
Tiffany / Jetsons: The Movie (1990)
Tina Turner / Mad Max Beyond Thunderdome (1985)
Toni Basil / Village of the Giants (1965)
Tricky / The Fifth Element (1997)
Tyrese Gibson / Death Race (2008)
Tyrese Gibson / Transformers (2007)
Tyrese Gibson / Transformers: Revenge of the Fallen (2009)
Vanity / Neon City (1991)
Will I Am / X-Men Origins: Wolverine (2009)
Will Smith / I Am Legend (2007)
Will Smith / I, Robot (2004)
Will Smith / Independence Day (1996)
Will Smith / Men in Black (1997)
Will Smith / Men in Black II (2002)
Will Smith / Wild Wild West (1999)
Willie Nelson / Starlight (1996)
Xzibit / The X Files: I Want to Believe (2008)