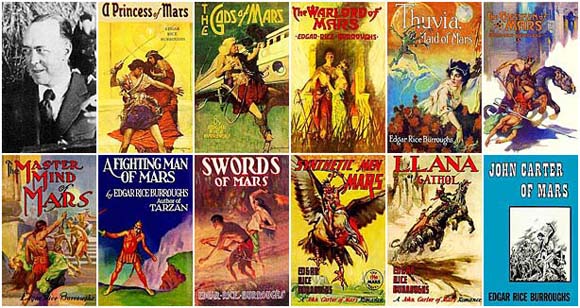 The Barsoom Series by Edgar Rice Burroughs is one of the most famed science fiction series ever written and we've just added it to the Worlds Without End database.
Barsoom has been around for many years and there are dozens of different printings available online and at your local independent bookstore. The covers shown here are the first edition hardcovers which are highly collectible and can be very expensive. More recent editions can be had for cheap and in a myriad of different cover styles including some illustrated by the late great Frank Frazetta.
The first five books in the series are out of copyright in the US and are freely available online via Project Gutenberg, johncarterofmars.ca and many other eBook outlets. Books six through ten are public domain in Australia and are available from Project Gutenberg Australia. You can also read the entire series online for free from Barsoomian.net. The final book, John Carter of Mars, is an omnibus of two shorter works, John Carter and the Giants of Mars (1941) and John Carter and The Skeleton Men of Jupiter (1943), so they can be read online for free but only as separate works. Neat little side step, that.
You can also do like I'm doing and get your Barsoom via email or RSS feed from DailyLit.com.They'll send you the entire A Princess of Mars, one chapter at a time on your own schedule, so you can start your week off with a little classic SF waiting in your inbox. It's the modern equivalent of the serialized original publication. That just feels right for some reason. Happy reading.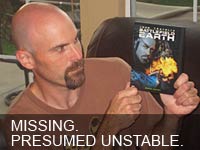 EDITOR'S NOTE: The following was sent to us through an anonymous email account. We have attempted to contact Paul to ensure his well being, but so far we have failed to reach him. If you know of his whereabouts, please contact the proper authorities before he harms himself.
---
As you may or may not remember, I committed to watching Battlefield Earth from start to finish in an attempt to raise funds for the Worlds Without End tribute fund for St. Jude Children's Research Hospital.
To follow is my account of the viewing.  So here we go…
First impression: It is the Year 3000. Movies no longer include credits. They don't want you to know who made this picture.
Two minutes in: A bunch of cave people in a post-apocalyptic setting. I think they're outtakes from either Clan of the Cave Bear or The Flintstones in Viva Rock Vegas. Not sure which.
We're to understand humanity is an endangered species in the future. The real endangered species are the agents who got their stars to agree to make this picture.
Three minutes in: First instance of melodrama, as our hero Goodboy learns of his father's death. The old man had it easy. I've got two hours to go.

15 minutes in: Humans, captured by the alien bad guys, are forced to wear nose plugs. I assume it's due to the noxious odors of the script being consulted offstage. Do they have something to plug my eyes?
I'm suddenly reminded of Vinnie Barbarino, circa 1975: "Up your nose with a rubber hose."
Two minutes later, Barbarino himself appears for the first time in all his glorious Travoltage™. Codpiece. Kiss boots. Klingon makeup. Villainous stare. Hyena laugh. Greatness.
19 minutes in: Slow motion angry prison shower. Where's Leon Isaac "Too Sweet" Kennedy?
28 minutes in: Human prisoners in a zoo are fed some kind of food paste via firehoses. Several of the adult males actually fight to see who gets to eat first. Please. Let me starve to death.
33 minutes in: Alien bad guys get mani-pedis. A long fingered alien babe rubs the old fat alien guy's head. Talk about women's suffrage.
43 minutes in: Goodboy and buddies, having been allowed to escape, make their way to the wilderness of Denver. Among the highlights of their trip: they catch and eat an uncooked rat. Zagat Denver lodges massive internet protest.
48 minutes in: Alien hologram apologizes to Goodboy. But where is the apology to me?

51 minutes in: Goodboy draws pictures on the prison floor, trying to explain the movie plot to the rest of the cast. Lots of blank stares.
At what point did this stop being a movie and start being a Phish concert?
54 minutes in: Vinnie Barbarino force feeds a dead rat to Goodboy. Watching this I can't help but empathize. I too am being force fed a dead rat
63 minutes in: A cave guy gets his head blown off. Lucky. I wish someone would blow my head off.
72 minutes in: My teeth. I can't feel my teeth.
79 minutes in: Cave men discover cache of unused USAF fighters and a nuclear device at abandoned Ft. Hood complex.
My seven year old daughter joins the viewing. She says, "They all look like a bunch of hobos." I wonder, "Why are the hobos playing with a nuclear device?"
I shoo her away. "Save yourself!"
83 minutes in: Outer body experience: Feeling strange. I realize I'm not alone.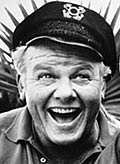 An apparition of The Skipper from Gilligan's Island appears to me, telling me I need to purge my system. Keeps calling me "Little Buddy." Makes me nervous.
95 minutes in: Epic battle between aliens and cavemen. The Caveman Air Force arrives in USAF Harriers. Aerial dogfight ensues.
Let's see. Illiterate and lacking even a rudimentary education, nonetheless the cave dwelling hair metal aficionados master advanced aviation.
Sure, I'll buy that.
107 minutes in: I don't want to give away the ending, but several of the key caveman heroes go kamikaze and commit suicide to save their friends – or their careers. Lone caveman, armed with a nuclear device, blows up planet Psychlo.
119 minutes in: I'm going to watch it again.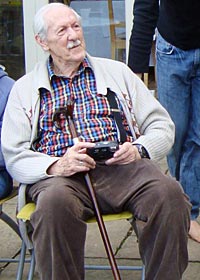 Tim Aldiss, son of famed SF Grandmaster Brian Aldiss, wrote to WWEnd today asking if we would help spread the word about a project he and his siblings are working on to celebrate Brian Aldiss' 85th birthday. Here's what Tim had to say about the project and how you can get involved.
---
Despite having recently missed out on the Lost Man Booker Prize award, Brian Aldiss has something else to celebrate this year – he turns 85.
I am his second son Tim and I have been invited to contribute to the great Worlds Without End blog to say a little about my father and to tell you of a project that my siblings and I have set up in honour of his birthday this August.
Despite his mature years dad still has all his faculties. He lives independently in Old Headington, Oxford, and still puts pen to paper and outputs his unique brand of creative writing. In fact it has been hard to persuade him to take his foot of the gas and relax more in his mature years. Nevertheless our family and that wide circle of friends and acquaintances that he still keeps contact with are party to a very special view on the world, and a unique vision that is still crystal clear.
Growing up with such an amazing visionary was a great excitement. My formulative years coincided with Dad's 8 year creation of the Helliconia trilogy. There were relief maps, and models, globes, and planet registration forms, and the whole family came along for the odd imaginary ride on a fagor! But it was our many trips to Science Fiction conventions that particularly captured my imagination as a boy growing up.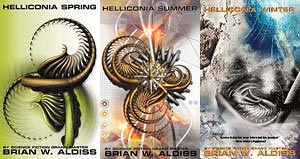 I now reside in Brighton, on the south coast of the UK, and it was the 37th World Science Fiction Convention that brought me to Brighton for the first time. I remember my stay in the then Metropole Hotel on the seafront well. I met so many of the greats – Arthur C Clarke, JG Ballard et al. I've still got Christopher Reeve's signature! I saw Hawkind play live! (actually that was the 45th Worldcon some years later at the Brighton Centre). They were heady days staying in the guest of honour suite, and being too young to fully appreciate the amazing fancy dress parades that happened back then!
There are so many amazing memories to share and re-live, and this presented a dilemma when the family recently got together at Easter and discussed Dad's pending 85th birthday celebrations. What we decided is that we wanted to try and do something that hadn't been done before. Brian's late wife, my mother Margaret, organised a publication for him on his seventy fifth entitled A is For Brian, and there is no way we were going to be able to compete with her amazing venture. So we decided to try and reach out to new readers of his work – those who have recently discovered him – and ask them how they find his visionary writing, and whether they would like to contribute comments.
We have set up a Facebook page to facilitate this. All comments left will be collated and projected at a gallery where we are showing a collection of Brian's artworks in Oxford for the week of his birthday in August. Take a look, and if you have anything you'd like to share (whether you are a new reader, or an old one) please do feel free to contribute and spread the word.
Happy Birthday Grand Master
Tim Aldiss
http://www.facebook.com/group.php?gid=120586967951630&ref=ts
---
Thanks, Tim, for letting us in on the party and thank you Brian for so many great stories.
So, if you've ever read Brian Aldiss take a minute to check out the site Tim has set up and share your experience with the Aldiss family. Help us spread the word by passing this along to your friends.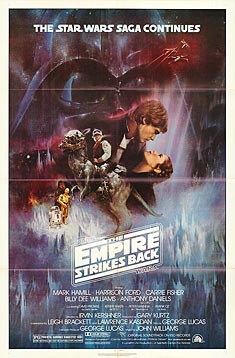 There was a lot of bad juju going down on this date 30 years ago today.
A guy got his hand chopped off. By his own dad. The same dad who froze his best friend alive. The same best friend who macked down on handless guy's girlfriend. The same girlfriend who would later turn out to be handless guy's sister.
We're not talking about the Maury Povich show.
We're talking about the release of Star Wars Episode V: The Empire Strikes Back on this date in 1980. It is for many fans, hands down, the best of the six Star Wars films.
I remember sitting in a Perkins restaurant in upstate New York with Mama Thies, Papa Thies and Big Brother Thies, post-Empire screening. The Family Thies, like many families of the era, was furiously debating the great question that would perplex and titillate the entire world for the next three years: was he or wasn't he Luke's father?
If I remember correctly, the scorecard for the Family Thies debate was Papa Thies ("Yes, he is Luke's father"); Mama Thies ("No, he's a liar trying to get into Luke's head"); and Big Brother Thies ("Can I have more bacon, please?").
Me? Well, to tell the truth, during that fateful meal I was more preoccupied with the whole chopped off hand thing. And frozen Solo. I mean, I was 10, those were my two favorite action figures, and they both got their butts seriously kicked. I thought the world was coming to an end.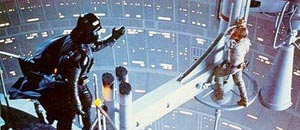 Empire single-handedly assured that big budget science fiction in the modern era could be meaningful and challenging, without losing its grip on the razzle and the dazzle. Plus, you had to wait three long years to find out the answer. None of this, "We'll pump out the sequel in six months, with the DVD to follow two months afterwards, assuming the Internet hasn't already spoiled the surprise for you."
In honor of its release, I had planned to do a feature on 10 Famous Carpal Tunnel Procedures in Science Fiction (you know, because Luke got his hand cut off, yadda yadda).
But I got scooped.
Earlier this month, the guys at Den of Geek released a list of 10 movie characters who didn't need hands, to celebrate the release of the new Nightmare on Elm Street movie.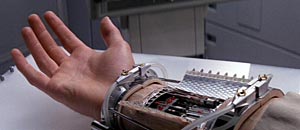 This was a bummer, as my list was going to feature the David Carradine character "Frankenstein" from Death Race 2000 (whose right hand was a grenade. Get it? Hand grenade!), as well as "C. A. Rotwang" from Metropolis. You know, 1927, Fritz Lang, robot lady movie. The mad scientist in that film had a mechanical right hand. Going way old school on that pick.
I was also going to include Michael Ironside as "Overdog" from 1983's Spacehunter, but I have learned there's this whole subculture devoted to Michael Ironside films where he loses his hand. Bravo! I'm not sure if that's really cool, or pathological.
Well, of course with these developments I couldn't proceed with the Carpal Tunnel list. What to do?
I started to ruminate over Empire Strikes Back. What, if anything, about this movie hasn't been scrutinized to death? What small aspect of its overwhelming cultural influence hasn't been explored and appreciated?
Then it hit me. The answer was pretty obvious.
Lando Calrissian's mustache.
It is a mustache worthy of entry into the Barney Miller Hall of Fame of Mustaches. Sleek and elegant, it literally purrs the words "space pirate". This led me to consider what other Dr. Philtastic mustaches have been proudly displayed in science fiction. And so we give you, on this 30th anniversary of Empire Strikes Back:
The 30 Greatest Mustaches in Science Fiction: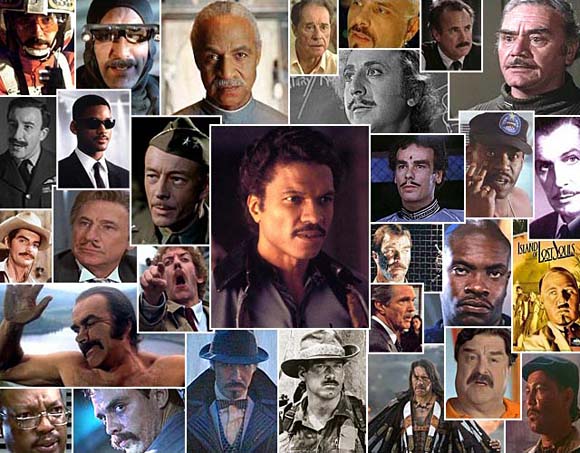 Don Ameche as Art Selwyn / Cocoon (1985)
Richard Benjamin as Peter Martin / Westworld (1973)
Michael Biehn as Lt. Hiram Coffey / The Abyss (1989)
Rubén Blades as Danny Archuleta / Predator 2 (1990)
Ernest Borgnine as Harry Booth / The Black Hole (1979)
Mel Brooks as President Skroob / Spaceballs (1987)
Dabney Coleman as McKittrick / Wargames (1983)
Sean Connery as Zed / Zardoz (1974)
Keith David as Childs / The Thing (1982)
Robert De Niro as Archibald 'Harry' Tuttle / Brazil (1985)
Ron Glass as Shepherd Book / Serenity (2005)
John Goodman as Pops Racer / Speed Racer (2008)
Garrick Hagon as Biggs Darklighter /  Star Wars: A New Hope (1977)
Charles Laughton as Dr. Moreau / Island of Lost Souls (1932)
Al Matthews as Sgt. Apone / Aliens (1986)
Edward James Olmos as Gaff / Blade Runner (1982)
Joe Pantoliano as Cypher / The Matrix (1999)
Vincent Price as Dr. Robert Morgan / The Last Man on Earth (1964)
Tom Selleck as Sgt. Jack R. Ramsay / Runaway (1984)
Peter Sellers as Group Captain Lionel Mandrake / Dr. Strangelove (1964)
Tom Skerritt as David Drumlin / Contact (1997)
Will Smith as Agent J / Men in Black (1997)
Dean Stockwell as Doctor Wellington Yueh / Dune (1984)
Donald Sutherland as Matthew Bennell / Invasion of the Body Snatchers (1978)
Danny Trejo as Machete / Planet Terror (2007)
Les Tremayne as Maj. Gen. Mann / The War of the Worlds (1953)
Jesse Ventura as Blain / Predator (1987)
Gene Wilder as Victor Von Frankenstein / Young Frankenstein (1974)
Billy Dee Williams as Lando Calrissian / Star Wars: The Empire Strikes Back (1980)
Paul Winfield as Lieutenant Ed Traxler / The Terminator (1984)
Happy birthday, Empire.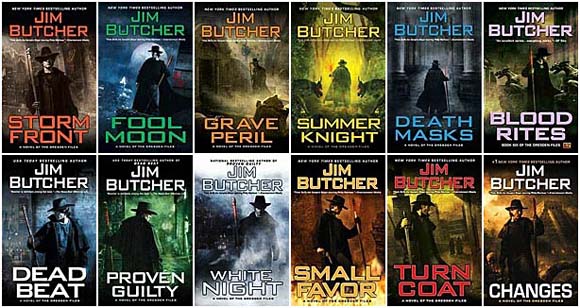 OK, now that just looks cool. I love a great cover series and these are very nice indeed even if they are a bit repetitive. Harry Dresden looks a bit more of a bad-ass on these covers than he did in the TV series but I do kind of miss the hockey stick.
Anyway, I just wanted to point out the we've got the entire Dresden Files series by Jim Butcher up now so all you guys that keep telling me I've got to read these books can go and tag 'em. Storm Front is next on my list.
Also, for you Butcher fans, we've just added a ton of video clips to his author page. If you've never heard him speak you should check these out. He's a very entertaining speaker and he answers a lot of questions about Dresden and his other works.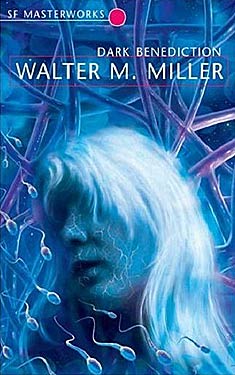 This series reviews the short stories found in Walter Miller's Dark Benediction collection. (Part 1, Part 2)
I, Dreamer
It's a setup disturbing enough to be from the mind of Harlan Ellison: infants are stolen from mothers and their brains are used to operate sophisticated war machines for the conquest of Earth. Bouncing between free indirect style and first person point-of-view, Miller tries to show the inner consciousness of a being who thinks it is an artificial intelligence but is really human. It is a life of anxiety, desire and frustration, as the being known as Clicker is tortured by his "TwoLegs" handler at the merest sign of insubordination. The story is at the same time horrific and touching, as the maybe-reunion at the end is consummated in an act of irreversible destruction.
Dumb Waiter
This is a longer story that feels in some ways like a rough draft for A Canticle for Leibowitz, in theme if not in plot. There has been a war that was fought mostly by means of an artificial intelligence built to run a city and all its mechanized systems. The local city was made uninhabitable not only by the radioactive dusting attack but by "Central," the city's learning system that still keeps police, traffic and energy bills running in perpetuity long after the war is over. Jaywalkers or anyone breaking long-forgotten laws are arrested by self-propelled robotic policemen and tossed in jails with crumbling infrastructures, and handed foodless trays every day until they starve to death. Even rusting bomber planes are sent out every day on missions to drop bombs they no longer possess. The rural population that survived is intent on destroying the machines once and for all, ridding themselves of all technology, but a strange man named Mitch who is inexplicably heading into the city has other plans. While this story isn't as deep as Canticle, it's fascinating to see what amounts to an early draft of Miller's ideas for the novel.
Next time: "Blood Bank"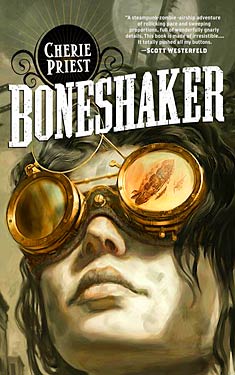 Let me start by saying, I am not a Steampunk aficionado, nor am I well acquainted with the average plots and ambient intentions for that particular sub-genre. But, I do know good fiction. And Boneshaker, by Cherie Priest, (2009 Nebula Award nominee, 2010 Hugo and Locus SF Awards nominatee) is good fiction.
Steampunk, over-simplified, is science fiction Victoriana, or in this case, science fiction set in the Old West. It combines Science Fiction devices and themes with an affection for nineteenth century settings and adds an elusive third element of the macabre, or decadence, or daring do. "Boneshaker" succeeds, as a story, for two reasons. It doesn't over-sell the setting, and it tells a rip-roaring adventure story. I was surprised to find I liked it as much as I did. And like it I did, by crackey.
The setting is an alternate reality Seattle in the 1870′s. The city has been devastated, and transformed, by an industrial accident of epic proportions. The city itself is walled off, and a toxic gas with strange properties ebbs out of the ground on the site of the accident itself. Outside the city, the United States still struggles with the Civil War, and the settlement of the West proceeds haltingly. Around the city, residents have come to terms with the wall, and the gaseous zombie state within it. All save one… one young buckaroo isn't happy home on the range, and goes over the wall (actually, under it) in search of adventure.
His ma reacts like any ma would… lock and load, hit the road, she heads into the walled-off city to find her boy. The story carouses through underground engine rooms and pirate airships and line-'em-up-at-the-bar saloons, picking up speed until, before you know it, you, dear reader, are drooling on the pages like one of the many, many zombies that chase our heroes around the city.
Suffice it to say, if you've never felt the peculiar, absinthe rush-like urge to grab a Steampunk tale, this is a good one to start with. And if you've already got top hats and monocles and claws and fishnet and, um, other things hanging in your closet already, put this one on your list. It's a rootin', tootin', zombie-shootin' good time.
Boneshaker is published by Tor Books, out now in Trade Paperback.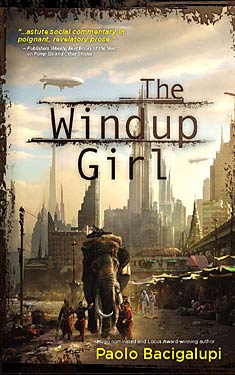 Science Fiction & Fantasy Writers of America, Inc., has announced the Nebula Awards® winners for 2009. For Best Novel the winner is:
The Windup Girl by Paolo Bacigalupi (Night Shade)
Gongrats to Paolo Bacigalupi and the other nominees.
The Love We Share Without Knowing by Christopher Barzak (Bantam)
Flesh and Fire by Laura Anne Gilman (Pocket Books)
The City & The City by China Mieville (Del Rey)
Boneshaker by Cherie Priest (Tor)
Finch by Jeff VanderMeer (Underland Press)
The SFWA site has the complete list of winners for all categories.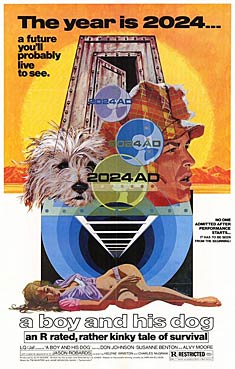 I've been feeling a little down lately.
I attribute it to all this talk these days about the Mayan calendar and the Apocalypse. You know, end of the world, mass extinction, nuclear war. It's a bit of a downer. I figured I would get some lighthearted video to lift my spirits.
Like something with a dog in it. Dogs always make me feel better.
So I'm at the library, vacillating between Turner & Hooch and Air Bud, when I see this film jacket with a young Don Johnson (that's right – Nash Bridges himself) looking like some kind of train conductor. And he's got a lovable, scruffy haired pooch.
The title said it all. A Boy and His Dog.
I say to myself, "For the love of Benji, that's it! I'll see this A Boy and His Dog movie. I like trains. I like dogs. This will make me feel better. It will make me forget about the whole end of the world Apocalypse thing."
Then I get it home. Pop it in. And low and behold…
It's about the freakin' Apocalypse. Who knew? And no trains, either.
If you haven't seen A Boy and His Dog, the premise is pretty simple. There's a boy. He has a dog. They communicate telepathically and spend their days hunting for food and female companionship. Oh yeah, the world has been destroyed by nuclear war, and food and women are in exceedingly short supply.
The first half of the film follows The Don as he and his dog Blood lead a hard-scrabble existence among the burnouts and hippies of the wasteland. Kind of like a Burning Man event, except with fewer deaths, arrests and Land Management citations.
The Don's job is to keep Blood fed. Supposedly Blood can no longer find food on his own, as some kind of tradeoff for telepathic powers. And Blood, in return, is charged with finding young women for The Don's social calendar. Every time a young female is near, Blood's mental sonar pings like he was straight out of Das Boot.
The Don and Blood are at a stag show in the middle of Nowheresville (this was a decade before Tina Turner built her Thunderdome and civilized the place), when Blood's pinger starts pinging. That's exciting news for The Don, who realizes he has an opportunity to make a new friend.

A new friend is right. She's a beautiful young woman who, unknown to The Don, is actually bait planted by the weird people who live underground (I'll get to that in a moment).
Well, some of the local burnout fellas also take a hankerin' to the young lady, so The Don has to fight them off with his best Sergio Leone gunbattle. Of course he wins, because he's The Don, and after some tender moments, the young lady makes her escape.
Well, of course The Don has to go after her. In this case, it means he has to follow her underground.
Blood, wounded during the gunbattle with the local fellas, protests The Don's decision and stays topside.
This sets us up for a major transition. The film's vibe at this point goes from "Grateful Dead" to "Dead Kennedys".
The Don finds himself smack in the midst of a society of mimes and rodeo clowns. Led by the inestimable Jason Robards, everyone wears white face paint and rosy cheeks, and cottons to strange ideas about health care and polygamy.
They also have a lot of picnics, heavily featuring corn on the cob, which I found particularly fascinating.
Nothing says "Apocalypse" like corn on the cob. Except maybe canned tuna. And zombies. (But there's no tuna or zombies in this movie, so corn it is.)
Jason Robards and his two cronies run the show in the underground city (one of the cronies is none other than the great Alvy Moore, who you may remember as "Hank Kimball" in Green Acres. Brilliant casting!).
To enforce their will on the populace, Robards and company employ a Nebraska linebacker named Michael who can crush a man's skull. With his bare hands. Yowsers.
Now you may ask, with the mime makeup and corn on the cob, what makes these underground Midwesterners so hostile? Well, everyone has to wear overalls, for one thing. But also, they're unable to reproduce. They must trap topsiders, such as The Don, and lure them underground to repopulate.
It's not the glamour job you think it is. Trust me.
Think animal husbandry.
When you see it, you'll know.
Obviously, this is not a good situation for The Don. He must escape. Being The Don, it's time for more pistol work. This leads to the ending, which in my book is one of the most shocking and controversial of all time.
I won't spoil it for you, other than to say it doesn't involve corn on the cob.
If there is one lesson about the Apocalypse that I took away from A Boy and His Dog, it's this:  Pack lunch.
---
ONLY TWO WEEKS LEFT! – BATTLEFIELD EARTH CHARITY CHALLENGE!
Worlds Without End created a tribute fund through St. Jude Children's Research Hospital –
Help us reach our charity goal. Make a donation, be my charity sponsor, and I promise I will sit through an entire viewing of
Battlefield Earth
, no matter how painful it gets.
Director Vincenzo Natali talks to io9 about his upcoming film adaptations of William Gibson's Neuromancer and J.G. Ballard's High Rise:
First of all let me say that it's a good thing for Neuromancer that those films [The Matrix and Johnny Mnemonic] exist. It's a good thing that Avatar exists. For a couple reasons — first and foremost, in 1984, I don't even know how people understood Neuromancer when they read it. It was just so far ahead of the curve, that even as a book, I imagine that it was very difficult for people to wrap their heads around it.

Thanks to The Matrix, which obviously was heavily influenced by Neuromancer, a lot of these ideas are now a part of the popular consciousness. So when you make the Neuromancer movie, in whenever it's going to be — 2012, 2011 — you don't have to explain a lot. It's already understood, and then you can get to the really good stuff. Which in my mind is about approaching the post-human world. To me that's what the movie is about.