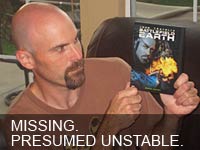 EDITOR'S NOTE: The following was sent to us through an anonymous email account. We have attempted to contact Paul to ensure his well being, but so far we have failed to reach him. If you know of his whereabouts, please contact the proper authorities before he harms himself.
---
As you may or may not remember, I committed to watching Battlefield Earth from start to finish in an attempt to raise funds for the Worlds Without End tribute fund for St. Jude Children's Research Hospital.
To follow is my account of the viewing.  So here we go…
First impression: It is the Year 3000. Movies no longer include credits. They don't want you to know who made this picture.
Two minutes in: A bunch of cave people in a post-apocalyptic setting. I think they're outtakes from either Clan of the Cave Bear or The Flintstones in Viva Rock Vegas. Not sure which.
We're to understand humanity is an endangered species in the future. The real endangered species are the agents who got their stars to agree to make this picture.
Three minutes in: First instance of melodrama, as our hero Goodboy learns of his father's death. The old man had it easy. I've got two hours to go.

15 minutes in: Humans, captured by the alien bad guys, are forced to wear nose plugs. I assume it's due to the noxious odors of the script being consulted offstage. Do they have something to plug my eyes?
I'm suddenly reminded of Vinnie Barbarino, circa 1975: "Up your nose with a rubber hose."
Two minutes later, Barbarino himself appears for the first time in all his glorious Travoltage™. Codpiece. Kiss boots. Klingon makeup. Villainous stare. Hyena laugh. Greatness.
19 minutes in: Slow motion angry prison shower. Where's Leon Isaac "Too Sweet" Kennedy?
28 minutes in: Human prisoners in a zoo are fed some kind of food paste via firehoses. Several of the adult males actually fight to see who gets to eat first. Please. Let me starve to death.
33 minutes in: Alien bad guys get mani-pedis. A long fingered alien babe rubs the old fat alien guy's head. Talk about women's suffrage.
43 minutes in: Goodboy and buddies, having been allowed to escape, make their way to the wilderness of Denver. Among the highlights of their trip: they catch and eat an uncooked rat. Zagat Denver lodges massive internet protest.
48 minutes in: Alien hologram apologizes to Goodboy. But where is the apology to me?

51 minutes in: Goodboy draws pictures on the prison floor, trying to explain the movie plot to the rest of the cast. Lots of blank stares.
At what point did this stop being a movie and start being a Phish concert?
54 minutes in: Vinnie Barbarino force feeds a dead rat to Goodboy. Watching this I can't help but empathize. I too am being force fed a dead rat
63 minutes in: A cave guy gets his head blown off. Lucky. I wish someone would blow my head off.
72 minutes in: My teeth. I can't feel my teeth.
79 minutes in: Cave men discover cache of unused USAF fighters and a nuclear device at abandoned Ft. Hood complex.
My seven year old daughter joins the viewing. She says, "They all look like a bunch of hobos." I wonder, "Why are the hobos playing with a nuclear device?"
I shoo her away. "Save yourself!"
83 minutes in: Outer body experience: Feeling strange. I realize I'm not alone.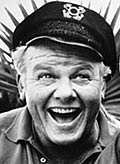 An apparition of The Skipper from Gilligan's Island appears to me, telling me I need to purge my system. Keeps calling me "Little Buddy." Makes me nervous.
95 minutes in: Epic battle between aliens and cavemen. The Caveman Air Force arrives in USAF Harriers. Aerial dogfight ensues.
Let's see. Illiterate and lacking even a rudimentary education, nonetheless the cave dwelling hair metal aficionados master advanced aviation.
Sure, I'll buy that.
107 minutes in: I don't want to give away the ending, but several of the key caveman heroes go kamikaze and commit suicide to save their friends – or their careers. Lone caveman, armed with a nuclear device, blows up planet Psychlo.
119 minutes in: I'm going to watch it again.