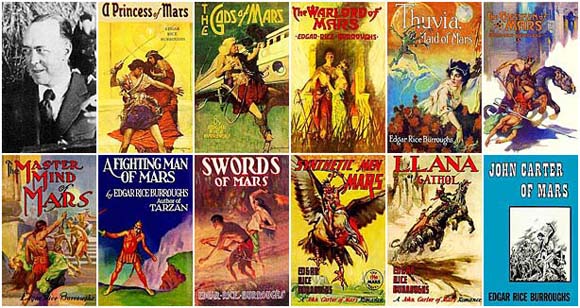 The Barsoom Series by Edgar Rice Burroughs is one of the most famed science fiction series ever written and we've just added it to the Worlds Without End database.
Barsoom has been around for many years and there are dozens of different printings available online and at your local independent bookstore. The covers shown here are the first edition hardcovers which are highly collectible and can be very expensive. More recent editions can be had for cheap and in a myriad of different cover styles including some illustrated by the late great Frank Frazetta.
The first five books in the series are out of copyright in the US and are freely available online via Project Gutenberg, johncarterofmars.ca and many other eBook outlets. Books six through ten are public domain in Australia and are available from Project Gutenberg Australia. You can also read the entire series online for free from Barsoomian.net. The final book, John Carter of Mars, is an omnibus of two shorter works, John Carter and the Giants of Mars (1941) and John Carter and The Skeleton Men of Jupiter (1943), so they can be read online for free but only as separate works. Neat little side step, that.
You can also do like I'm doing and get your Barsoom via email or RSS feed from DailyLit.com.They'll send you the entire A Princess of Mars, one chapter at a time on your own schedule, so you can start your week off with a little classic SF waiting in your inbox. It's the modern equivalent of the serialized original publication. That just feels right for some reason. Happy reading.