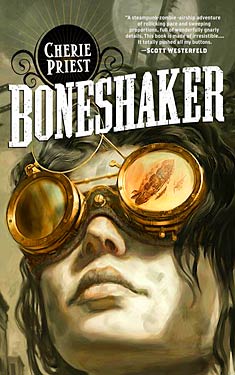 Let me start by saying, I am not a Steampunk aficionado, nor am I well acquainted with the average plots and ambient intentions for that particular sub-genre. But, I do know good fiction. And Boneshaker, by Cherie Priest, (2009 Nebula Award nominee, 2010 Hugo and Locus SF Awards nominatee) is good fiction.
Steampunk, over-simplified, is science fiction Victoriana, or in this case, science fiction set in the Old West. It combines Science Fiction devices and themes with an affection for nineteenth century settings and adds an elusive third element of the macabre, or decadence, or daring do. "Boneshaker" succeeds, as a story, for two reasons. It doesn't over-sell the setting, and it tells a rip-roaring adventure story. I was surprised to find I liked it as much as I did. And like it I did, by crackey.
The setting is an alternate reality Seattle in the 1870′s. The city has been devastated, and transformed, by an industrial accident of epic proportions. The city itself is walled off, and a toxic gas with strange properties ebbs out of the ground on the site of the accident itself. Outside the city, the United States still struggles with the Civil War, and the settlement of the West proceeds haltingly. Around the city, residents have come to terms with the wall, and the gaseous zombie state within it. All save one… one young buckaroo isn't happy home on the range, and goes over the wall (actually, under it) in search of adventure.
His ma reacts like any ma would… lock and load, hit the road, she heads into the walled-off city to find her boy. The story carouses through underground engine rooms and pirate airships and line-'em-up-at-the-bar saloons, picking up speed until, before you know it, you, dear reader, are drooling on the pages like one of the many, many zombies that chase our heroes around the city.
Suffice it to say, if you've never felt the peculiar, absinthe rush-like urge to grab a Steampunk tale, this is a good one to start with. And if you've already got top hats and monocles and claws and fishnet and, um, other things hanging in your closet already, put this one on your list. It's a rootin', tootin', zombie-shootin' good time.
Boneshaker is published by Tor Books, out now in Trade Paperback.