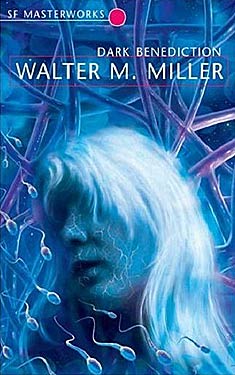 This series reviews the short stories found in Walter Miller's Dark Benediction collection. This is the final installment. (Part 1, Part 2, Part 3, Part 4)
The Darfsteller

Also known as Walter Miller's other Hugo-winning story, "The Darfsteller" presents an episode late in the life of aging theatrical actor Ryan Thornier. Years ago human actors have been bullied off the stage by mechanic automotons called dolls which have been imprinted with the personality patterns of popular actors who have signed their careers away to the Smithfield corporation. Those actors popular enough got a Smithfield contract, and the rest got a stolen dream, but none of them got to stay on stage. Thornier has never given up on artistic integrity, even though he had to make a living as a janitor in one of the robotic theatres, but while he "had stood firm on principle… the years had melted the cold glacier of reality from under the principle." This story is an account of his last attempt to save himself.
Dark Benediction

Much like "Dumb Waiter," this story takes place in a future that is, if not exactly post-apocalyptic, at least a pessimistic take on the human race. Meteors have fallen to earth which contained a parasitical infection that has already spread to one-third of the human race, causing the structures of civilization to collapse. The infected are known as "dermies" because the infection is spread by physical touch of hand-on-skin, and because the infected possess an almost irresistable urge to touch the uninfected. The dermies' skin turns grey, and they are said to experience hallucinations that some think are tied to a restructured nervous system. It's unclear to many if the dermie infection is even harmful, but mass panic has caused all social systems to collapse and has driven the world into a state of perpetual fear. The "benediction" of the title is a play on the religious practice of the laying on of hands to give a blessing, and indicates the belief of the dermies that they are giving a gift to those they infect. (Incidentally, the sperm-like creatures on the book cover above is a representation of the alien parasite from this story.)
The Lineman

Set on the moon in the late twenty-first century, "The Lineman" is a brief look at the harsh life endured by lunar workers in the early stages of extraterrestrial colonization. The twist that gets the story moving—the arrival of a space-bound brothel—reminded me of the old C.S. Lewis story "Ministering Angels," but without the wry sense of humor Lewis brought to the subject. This is one of Miller's weaker stories from this collection, and it never really comes together coherently to make a point.
Vengeance for Nikolai

This story, on the other hand, is a short but frightfully vivid nightmare of a near-future war between an America that has been overtaken by a nationalist party and the Soviets (this was written in 1956, mind you). A woman, Marya Dmitriyevna, has recently lost her infant son Nikolai in an attack, and is given the chance to revenge herself upon the Americans by a Russian colonel. The American military has a general, Rufus MacAmsward, who may be half-mad, but whose strategies have thus far managed to overcome any obstacle. He also has a thing for women. I won't ruin the ending, but it is dark and funny and disturbing all at once.
In Closing
All things considered, this is a pretty solid collection of science fiction stories. It shows off Miller's talent as well as his versatility. I suspect he could have written a dozen novels, and each one would have been both brilliant and entirely different than any of the others. It's a pity his output mostly stopped with A Canticle for Leibowitz, especially after seeing the potential only hinted at in this collection.
Next up for review, Saint Leibowitz and the Wild Horse Woman?
The winners for the 2010 Locus Awards have been announced at the Science Fiction Awards Weekend in Seattle, WA. They winners are:
Science Fiction Novel: Boneshaker by Cherie Priest (Tor)
Fantasy Novel: The City & The City by China Miéville (Del Rey; Macmillan UK)
First Novel: The Windup Girl by Paolo Bacigalupi (Night Shade)
Young Adult Novel: Leviathan by Scott Westerfeld (Simon Pulse; Simon & Schuster UK)
Novella: The Women of Nell Gwynne's by Kage Baker (Subterranean)
Novelette: "By Moonlight" by Peter S. Beagle (We Never Talk About My Brother)
Short Story: "An Invocation of Incuriosity" by Neil Gaiman (Songs of the Dying Earth)
Magazine: F&SF
Publisher: Tor
Anthology: The New Space Opera 2 by Gardner Dozois & Jonathan Strahan, eds. (Eos; HarperCollins Australia)
Collection: The Best of Gene Wolfe by Gene Wolfe (Tor); as The Very Best of Gene Wolfe (PS)
Editor: Ellen Datlow
Artist: Michael Whelan
Non-Fiction/Art Book: Cheek by Jowl by Ursula K. Le Guin (Aqueduct)
Thanks to Locus Online for the live coverage of the event. You can go to their website to see the official announcement. Congrats to all the winners and nominees. You can see the list of finalists for the SF and Fantasy novels here.
So, Boneshaker and The City & The City. No surprises there as they have both been very well received and won multiple awards – especially City with six nominations and now three wins. Impressive. Both books are still in the running for the 2010 Hugo as well with City also still in the hunt for the 2010 Campbell.
Last month the fine folks at Pyr started sending books to WWEnd for us to share with our visitors.  I've been a bit remiss in getting these posted in a timely manner (World Cup, Baby!) and I'd like to rectify that.  In no particular order:
---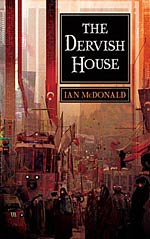 The Dervish House by Ian McDonald
It begins with an explosion. Another day, another bus bomb. Everyone it seems is after a piece of Turkey. But the shockwaves from this random act of 21st century pandemic terrorism will ripple further and resonate louder than just Enginsoy Square.
Welcome to the world of The Dervish House; the great, ancient, paradoxical city of Istanbul, divided like a human brain, in the great, ancient, equally paradoxical nation of Turkey. The year is 2027 and Turkey is about to celebrate the fifth anniversary of its accession to the European Union; a Europe that now runs from the Arran Islands to Ararat. Population pushing one hundred million, Istanbul swollen to fifteen million; Turkey is the largest, most populous and most diverse nation in the EU, but also one of the poorest and most socially divided. It's a boom economy, the sweatshop of Europe, the bazaar of central Asia, the key to the immense gas wealth of Russia and Central Asia.
Gas is power. But it's power at a price, and that price is emissions permits. This is the age of carbon consciousness: every individual in the EU has a card stipulating individual carbon allowance that must be produced at every CO2 generating transaction. For those who can master the game, who can make the trades between gas price and carbon trading permits, who can play the power factions against each other, there are fortunes to be made. The old Byzantine politics are back. They never went away.
The ancient power struggled between Sunni and Shia threatens like a storm: Ankara has watched the Middle East emerge from twenty-five years of sectarian conflict. So far it has stayed aloof. A populist Prime Minister has called a referendum on EU membership. Tensions run high. The army watches, hand on holster. And a Galatasary Champions' League football game against Arsenal stokes passions even higher.
The Dervish House is seven days, six characters, three interconnected story strands, one central common core–the eponymous dervish house, a character in itself–that pins all these players together in a weave of intrigue, conflict, drama and a ticking clock of a thriller.
---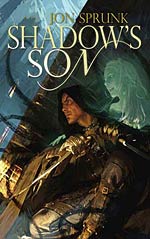 Shadow's Son by Jon Sprunk
In the holy city of Othir, treachery and corruption lurk at the end of every street, just the place for a freelance assassin with no loyalties and few scruples.
Caim makes his living on the edge of a blade, but when a routine job goes south, he is thrust into the middle of an insidious plot. Pitted against crooked lawmen, rival killers, and sorcery from the Other Side, his only allies are Josephine, the socialite daughter of his last victim, and Kit, a guardian spirit no one else can see. But in this fight for his life, Caim only trusts his knives and his instincts, but they won't be enough when his quest for justice leads him from Othir's hazardous back alleys to its shining corridors of power. To unmask a conspiracy at the heart of the empire, he must claim his birthright as the Shadow's Son . . .
---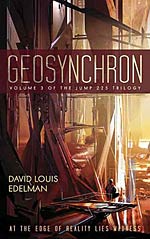 Geosynchron – The Jump 225 Trilogy: Book 3 by David Louis Edelman
The Defense and Wellness Council is enmeshed in full-scale civil war between Len Borda and the mysterious Magan Kai Lee. Quell has escaped from prison and is stirring up rebellion in the Islands with the aid of a brash young leader named Josiah. Jara and the apprentices of the Surina/Natch MultiReal Fiefcorp still find themselves fighting off legal attacks from their competitors and from Margaret Surina's unscrupulous heirs – even though MultiReal has completely vanished.
The quest for the truth will lead to the edges of civilisation, from the tumultuous society of the Pacific Islands to the lawless orbital colony of 49th Heaven; and through the deeps of time, from the hidden agenda of the Surina family to the real truth behind the Autonomous Revolt that devastated humanity hundreds of years ago.
Meanwhile, Natch has awakened in a windowless prison with nothing but a haze of memory to clue him in as to how he got there. He's still receiving strange hallucinatory messages from Margaret Surina and the nature of reality is buckling all around him. When the smoke clears, Natch must make the ultimate decision – whether to save a world that has scorned and discarded him, or to save the only person he has ever loved: himself.
---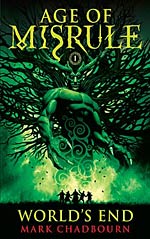 World's End – The Age of Misrule: Book 1 by Mark Chadbourn
When Jack Churchill and Ruth Gallagher encounter a terrifying, misshapen giant beneath a London bridge they are plunged into a mystery which portends the end of the world as we know it. All over the country, the ancient gods of Celtic myth are returning to the land from which they were banished millennia ago. Following in their footsteps are creatures of folklore: fabulous bests, wonders and dark terrors As technology starts to fail, Jack and Ruth are forced to embark on a desperate quest for four magical items – the last chance for humanity in the face of powers barely comprehended.
---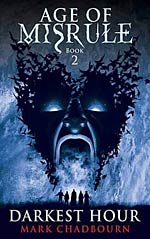 Darkest Hour – The Age of Misrule: Book 2 by Mark Chadbourn
The eternal conflict between the Light and Dark once again blackens the skies and blights the land. On one side stand the Tuatha de Danaan, golden-skinned and beautiful, filled with all the might of angels. On the other are the Fomorii, monstrous devils hell-bent on destroying all human existence. And in the middle are the Brothers and Sisters of Dragons, determined to use the strange power that binds them to the land in a last, desperate attempt to save the human race. Church, Ruth, Ryan, Laura and Shavi have joined forces with Tom, a hero from the mists of time, to wage a guerrilla war against the iron rule of the gods. But they didn't count on things going from bad to worse…
---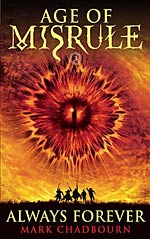 Always Forever – The Age of Misrule: Book 3 by Mark Chadbourn
The Eternal Conflict between the Light and Dark once again blackens the skies and blights the land. On one side stand the Tuatha de Danaan, golden-skinned and beautiful, filled with all the might of angels. On the other are the Fomorii, monstrous devils hell-bent on destroying all human existence. And in the middle are the Brothers and Sisters of Dragons, determined to use the strange power that binds them to the land in a last, desperate attempt to save the human race. Church, Ruth, Ryan, Laura and Shavi have joined forces with Tom, a hero from the mists of time, to wage a guerrilla war against the iron rule of the gods.
---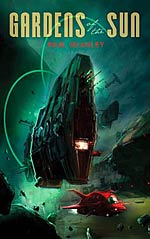 Gardens of the Sun – The Quiet War: Book 2 by Paul J. McAuley
The Quiet War is over. The city states of the moons of Jupiter and Saturn have fallen to the Three Powers Alliance of Greater Brazil, the European Union and the Pacific Community. A century of enlightenment, rational utopianism and exploration of new ways of being human has fallen dark. Outers are herded into prison camps and forced to collaborate in the systematic plundering of their great archives of scientific and technical knowledge, while Earth's forces loot their cities, settlements and ships, and plan a final solution to the 'Outer problem'.
But Earth's victory is fragile, and riven by vicious internal politics. While seeking out and trying to anatomise the strange gardens abandoned in place by Avernus, the Outers' greatest genius, the gene wizard Sri Hong-Owen is embroiled in the plots and counterplots of the family that employs her. The diplomat Loc Ifrahim soon discovers that profiting from victory isn't as easy as he thought.
And in Greater Brazil, the Outers' democratic traditions have infected a population eager to escape the tyranny of the great families who rule them. After a conflict fought to contain the expansionist, posthuman ambitions of the Outers, the future is as uncertain as ever. Only one thing is clear. No one can escape the consequences of war – especially the victors.
---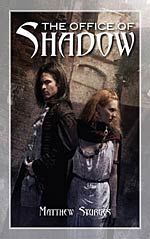 The Office of Shadow – Midwinter: Book 2 by Matthew Sturges
Midwinter has gone, but that cold season has been replaced by a cold war in the world of Faerie, and this new kind of war requires a new kind of warrior.
Seelie forces drove back Empress Mab at the Battle of Sylvan, but hostilities could resume at any moment. Mab has developed a devastating new weapon capable of destroying an entire city, and the Seelie have no defense against it. If war comes, they will almost certainly be defeated.
In response, the Seelie reconstitutes a secret division of the Foreign Ministry, unofficially dubbed the "Office of Shadow," imbuing it with powers and discretion once considered unthinkable. They are a group of covert operatives given the tasks that can't be done in the light of day: secretly stealing the plans for Mab's new weapon, creating unrest in the Unseelie Empire, and doing whatever is necessary to prevent an unwinnable war.
The new leader of the "Shadows" is Silverdun. He's the nobleman who fought alongside Mauritane at Sylvan and who helped complete a critical mission for the Seelie Queen Titania. His operatives include a beautiful but naïve sorceress who possesses awesome powers that she must restrain in order to survive and a soldier turned scholar whose research into new ways of magic could save the world, or end it.
They'll do whatever is required to prevent a total war: make a dangerous foray into a hostile land to retrieve the plans for Mab's weapon; blackmail a king into revolting against the Unseelie Empire; journey into the space between space to uncover a closely guarded secret with the power to destroy worlds.
---
We've got our team reading some of these books now and we'll start posting the reviews as they come in.  A few of these are sequels to other books we don't have so it may be some time before we get around to reading those.  Our thanks to Pyr for their generosity and the many wonderful books they publish.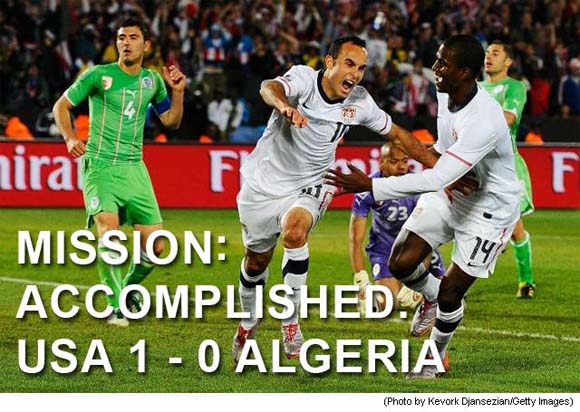 Awhile back I ruminated on the phenomenon of rock stars appearing in science fiction films.
While I'm still at a loss as to why this seems to be so pervasive, it did engender a little soul searching. And the conclusion that I came to is that, in matters of art and expression, it's a two-way street. Give and take. Turnabout's fair play, etc.
This got me to thinking, "What opportunities are there for science fiction films to encroach upon the musical landscape?"
You know, there have been a lot of bad science fiction films. A lot. A painful amount of lot. Like, "Man, that's a lot of bad" lot. But what if some of those films had instead been sent out to us in the form of rock albums?
You know, there may be something to that.
So I present to you, unscientifically arrived at and totally subjective, my list of the
Top Ten Science Fiction Movies That Would Have Been Better as Concept Albums (and the Artists Who Should Have Recorded Them)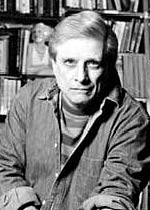 A couple weeks back I posted 20 Harlan Ellison books to WWEnd but I never got around to mentioning them in the blog.  Real life can be such a hassle.  Anyway, they're here now so we've fixed that gaping hole in our coverage at last.  Mr. Ellison is famous for his short fiction (and his short temper ; ) and we're starting to get into shorts via collections and anthologies aroud here so Ellison was a great place to start.
I'm a relative novice when it comes to Ellison but what I've read so far in his collections have me wanting to read more.  His stories leave me just a tad creeped out and that feeling stays with me for days.  That's not a complaint, mind you.  Ellison makes you think.  The titular short, I Have No Mouth & I must Scream, is a prime example of his disturbing genius as is A Boy and His Dog found in Vic and Blood.   In case you missed it, Paul wrote a fun review of the film version that you should check out.
All 20 books are part of a complete set from publisher e-reads.com using the same cover art but with variations on the title colors.  They look better in person but they tend to run a little bland after a dozen or so.  Jynnantonnyx has added a bunch of the more colorful older cover art to some of the pages that fit the weird nature of the contents better than the cookie cutter covers in the new series.  Check out the arternate images for Ellison Wonderland for some examples.  Trippy.

One thing that I really like about Ellison is his flair for story titles.  I Have No Mouth & I must Scream, The Beast that Shouted Love at the Heart of the World, "Repent, Harlequin!" Said the Ticktockman, The City on the Edge of Forever and The Whimper of Whipped Dogs are just a few examples.
Of course, not all 20 of the new books are Ellison's story collections.  We've also got two short story anthologies that he edited:  Dangerous Visions and Again, Dangerous Visions.  From all accounts these are two of the best anthologies ever produced.  Says, James Blish: "There has never been a collection like this before… it will entertain, infuriate, and reward you for years."  Take a look at the list of contributors and tell me you don't want to read these.
If you've not tried Ellison before, now is a good time to start.  Ask Pete Hamil: "Harlan Ellison is the dark prince of American letters, cutting through our corrupted midnight fog with a switchblade prose. He simply must be read."
Happy reading.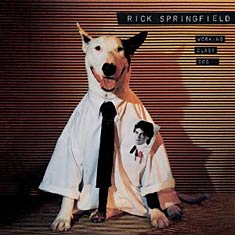 These last two years have been particularly tough on the American worker.
A turbulent economy. Industries roiling on the brink of collapse. Layoffs and pay cuts. Government takeovers and bailouts. An increase in disaster epics at your local cinema. And more zombie films.
A big downer all around.
Basically if you've remained employed during this time, you were one of the lucky ones. (A fact not lost on the evil overlords at the C-level of your company.)
A few highlights from the Bureau of Labor Statistics / June 4, 2010: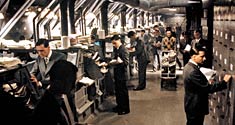 In May, the number of long-term unemployed (those jobless for 27 weeks and over) was about unchanged at 6.8 million. These individuals made up 46.0 percent of unemployed persons, about the same as in April.
Among the marginally attached, there were 1.1 million discouraged workers in May, up by 291,000 from a year earlier. (The data are not seasonally adjusted.) Discouraged workers are persons not currently looking for work because they believe no jobs are available for them.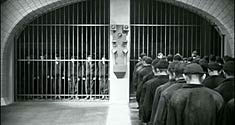 However, media and industry pundits are starting to point to signs that the job market is beginning to turn.
Really? Hmm.  Your friends at Worlds Without End figured we'd put this budding optimism to the test. It wouldn't be socially responsible of us if we just took this information on face value. After all, if science fiction films of the last thirty years have taught us anything, it's that you can't trust the government or big business.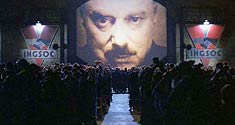 (Interesting to note is the evolution of villainy in science fiction films from rogue government agencies in the 1970s to corporate entities in the 1980s and beyond. Some try to blame Reagan for the Gordon Gekkozation of sci fi's malevolent wonders. For my money, the blame goes to the hippies. After all, wasn't it in the 1980s when they finally discovered gainful employment? And showers? The shift of collective hippie anger from government to business is hardly surprising, when seen in this light.)
To that end, we devised a special socio-economic project for our WWEnd intern, Barry. Young, foolhardy and naively trusting of his WWEnd supervisors, Barry is up for just about any assignment, which makes him the perfect intern.
("Intern," as anyone who has ever interned will tell you, is a code word for "slave labor.")
Barry's assignment? To secure a position – any position – at a real company, using a resume peppered with fictitious evil corporations from science fiction films of the last 30 years.
We wish to learn if: 1) companies really are starting to ramp up their new hire positions, as pundits claim; and 2) just how savvy their hiring executives are.
We're sending Barry out with a variety of resumes and a borrowed suit. He'll pound the pavement over the course of the summer and report back to WWEnd. We'll tabulate his progress and then share the results with you in a future installment.
Happy hunting.
The nominees for the 2010 British Fantasy Society Award have been announced.
Best Novel
Best Novella
Old Man Scratch, Rio Youers (PS)
Roadkill, Rob Shearman, from Roadkill/Siren Beat (Twelfth Planet) and Love Songs for the Shy and Cynical (Big Finish)
The Language of Dying, Sarah Pinborough (PS)
The Witnesses Are Gone, Joel Lane (PS)
Vardoger, Stephen Volk (Gray Friar)
Best Short Story
Careful What You Wish For, Justin Carroll, in Dragontales: Short Stories of Flame, Tooth and Scale, ed. Holly Stacey (Wyvern)
George Clooney'S MoustachE, Rob Shearman, in The BFS Yearbook 2009, ed. Guy Adams (BFS)
My Brother'S Keeper, Nina Allan, Black Static #12
The Confessor'S Tale, Sarah Pinborough, in Hellbound Hearts, ed. Marie O'Regan and Paul Kane (Pocket)
What Happens When You Wake Up In The Night, Michael Marshall Smith (Nightjar)
Best Anthology
Cern Zoo: Nemonymous 9, ed. D.F. Lewis (Megazanthus)
Dragontales: Short Stories Of Flame, Tooth And Scale, ed. Holly Stacey (Wyvern)
Hellbound Hearts, ed. Marie O'Regan and Paul Kane (Pocket)
Songs of the Dying Earth: Stories in Honour of Jack Vance, ed. George R.R. Martin and Gardner Dozois (HarperVoyager)
The Mammoth Book of Best New Horror 20, ed. Stephen Jones (Constable and Robinson)
Best Collection
Cyberabad Days, Ian McDonald (Gollancz)
Just Behind You, Ramsey Campbell (PS)
Love Songs for the Shy and Cynical, Robert Shearman (Big Finish)
Once & Future Cities, Allen Ashley (Eibonvale)
The Terrible Changes, Joel Lane (Ex Occidente)
PS Publishing Award for Best Small Press
Newcon Press (Ian Whates)
Screaming Dreams (Steve Upham)
Subterranean Press (William Schafer)
Telos Publishing (David Howe)
TTA Press (Andy Cox)
Best Comic/Graphic Novel
Fables, Bill Willingham and Mark Buckingham (Vertigo)
Freakangels, Warren Ellis and Paul Duffield (Avatar & warrenellis.com)
Locke and Key, Joe Hill and Gabriel Rodriguez (IDW)
The Girly Comic, ed. Selina Lock (Factor Fiction)
Whatever Happened to the Caped Crusader? Neil Gaiman and Andy Kubert (DC)
Best Artist
Charles Vess, for work including Neil Gaiman's Blueberry Girl
Les Edwards, for work including the cover of Cemetery Dance #62
Shaun Tan
Steve Upham, for work including the Estronomicon Sketchbook Special
Vincent Chong, for work including covers for The Witnesses are Gone (PS) and Mammoth Book of Best New Horror 20 (Constable and Robinson)
Best Non-Fiction
Ansible Link, David Langford (http://news.ansible.co.uk)
Case Notes, Peter Tennant, Black Static
It Lives Again! HORROR MOVIES IN THE NEW MILLENNIUM, Axelle Carolyn (Telos)
John Scalzi, WHATEVER (http://scalzi.com/whatever)
Knowing Darkness: Artists Inspired By Stephen King, George Beahm and various artists (Centipede Press)
Best Magazine
Black Static, ed. Andy Cox (TTA)
Cemetery Dance, ed. Richard Chizmar (Cemetery Dance)
Interzone, ed. Andy Cox (TTA)
Midnight Street, ed. Trevor Denyer (Immediate Direction)
Murky Depths, ed. Terry Martin (The House of Murky Depths)
Theaker's Quarterly Fiction, ed. Stephen Theaker and John Greenwood (Silver Age)
Best Television
Battlestar Galactica (Sci Fi/Sky 1)
Being Human (BBC3)
Doctor Who (BBC1)
Lost (ABC/Sky 1)
Torchwood: Children of Earth (BBC1)
Best Film
Avatar, dir. James Cameron (Twentieth Century Fox)
Coraline, dir. Henry Selick (Focus)
District 9, dir. Neill Blomkamp (Tristar)
Let the Right One In, dir. Tomas Alfredson (EFTI)
Watchmen, dir. Zack Snyder (Warner)
See the official BFS press release for more information. The winners will be announced at the awards ceremony at FantasyCon 2010 in September.
So what other novels were in the running? Check out the BFS Long List released at the tail end of March.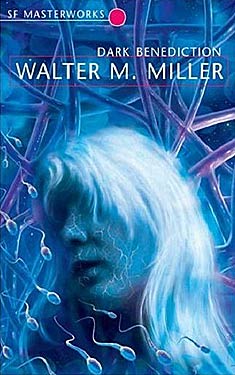 This series reviews the short stories found in Walter Miller's Dark Benediction collection. (Part 1, Part 2, Part 3)
Blood Bank
Commander Eli Roki shoots down an emergency supply ship from Earth in what is apparently cold blood, but why? He has suspicions about the cargo the ship was holding, but has no proof of any wrongdoing. He is stripped of his rank and sets out to prove himself right… or die trying. In "Blood Bank" Miller creates a galaxy of planets which individually hold various evolutionary lines of the human race, each having adapted in some way to its environment. While Miller overestimates the speed at which the Darwinian theory of natural selection allows for such change, it does make for some fascinating speculation. There is also in this story a brief touch upon Miller's favorite theme of abandoning or limiting the use of technology.
Big Joe and the Nth Generation
It is Mars in the far future, and the artificial atmosphere humans generated eons ago is slowly leaking out into space. Add to this problem the fact that Martian inhabitants have regressed into a primitive society which only has legends about the trees and the air being planted from the heavens by the Ancient Fathers, and you're in a lot of trouble. Asir is an idea thief who has spent his life collecting—society calls it stealing—fragments of ancient wisdom which have been passed down through oral tradition, and having put these fragments together he realizes that the world will end soon if he doesn't do something about it.
The Big Hunger
This is Miller's poetic ode to space travel. Told from the perspective of some enigmatic and abstract observer, mankind reaches out to the stars over and over again. He leaves Earth and finds a habitable planet; he settles down, gets comfortable, builds a new civilization; he gets tired of the comfort, yearns for the stars, and leaves, beginning the cycle anew. Over and over he spreads himself across the galaxy, looking for something, maybe some kind of paradise from which he was banished. Many planets eventually lay claim to the name of Earth, to being the place of origin, but will the restless race find happiness even if it can find its roots?
Conditionally Human
Inspector Norris is in charge of a pound, and his new wife is very unhappy to find out about this. In the near future, population growth has led to draconian limits on procreation, and subsequently to the creation of mutated animals that have just enough intelligence to fill the emotional void of the child that is not there. Dogs can talk gibberish and chimps have been altered to look almost human, and have their physical development arrested at the level of a toddler. Mommy's little baby. Norris catches strays and unwanted "children," and quietly disposes of them as needed. It is a cold, frightening look at the things we are willing to do to keep ourselves comfortable at any cost.
Next time we close out this collection with "The Darfsteller," "Dark Benediction," "The Lineman" and "Vengeance for Nikolai"