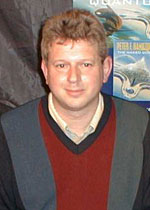 There are many things that Great Britain has given to the world: a good cup of tea, fish and chips, and an accent universally used for villains and ancient Romans in movies. But we also owe thanks to Britain for Peter F. Hamilton, one of the most popular and gifted Science Fiction authors to hail from Albion.
Mr. Hamilton has penned many acclaimed short stories and novels, including the Commonwealth Saga and the Void Trilogy, along with Fallen Dragon, which was nominated for the John W. Campbell Memorial Award and the Arthur C. Clarke Award, as well as The Nano Flower (book 3 of the Greg Mandel Trilogy), which was nominated for the British Science Fiction Association Award.
We spoke to Mr. Hamilton recently and he was kind enough to answer our 10 questions. Here's what he had to say:
1. Thank you for the interview, Mr. Hamilton. May we start off please with a view to your upcoming projects? What will we see from you in 2010 and 2011?
In 2010 you'll see The Evolutionary Void, the final part of the Void trilogy. Then in 2011 the collection, Manhattan in Reverse will be published. It contains all the short stories I've written in the last eight or so years, and as my short story output is so small I'll be writing a couple of additional shorts for the collection.
2. Where does the title "Manhattan in Reverse" come from?
It's the title of one of the stories which I'm writing for the collection. It actually refers to how Manhattan was sold to Dutch settlers in 1626. The story features my genetically engineered detective, Paula Myo, and is set just after the end of Judas Unchained.
3. In your previous works, i.e. the Commonwealth Saga and the Void Trilogy, you've given us some enticing and thought- provoking technological advances, such as wormhole- based-technology, cyborg-like modifications, and enhanced genetic design. Do you see any of the technologies in your books being developed in the present day?
Some of the data systems and software is certainly pretty close, but the kind of hardware you've just mentioned is still a long way off by my understanding. I tend to do some long range extrapolation for books set that far in the future.
4. Some of the most interesting concepts in the Commonwealth Saga is that of rejuvenation and "re-life". Do you think humanity could handle or deal with these concepts in reality?
Ultimately yes, we could grow into an extended life from a psychological perspective, but it would require not just a change of attitude but a pretty large shift in society and our economic structure to accommodate such a thing.
5. Would you prefer to live in one of the worlds (in the time frame of your novels) that you've created? Or is there a period in the past that you would prefer to live?
No to the past, not enough medicine and dental care back then for my liking. I'd say the period immediately after Judas Unchained would be an interesting time to live in, with opportunities opening up in every direction.
6. One of the technological advances that authors and readers alike are faced with is the migration, or the partial migration, to e-content. How is this effecting what you release? What do you think the reading/ publishing landscape will look like in 10 years time?
It doesn't affect novels so much at the moment, though I suspect we might see a higher illustration/animation content creeping in over the next few years. I'm primarily noticing its use as a marketing and promotional tool; several short stories from the collection will be released by Del Rey for free to promote future works.
7. Along with great concepts, your books have also given us some great characters. Which of them is your favorite? (Perhaps Ozzie/ Oswald Fernandez Isaacs?) Which of your characters would you most want as a friend?
I really enjoy writing Gore, but I suspect he wouldn't want me as a friend.
8. How do you develop your characters? Do they "grow" on their own, or do you base them on people you know or read about?
Some are based on people I know, but I'm quick to point out that the original is just a seed and I develop the characters as the book progresses and they encounter events that force them to change and grow.
9. Are there any non- Science Fiction/ Fantasy authors that have influenced your work?
Not a lot. But I have to admit that my current reading time is minimal. I'm only managing two or three books a year now.
10. Part of what we do at WorldsWithoutEnd.com is track the awards for Science Fiction and Fantasy. If you could have your own award, the prestigious "Hamilton Award", what would your criteria be?
A science fiction novel that was highly entertaining, but managed to slip in a few things to think about under the radar.
Many thanks to Peter Hamilton for taking time to answer our 10 questions and special thanks to Gary Garrison for helping with the interview.