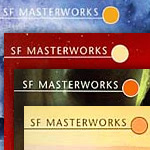 So there's been a lot of recent buzz on the internets about the SF Masterworks series from Gollancz including this meme. Mostly it's because of the SF and Fantasy Masterworks Reading Project that kicked off a few weeks ago. The reading project is a "a group blog dedicated to reading and reviewing Gollancz's series of genre classics in its entirety". They have several reviews posted already that are worth a read.
As you might have guessed from looking at WWEnd I really love this idea. The Masterworks collections contain some of the best works in the genre and have some great cover art to boot. I've only read a few from the list but it's my goal to eventually read them all – though I'll be taking my time. These guys will be reading them all within a year. Sheesh!
Of course, if you're interested in reading them too, WWEnd's BookTrackr can help you keep tabs on your progress. We've got the complete lists for the SF Masterworks and the Fantasy Masterworks and you can use BookTrackr to tag the ones you've read as you go along. The color coding will show you how many you've read and which ones you still need to read. Give it a shot.
Anyway, without further ado, here is my SF list so far. I've bolded and linked the ones I've read.
The Forever War – Joe Haldeman
I Am Legend – Richard Matheson
Cities in Flight – James Blish
Do Androids Dream of Electric Sheep? – Philip K. Dick
The Stars My Destination – Alfred Bester
Babel-17 – Samuel R. Delany
Lord of Light – Roger Zelazny
The Fifth Head of Cerberus – Gene Wolfe
Gateway – Frederik Pohl
The Rediscovery of Man – Cordwainer Smith
Last and First Men – Olaf Stapledon
Earth Abides – George R. Stewart
Martian Time-Slip – Philip K. Dick
The Demolished Man – Alfred Bester
Stand on Zanzibar – John Brunner
The Dispossessed – Ursula K. Le Guin
The Drowned World – J. G. Ballard
The Sirens of Titan – Kurt Vonnegut
Emphyrio – Jack Vance
A Scanner Darkly – Philip K. Dick
Star Maker – Olaf Stapledon
Behold the Man – Michael Moorcock
The Book of Skulls – Robert Silverberg
The Time Machine and The War of the Worlds – H. G. Wells
Flowers for Algernon – Daniel Keyes
Ubik – Philip K. Dick
Timescape – Gregory Benford
More Than Human – Theodore Sturgeon
Man Plus – Frederik Pohl
A Case of Conscience – James Blish
The Centauri Device – M. John Harrison
Dr. Bloodmoney – Philip K. Dick
Non-Stop – Brian Aldiss
The Fountains of Paradise – Arthur C. Clarke
Pavane – Keith Roberts
Now Wait for Last Year – Philip K. Dick
Nova – Samuel R. Delany
The First Men in the Moon – H. G. Wells
The City and the Stars – Arthur C. Clarke
Blood Music – Greg Bear
Jem – Frederik Pohl
Bring the Jubilee – Ward Moore
VALIS – Philip K. Dick
The Lathe of Heaven – Ursula K. Le Guin
The Complete Roderick – John Sladek
Flow My Tears, the Policeman Said – Philip K. Dick
The Invisible Man – H. G. Wells
Grass – Sheri S. Tepper
A Fall of Moondust – Arthur C. Clarke
Eon – Greg Bear
The Shrinking Man – Richard Matheson
The Three Stigmata of Palmer Eldritch – Philip K. Dick
The Dancers at the End of Time – Michael Moorcock
The Space Merchants – Frederik Pohl and Cyril M. Kornbluth
Time Out of Joint – Philip K. Dick
Downward to the Earth – Robert Silverberg
The Simulacra – Philip K. Dick
The Penultimate Truth – Philip K. Dick
Dying Inside – Robert Silverberg
Ringworld – Larry Niven
The Child Garden – Geoff Ryman
Mission of Gravity – Hal Clement
A Maze of Death – Philip K. Dick
Tau Zero – Poul Anderson
Rendezvous with Rama – Arthur C. Clarke
Life During Wartime – Lucius Shepard
Where Late the Sweet Birds Sang – Kate Wilhelm
Roadside Picnic – Arkady and Boris Strugatsky
Dark Benediction – Walter M. Miller, Jr.
Mockingbird – Walter Tevis
Dune – Frank Herbert
The Moon Is a Harsh Mistress – Robert A. Heinlein
The Man in the High Castle – Philip K. Dick
Inverted World – Christopher Priest
Cat's Cradle – Kurt Vonnegut
The Island of Dr. Moreau – H.G. Wells
Childhood's End – Arthur C. Clarke
The Time Machine – H.G. Wells
Dhalgren (July 2010) – Samuel R. Delany
Helliconia (August 2010) – Brian Aldiss
Food of the Gods (Sept. 2010) – H.G. Wells
The Body Snatchers (Oct. 2010) – Jack Finney
The Female Man (Nov. 2010) – Joanna Russ
Arslan (Dec. 2010) – M.J. Engh
As you can see, I've got my work cut out for me to finish this list. I own my shame. So how many have you read? Are you trying to read them all?