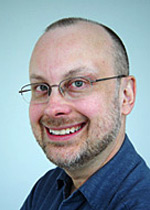 This Wednesday at 7:30 PM Robert J. Sawyer will be speaking at UT Dallas. Official details are at the UTD website. From Sawyer's blog:
As smartphones get smarter and computers get faster, humans, who err and just get slower with age, seem to be almost superfluous at times. But award-winning science fiction novelist Robert J. Sawyer isn't overly worried.

The winner of Nebula and Hugo Awards for best science fiction writing will explore the issue of human obsolescence in a lecture at UT Dallas. The program, "Forget About Killer Robots: How Humanity Will Continue to Prosper After the Advent of Super-Intelligent Machines," is scheduled for Wednesday, Sept. 15, at 7:30 p.m. in the Conference Center.

This event is part of UT Dallas' "Incite Your Curiosity: Exploring Human Enhancement" lectures, presented by the Center for Values in Medicine, Science and Technology. The lecture is free and open to the public.