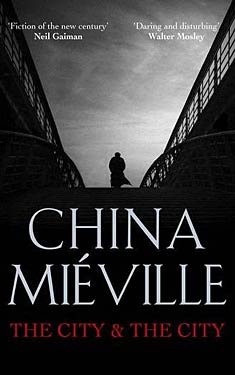 The winners of the 2010 World Fantasy Award have been announced at World Fantasy Convention 36 in Columbus, OH.
Our thanks to Tor.com for keeping us posted on the results via their blog.
Novel:
Novella:
"Sea-Hearts," Margo Lanagan (X 6, coeur de lion publishing)
"The Women of Nell Gwynne's," Kage Baker (Subterranean Press)
"I Needs Must Part, the Policeman Said," Richard Bowes (December 2009 F&SF)
"The Lion's Den," Steve Duffy (Nemonymous Nine: Cern Zoo)
"The Night Cache," Andy Duncan (PS Publishing)
"Everland," Paul Witcover, Everland and Other Stories (PS Publishing)
Short Story:
"The Pelican Bar," Karen Joy Fowler (Eclipse Three, Night Shade Books)
"A Journal of Certain Events of Scientific Interest from the First Survey Voyage of the Southern Waters by HMS Ocelot, As Observed by Professor Thaddeus Boswell, DPhil, MSc, or, A Lullaby," Helen Keeble (June 2009 Strange Horizons)
"Singing on a Star," Ellen Klages (Firebirds Soaring, Firebird)
"The Persistence of Memory, or This Space for Sale," Paul Park (Postscripts 20/21: Edison 's Frankenstein, PS Publishing)
"In Hiding," R.B. Russell (Putting the Pieces in Place, Ex Occidente Press)
"Light on the Water," Genevieve Valentine (October 2009, Fantasy Magazine)
Anthology:
American Fantastic Tales: Terror and the Uncanny: From Poe to the Pulps/From the 1940s to Now, ed. by Peter Straub (Library of America)
Poe, ed. by Ellen Datlow (Solaris)
Songs of The Dying Earth: Stories in Honor of Jack Vance ed. by George R.R. Martin and Gardner Dozois (Subterranean/Voyager)
Exotic Gothic3: Strange Visitations, ed. by Danel Olson (Ash-Tree Press)
Eclipse Three, ed. by Jonathan Strahan (Night Shade Books)
The Very Best ofFantasy & Science Fiction: Sixtieth Anniversary Anthology, ed. by Gordon Van Gelder (Tachyon Publications)
Collection (Tie):
There Once Lived a Woman Who Tried To Kill Her Neighbor's Baby: Scary Fairy Tales, Ludmilla Petrushevskaya (Penguin)
The VeRy Best Of Gene Wolfe/The Best of Gene Wolfe, Gene Wolfe (PS Publishing/Tor Books)
We Never Talk About My Brother, Peter S. Beagle (Tachyon Publications)
Fugue State, Brian Evenson (Coffee House Press)
Northwest Passages, Barbara Roden (Prime Books)
Everland and Other Stories, Paul Witcover (PS Publishing)
Artist:
Charles Vess
John Jude Palencar
John Picacio
Jason Zerrillo
Sam Weber
Special Award – Professional:
Jonathan Strahan for editing anthologies
Peter & Nicky Crowther for PS Publishing
Ellen Datlow for editing anthologies
Hayao Miyazaki for Ponyo
Barbara & Christopher Roden for Ash-Tree Press
Jacob & Rina Weisman for Tachyon Publications
Special Award – Non-Professional:
Susan Marie Groppi for Strange Horizons
John Berlyne for POWERS: Secret Histories
Neil Clarke, Cheryl Morgan & Sean Wallace for Clarkesworld Magazine
John Klima for Electric Velocipede
Bob Colby, B. Diane Martin, David Shaw & Eric M. Van for Readercon
Ray Russell & Rosalie Parker for Tartarus Press
World Fantasy Life Achievement Awards:
Brian Lumley
Terry Pratchett
BPeter Straub
Congratulations to all the winners and nominees. That's the 5th win for The City & The City, including the 2009 BSFA and the 2010 Clarke, Hugo and Locus Fantasy awards not to mention nominations for the 2009 Nebula and 2010 Campbell. An amazing run for China Miéville.
I recently read an article about a joint NASA/DARPA project called the "Hundred-Year Starship". Basically, it's a year-long study to determine the feasibility of constructing a generation ship for the purpose of colonizing a suitable planet outside our solar system. According to Paul Eremenko, project coordinator at DARPA:
"The 100 Year Starship study is about more than building a spacecraft or any one specific technology. We endeavor to excite several generations to commit to the research and development of breakthrough technologies and cross-cutting innovations across a myriad of disciplines to advance the goal of long-distance space travel, but also to benefit mankind."
Could NASA pull off anything as awesome as all that? Even with DARPA's help? Well, let's just say I'm with Capt. Xerox on this one. He sums it up nicely for me:
"I wouldn't go betting any money on this program actually happening. NASA hasn't been back to the moon in a generation, never mind heading beyond the solar system…"
Bottom line? Not bloody likely. So says my rational mind anyway.
My geeky SF brain, however, refuses to let go of the notion. I've been reading about generation ships and extra-solar colonization forever. The technological wonder of a massive starship with a complete enclosed ecosystem hurtling through space for a hundred years, taking its precious cargo of humanity across the void in search of another Eden? Entire generations of inhabitants living aboard a ship that is the only home they've ever known? Never to see the Earth again? That's the stuff of dreams.
And of course astronomers have been finding new planets at an astonishing pace. How long before they find one worth visiting? Will we be ready to go when they do? How far out would we have to start planning something like that to ever make it a reality? I'd say pretty damn far. So far, in fact, that it sounds like science fiction. Kind of like now. I can't tell you how excited I am just knowing that there are real scientists out there actually considering this idea; especially at a time when it seems that we're moving further and further away from the promise of manned space flight.
I say keep on dreaming big, NASA! It has to start somewhere, sometime. And even though it likely won't happen in our lifetimes there are plenty of us out here who will go right along dreaming with you.
---
Would you like to know more?
Generation Ship Novels
Until there's a real ship to take us "where no man has gone before" we'll have to make do with some great science fictional accounts of what it might be like:
What other great generation ship novels can you think of?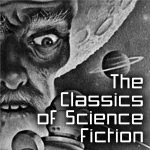 We've just added a new book list to WWEnd: The Classics of Science Fiction.
The Classics of Science Fiction list, compiled by James Wallace Harris and Anthony Bernardo, is an attempt to create a definitive list of the best Science Fiction books. Harris and Bernardo collected 28 different recommended and "best of" lists by noted fans, critics and writers and then cross-tabulated the lists to see which books showed up with the most frequency. The result is a ranked list of 193 books, each having seven or more citations.
This is a really extensive list with most of the usual suspects represented along with a few surprises. Check out the list and use our BookTrackr to see how many you've already read.
Also, be sure to visit http://classics.jameswallaceharris.com for more information including an extensive essay on the methodology used to create the list.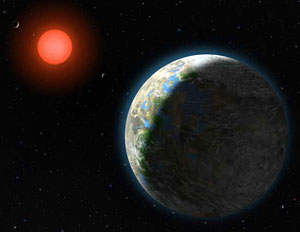 Space.com is reporting that the 500th alien planet could be discovered this month. There are currently 494 confirmed extrasolar planets on the books and, at the rate they're being discovered, it is expected that number will top 500 by the close of October.
What's more, with new technologies like NASA's Kepler spacecraft the rate of discovery is only going to go up. Kepler has already found 7 new planets and has identified over 700 candidate stars that may have planets.
"Researchers are following up on these promising leads, trying to rule out any false alarms. They're checking out the candidates with ground-based instruments as well as orbiting assets like the Hubble Space Telescope and the Spitzer Space Telescope.
When such work is done, the number of known alien worlds could increase by several hundred — and it could happen soon."
Worlds Without End, indeed!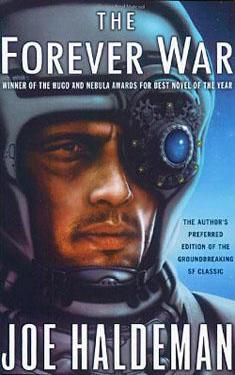 The title is not talking about the war I'm currently fighting here in Afghanistan, but if you thought it was, this is precisely why many people think that The Forever War, by Joe Haldeman, is just as relevant today as when it was written in the mid-1970's.
The Forever War is about a group of citizens drafted into an intergalactic war with aliens that no one has actually seen before. The author wrote the book twenty years in the future, so that the war starts in the 1990's. Due to relativistic time dilation, going off to fight only two battles before being able to return home sees them return to a world no longer recognized, as something like seven hundred years has passed on Earth. Money no longer exists. The currency is the Calorie, a direct effect of decades of starvation and overpopulation as Earth became a war economy over the last several centuries. Not comfortable on a planet they no longer recognize as home, its off-planet once again for these war veterans, preferring combat in hostile worlds to facing changes at home.
The Forever War is considered a science fiction classic, and indeed, it is well written, and the science of it stands out as top-notch. The way the author fully integrates relativistic effects into the plot, rather than trying to work a cheat around it, as most science fiction does, is worthy of a tip of the hat, and very well painted, visually. However, overall I'm not sure the book lives up to the hype. Its cultural concepts are extremely dated, to the point of being embarrassing in many places. Homosexuality is promoted in Haldeman's future, as population control, so that these veterans, obviously straight, are seen as the queer ones. This kind of reversal could be interesting, and it helps to further isolate our heroes from society, except that the author handles it a bit clumsily, so that I personally got the impression that despite his trying to sound liberal and tolerant, he himself feared the rise of homosexuality as a norm.
The book is of its time. Haldeman came home from an unpopular war, wherein soldiers like him didn't go because they wanted to but because the government told them that they had to. How, he thought, can we come home to such hate and disrespect, when we didn't even volunteer to fight this war? In that, he had a valid point, I suppose, though it might be irrelevant, since soldiers who do volunteer to fight in an unpopular war still shouldn't then accept being spit on, or called names like "baby killer." The fact that he had no choice due to the draft was probably just salt on the wound, by his estimation. It was a country – a world – that he no longer recognized. He was obviously very pessimistic about where the country was headed, and his brief tour (most draft tours were 13 months) seemed like it might as well have been centuries. I could see how it would seem like the war made more sense than the home he returned to.
Still, while I would give the novel an overall positive rating, it doesn't make it by much. The dated concepts and views in the book were often enough to pull me out of the story, or cringe. Indeed, much older science fiction works by Asimov or Heinlein often age better in their concepts than this book does. The saving grace for the novel after all of this is the suddenly upbeat turn at the end, as the author seems to reflect on how one's world can still be what one makes of it.
I give it 6 out of 10.
---
This review originally published on Deven's Science Journal.