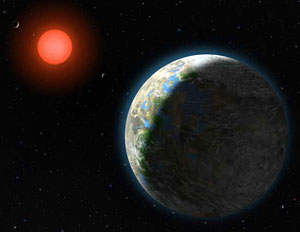 Space.com is reporting that the 500th alien planet could be discovered this month. There are currently 494 confirmed extrasolar planets on the books and, at the rate they're being discovered, it is expected that number will top 500 by the close of October.
What's more, with new technologies like NASA's Kepler spacecraft the rate of discovery is only going to go up. Kepler has already found 7 new planets and has identified over 700 candidate stars that may have planets.
"Researchers are following up on these promising leads, trying to rule out any false alarms. They're checking out the candidates with ground-based instruments as well as orbiting assets like the Hubble Space Telescope and the Spitzer Space Telescope.
When such work is done, the number of known alien worlds could increase by several hundred — and it could happen soon."
Worlds Without End, indeed!