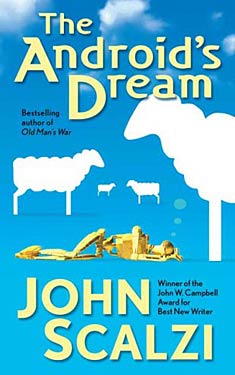 John Scalzi has become an author that I look forward to reading in the last few years. Up to this point, I've only read his Old Man's War series of novels, starting with Old Man's War, so The Android's Dream was my first foray into his unrelated novels.
The title refers to a genetically modified and very rare breed of sheep with electric-blue wool. This particular breed is needed for a coronation ceremony on the planet Nidu. Harry Creek, war hero and diplomat who specializes in delivering bad news to the various sentient species living here on Earth, has been tasked by his government to find an Android's Dream sheep before it's too late for the ceremony, which could throw Earth into war with the Nidu, whose alliance is essential yet tenuous. His search takes him to a mall pet shop specializing in genetically unmodified pets, and a meeting with the shop's owner, Robin Baker. But Harry's not the only person trying to find the rare sheep, including many who wish for the ceremony to fail.
The book is very fast paced, jumping from point of view to point of view, watching events unfold from different angles. The view point of some of the aliens is interesting, as Scalzi tries to show things from their non-human perspective. He pulls this off with modest success, as the view points are different, but in a Star Trek kind of way. There are the back-stabbers, the warriors, the strategists, etc., in other words, different angles of the human condition. This is not a negative, I'm merely pointing out that the view from an alien has been done better before, as with Michael Valentine Smith in Heinlein's Stranger in a Strange Land, or the visiting alien in the John Carpenter movie Starman. This brings up a good subject. Best alien point-of-view novels and movies?
Harry Creek is an interesting character with some depth, and he helps keep you the reader invested in the story, and its outcome. He's a man with a history that comes out a little at a time, and Scalzi writes him to be modest and noble, even in compromising situations. You root for him as he tries to keep one step ahead of those that wish him and Earth harm.
This was a fun story, and I liked it enough that I'm now placing other novels from John Scalzi on my reading list, such as Agent to the Stars.
I recommend The Android's Dream very highly, and will give it a 9 out of 10 for its quick-paced adventure.