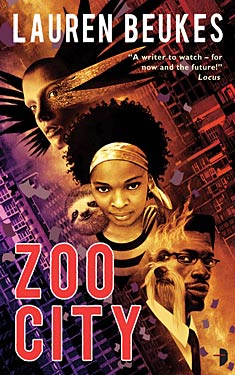 The 2011 Arthur C. Clarke Award winner has been announced at the SCI-FI-LONDON Film Festival. The winner is:
Zoo City by Lauren Beukes (Angry Robot).
Congratulations to Lauren and all the nominees!
Zoo City is certainly making a splash. My Kindle tells me I'm 24% through it and I can already see why it's been so popular. What do you think of this result? I know more than a few people around here are going to be mighty excited about this one.
Be sure to check out our 10 Questions – Lauren Beukes interview by Emil Jung. She talks about her writing and about Zoo City in particular.