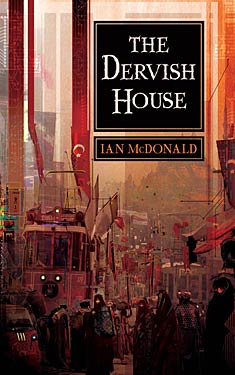 The winners for the 2010 British Science Fiction Association Awards have been announced at Eastercon in Birmingham, UK. They are:
Novel: The Dervish House, Ian McDonald (Gollancz)
Short Fiction: "The Shipmaker", Aliette de Bodard (Interzone 231, TTA Press)
Art: The cover of Zoo City, Joey Hi-Fi (Angry Robot)
Non Fiction: "Blogging the Hugos: Decline", Paul Kincaid (Big Other)
Congratulations to Ian McDonald on the win and to all the nominees.
I think anytime Ian McDonald is in the running he's got to be considered a front-runner so this is not much of a surprise. What do you think of the result? What book were you pulling for?
Thanks to Science Fiction Awards Watch for the info.