The interwebs abound in science fiction and fantasy book review blogs – but how do you find the really good ones? The best sites I've found have come by way of chance discovery or through recommendations from other fans or blog rolls on other sites. I've compiled a list of nearly 100 for the SF/F Blog Roll you see in the sidebar but it's still a bit much to pick through so I thought I'd highlight a few in particular that I want to share. I've limited my selection to five single-author blogs that you may have missed rather than point out the obvious ones you've likely already found.
Tethyan Books
Reviews of Science Fiction and Fantasy novels by a finicky physicist
Tethyan Books is only a few months old but already has a plethora of great reviews. From classics like Frederick Pohl's Gateway to cutting edge new books like Lauren Beukes' Zoo City, Allie reviews a wide variety of books from many different sub-genres of SF/F. She's also a WWEnd member and posts a lot of her reviews here so she gets bonus points in my book.
---
Like the title says, this blog is about the Hugo Award – but not just books and not just the Hugo. Ryan's focus is Hugo winning books, movies and television but he'll dip into other awards like the Clarke and BSFA from time to time. He's been at it since 2009 – posting an average of 10 reviews a month so there's plenty to chew on here – you'll want to dig deep.
---
Top Science Fiction Novels of All Time
This blog is dedicated to reviewing the top 100 Science Fiction novels of all time – as selected by Sci Fi Lists. A pretty big task if you ask me but Andy has posted 57 reviews thus far. The blog is a bit quirky though. To keep the reviews in order from 1-100 Andy has posted them with bogus dates far in the future. For example, his Ender's Game review, #1 on the list, is posted October 1, 2014 so you have no idea when he actually posted it. Kinda' strange but the reviews are good quality and include the usual suspects you'd expect in a "best of" list.
---
The Little Red Reviewer boasts an eclectic blend of SF/F sub-genre reviews from classic old-school SF (Asimov and Heinlein etc.) to hard-core blood-and-guts fantasy (Abercrombie and Martin etc.) and most everything in between. Redhead's got over 100 reviews so be sure to look over her review index.
---
Val's Random Comments
Almost entirely random comments on whatever it is I am reading at the moment…
Val, not his real name, offers up science fiction and fantasy reviews that are much more than random comments. Confused? Just go with it. The reviews are excellent and plentiful with almost 200 to choose from so don't stop after the first page.
---
Bonus blog: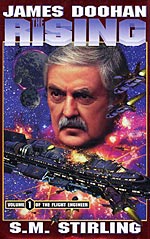 Good Show Sir
Only the worst Sci-fi/Fantasy book covers
While not a review site, this blog is still awesome. It's a pictorial romp through the horrible cover art that too often adorns genre books – the ones that you'd be embarrassed to read in public. I've got some of these in my own collection and I'm sure you've run into many of them on the bookstore shelves yourself. The best thing about the site is that you can submit your own pics and snide remarks. I've been doing this for years with my friends so you can bet I'll be snapping some shots the next time I go book shopping. I'll be looking for The Giant Floating Head of James Doohan.™
Check out these sites and, if you like them, help spread the word by liking them on your Facebook or tweet 'em or join or add them to your RSS feed or, even better, tell your friends about them.
So what sites do you frequent for reviews and why?