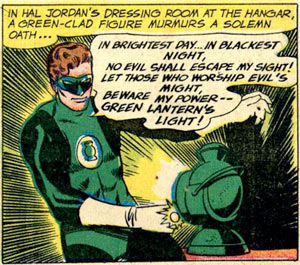 Many of us are anticipating the new Green Lantern movie coming out this summer. [4/25/2013 UPDATE: There are now rumors of GL2 in connection with the Justice League film] What WWEnders may not know is the connection between award winning science fiction books and GL's oath:
In brightest day, in blackest night
No evil shall escape my sight!
Let those who worship evil's might
Beware my power — Green Lantern's light!
From the iambic tetrameter, the metrical variation on the final line, and the nice caesura at the end, you might have guessed that the oath was a poem. I was surprised to learn, however, that it is credited to none other than Alfred Bester, the first Hugo winner (and thus, the first winner of any sci-fi award) ever.
On second, thought, I shouldn't have been shocked. Short, pithy poems appear throughout Bester's work. The Stars My Destination, published in 1956, finds its main character (Gully Foyle) floating in space, waxing philosophically:
Gully Foyle is my name
And Terra is my nation
Deep space is my dwelling place
And death's my destination.
Later, the poem is repeated, with the final line changed, eponymously, to "The stars my destination."
In an even earlier work, The Demolished Man, for which Bester won that first ever Hugo Award, the protagonist establishes a rule for living among mind-readers that is now a hallmark of science fiction. He recites a jingle designed to distract any ESPer from reading deeper thoughts:
Eight sir, seven sir, six sir, five sir,
Four sir, three sir, two sir, one.
Tenser, said the Tensor, Tenser said the Tensor.
Tension, apprehension, and dissension have begun.
Poetry, for Bester, has power. Whether it reveals the fate of a great man, blocks thoughts from psychic peeping Toms, or grants 24 hours of fantastic power to American test pilots, poetry actually does something in Bester's worlds. Perhaps this explains those ubiquitous columns of poetry that appear in many pulp sci-fi magazines. If the words of science fiction are supposed to tell us what is to come, perhaps we should also believe that words, themselves, also have a future worth considering.