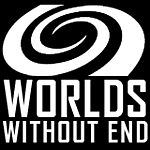 Welcome to the not so new but certainly improved Worlds Without End! If you've been here before you'll no doubt notice some pretty big changes. (If this is your first visit, you just have to trust me when I say it just keeps getting better.) Our goal was not a total re-design but rather a face lift – just a nip and tuck here and there – to freshen things up a bit and return that youthful glow to the site.
Why the changes? Well, this is the internet and you have to update your site once in a while if you want people to keep coming back. Nobody likes a stale site. But more importantly we keep growing and changing our content so we needed to update our navigation to help you guys can find the good stuff. On top of that our Google stats are telling us that lots of people are finding the site but most of our visitors aren't going any further than our blog. They seem to be writing us off as "just a blog" when we have so much more to offer than that.
Here is a list of the major changes we've implemented to address these issues:
New Home Page
We moved the blog out of the home page and gave it its own section. The new home page has links to the latest blog articles and a slideshow to highlight our best posts. Having a proper home page also gave us room to tell folks about some of our site features and the new content that gets added every day like new novels and authors and the latest member submitted book reviews.
Main Navigation
We were fast running out of room for links in our old menu and sub-menus so we opted for a mega menu approach. Hover over the main menu items and you can see how the mega menu drop down gives us plenty of space to show off the breadth and depth of our content while allowing ample room for future growth. We also re-organized and simplified the navigation and grouped all the social stuff – blog, forums and links – to the far right.
Giant Footer
We took the "new stuff" bits out of the footer and put them on the home page where they'll get more attention and replaced it with a constant site-map. The new footer shows off all our content at once and makes it easy to see where you are and where you want to go next.
Re-Organized the Books Section
This is where the rubber meets the road for WWEnd. It's all about the books. In this section we cleaned up the sub-menu, killed off the award info pages and moved that content into a hidden slide outs on the award list pages and changed the book list pages to the full width template so we could get more columns in and make them look as good as the awards pages. Check out the SF Masterworks list to see what I mean.
There are a ton of other small changes throughout the site that you may or may not notice but hopefully they'll all add up to a better user experience. So take a look around and let us know what you think of the redux.