I've been doing a lot of reading lately, but haven't had enough to say about each book to warrant a full-size review. Instead I've decided to write short capsule reviews for each.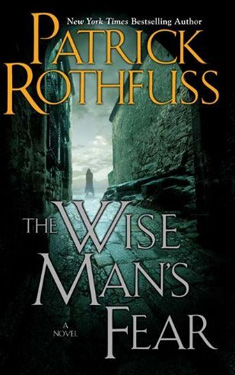 The Wise Man's Fear, by Patrick Rothfuss
There's a lot to love in the latest installment of Rothfuss's Kingkiller Chronicles, and I have to disagree with the fans who complain that the quality isn't worth the wait. Good art is always worth the wait, and genre fiction is too often hurt by publishers who rush their authors into producing sequels. As one of his characters observes in regards to music, "Songs choose their hour." Orson Scott Card described the series as "Harry Potter for Grownups," but frankly the comparison would never have occurred to me; the University across the river from Rothfuss's fictional Imre actually teaches real-world subjects, with the magical subjects slowly falling into disuse. The continuation of Kvothe's story sees him traveling the world and growing in experience if not wisdom. Being a polymath, Kvothe picks up academic learning very quickly, and he is also apparently as physically adept as he is intellectually. He also makes a good deal of progress in sniffing out the origin and identity of his parents' killers, setting up the Chronicler (and the reader) for the final installment of the series.
Not to say that everything is perfect with the novel. The sexual content is graphic when a more modest approach would have served as well if not better, sometimes veering into the realm of the perverse. Rothfuss also introduces an antagonist who is so unbelievably powerful and malevolent that he seems far too large for this story, especially being introduced halfway through the story. The character Denna is too unlikeably distant for the reader to sympathize with, though it's understandable that Kvothe would admire her as an unattainable prize.
Still, this is a good read, and much better than what one usually finds in the fantasy genre, even from established writers. I look forward to the next volume in, say, 2014?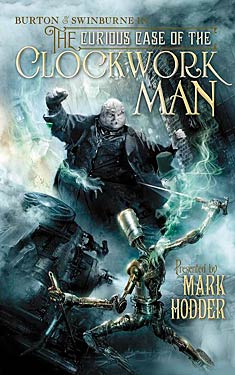 The Curious Case of the Clockwork Man, by Mark Hodder
I've never felt a great draw to the Steampunk genre, but Hodder is knowledgeable enough about the Victorian era that he can create an alternate version of that era which feels as rich and complex as the real thing. Unfortunately he does so by means of time travel. I realize I'm in the minority of WWEnd members when I complain about the inherent illogic of time travel and wish it were purged from all media, but I've learned to live with the fact that most other people love it. As mentioned in my review of the first book, The Strange Affair of Spring Heeled Jack, Hodder uses the time travel as something of a gimmick to get things rolling, and I was hoping that in the sequels it simply wouldn't be brought up again. Not only does time travel occur in Clockwork Man, but it does so in ever-nonsensical ways. The explanation for why things like occult powers and quick-and-easy genetic manipulation work is also somewhat belabored and silly.
Burton and Swinburne themselves are in top form, and as entertaining as ever. Their supporting cast grows noticeably in these pages, despite a number of bloody deaths, still for the most part using real historical personages in the fictional milieu. Hodder lets things become a little too chaotic by the time London starts to burn, introducing zombies, ectoplasmic houses and mad Russian monks before the story is through. One puts down the book wishing for a little more thematic unity.
Personally, I think I'm through with this series. Hodder seems overly anxious to toss in as many popular tropes as he can think of, while sidelining the characters a little too much. Frankly, I find the characters far more interesting than a mind-controlled corpulent cannibal fighting a robot with a sword (see the cover to the left). All the best to Mr. Hodder on his series, but I will have to pass on it.
Joe Hill, the son of horror master Stephen King, has written a great little novel that is both frightening and down to earth in its characterizations. The protagonist is aging rock star Judas Coyne, who is a collector of both morbid artifacts and lovers. Upon hearing of the sale of a dead man's ghost on an auction site, he decides he must win the auction. Once the heart-shaped box arrives in the mail, the horror begins.
This is, I believe, Hill's first novel, but it does not feel like an amateur story. He has a less florid style than his father, slightly less insane ideas, and a rather more hopeful approach to his characters and their fates. The pace is quick even when the characters stay in one place, and the prose is more than competent. The story has enough twists to keep you guessing at what will happen next, and just like any good horror story it has a few images that will haunt your nightmares.
All in all, a good read. Hill doesn't break any new ground that I can tell, but it's still worth the time.
The 2011 British Fantasy Society Award Shortlist has been announced. Then nominees for Best Novel are:
See the complete list on the BFS site.
So there does not seem to be much fantasy in the list… unless you're calling this "Dark Fantasy" instead of Horror.
The 2011 Locus Awards have just been announced at the Science Fiction Museum and Hall of Fame in Seattle with live coverage provided on the Locus website. The winners are:
Fantasy Novel: Kraken – China Miéville (Macmillan UK; Del Rey)
First Novel: The Hundred Thousand Kingdoms – N.K. Jemisin (Orbit UK; Orbit US)
Young Adult Book: Ship Breaker – Paolo Bacigalupi (Little, Brown)
Novella: The Lifecycle of Software Objects – Ted Chiang (Subterranean)
Novelette: "The Truth is a Cave in the Black Mountains" – Neil Gaiman (Stories)
Short Story: "The Thing About Cassandra" – Neil Gaiman (Songs of Love and Death)
Magazine: Asimov's
Publisher: Tor
Anthology: Warriors – George R.R. Martin & Gardner Dozois, eds. (Tor)
Collection: Fritz Leiber: Selected Stories – Fritz Leiber (Night Shade)
Editor: Ellen Datlow
Artist: Shaun Tan
Non-Fiction: Robert A. Heinlein: In Dialogue with His Century: Volume 1: 1907-1948: Learning Curve – William H. Patterson, Jr., (Tor)
Art Book: Spectrum 17 – Cathy & Arnie Fenner, eds. (Underwood)
Congrats to all the winners and nominees! So what do you think of the results? Anybody in particular that you were pulling for? No real surprises in the novel categories it seems.
The final trailer for the final movie. It's going to be hard to meet expectations but the trailer looks pretty awesome.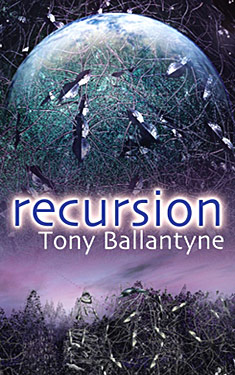 The Recursion Trilogy by Tony Ballantyne
Tor – 2004-2006
Bantam Spectra – 2005 – 2007
Imagine this: Your brain has been removed from your body and placed in a vat of nutrients which keeps said brain alive. The nerve endings have been connected to a super computer which creates the illusion that everything is perfectly normal. The people, places and things you experience are in truth electronic impulses travelling from the computer to your disembodied brain. A nightmare scenario, straight out of The Matrix! But this is exactly what the philosopher Nick Bostrom suggests – that it is highly probable that we are already living in a computer simulation. We, of course, don't think so. We're not computer-simulated minds living in a simulated world. But that may just be a tribute to the quality of the programming!
The first book in the trilogy, Recursion, informs us right from the start that the series is about a god-like computer intelligence, the Watcher, and that we are dealing with the very same universe that Nick Bostrom has postulated. The antagonists are not certain whether they are in a real or simulated world. As a consequence, hard questions are asked about the right of individuals to self-determination and whether or not humanity should be "cured" from its delusion – for its own good, obviously. It becomes apparent that our main protagonist has been copied many times and inserted in many simulations. Ballantyne excellently sets this realization up through "programming" in blank spaces appearing between buildings and the ground. Amongst all this, a battle is raging and speculation starts on the origins of intelligence, and ultimately of the Watcher himself.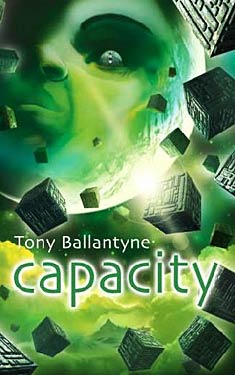 Capacity takes us a step further, literally a dramatic elaboration of the brain-in-a-vat scenario, focused on virtual environments and operating spaces alongside the "atomic world" whilst giving the impression that humanity is still in control. The Watcher is very much in the background here but his influence is felt throughout. Against the backdrop of a deceptively simple crime mystery, Ballantyne asks uncomfortable questions about free will, what constitutes intelligence in general, and life in particular. As with the first book, he rotates through three different viewpoints, ultimately combining them together towards a climax that sits slightly uncomfortably – the logic of machines is hard to comprehend.
The final book, Divergence, attempts to – amongst other things – address the problem of free will by trying to reconcile the view that humans are free agents and fully in control with a deterministic understanding of their actions. Every event has a prior cause. Every state of the universe is necessitated or determined by a previous state which is itself the effect of a sequence of still earlier states. Ballantyne builds this up with flashbacks of Eva's past. Eva is one of the main protagonists and the object of the Watcher's studies when he first emerged. It is not artificial intelligence, but the relationship with all AIs in the novel that becomes one of the key considerations that brings the protagonists together for the final showdown with the Watcher. Unfortunately, the final part of the story feels a little forced, as if Ballantyne was rushed to complete the series, and doesn't fully deliver on its promise.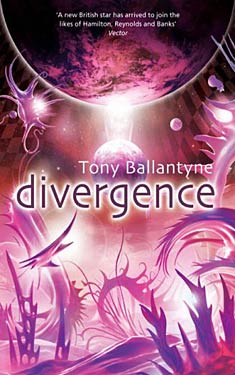 One of the central themes of the trilogy, which stretches across 250 years of human (and machine) evolution, is the concept of the Singularity. That nebulous point in the future when technological, scientific and economic change accelerates so fast that we cannot even imagine what will happen from our present perspective – a time when humanity will become post humanity, and we witness the emergence of legitimate Artificial Intelligence. Machines will outpace human minds, and – as is the case with Ballantyne's universe – will govern humanity in what initially appears to be a utopian society. But things are generally not that simple as elsewhere another AI develops with very different views to the Watcher.
Added into the mix is a Turing machine that claims to not be an AI, many Von Neumann machines (self-replicating spider robots), an anti-AI organization named DIANA, Schrödinger boxes and cats, "Fair Exchange" software that is pure genius and ominous Black Velvet Bands. All in all, there is a lot going on and the complexity of Ballantyne's universe is such that you'll likely find yourself going to Google to clarify and explain some concepts. There is a finely-tuned "Big Brother is watching you" vibe with a liberal dose of drug-addled hallucinations in classic A Scanner Darkly tradition.
Considering the immensely complex subject matter, Ballantyne mostly succeeds in holding everything tightly together. There are a few frustrating moments where he resorts to info-dumping and many of his ideas are more memorable than his characters. Yes, it's easy to get confused and a little lost in a plot which often-times over shadows the characters. Also, The Recursion Trilogy does not share the action sequences of The Matrix or such gritty, action-packed SF as Altered Carbon or Snow Crash and in the overall scheme of things, suffers a little for it.
Despite these flaws I still remained caught up in pursuing the mystery to its final conclusion. Ballantyne has put together an imaginative series, rich with thought-provoking ideas, some memorable characters and an enthralling storyline written in a confident, lucid prose. The Recursion Trilogy is seriously hard-SF, classic cyberpunk and is distinctly dystopian and I recommend it to anyone looking for "real" science fiction – so long as you don't mind having to think about what you've just read. It's a riveting premise and I look forward to reading Ballantyne's Robot Wars saga with a great deal of anticipation because of it.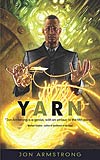 The Finalists for the 2011 The John W. Campbell Memorial Award have been announced!
There is quite a variety of books here with some of the usual suspects like Gibson, McDonald and Willis making an appearance as well as some authors I've never heard of. What do you think of this list? Who are your favorites to win it?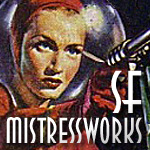 You may remember a few months back we posted a new list of books called the SF Mistressworks to WWEnd. The list is an effort by Ian Sales to bring to light some excellent science fiction books by women authors that have not gotten the attention they deserve. Certainly not as much as books by their male conterparts.
The list has proven to be very popular here at WWEnd and elsewhere on the internets and now Ian is back to up the ante with a new blog dedicated to women SF authors called the SF Mistressworks Blog:
"…I've set up the SF Mistressworks blog. Which will comprise reviews of classic and twentieth century science fiction by women writers. It will offset all those "classic sf" and "50 sf novels you must read" and "best sf novels" lists you see all over the internet which have few or no women writers on them. It will demonstrate that women have been writing sf since the genre's beginnings, and that many of their books are as good as, if not better, than many sf "classics"."
The Mistressworks list is intended to be part of the conversation about women sf writers – not to direct it – so the site won't be limited to just books from the list. In addition, the blog is a real community effort. So far, Ian has gotten over a dozen volunteer reviewers and has posted 14 reviews with many more waiting in the wings.
Definitely a site worth following. Check it out and let us know what you think of the effort.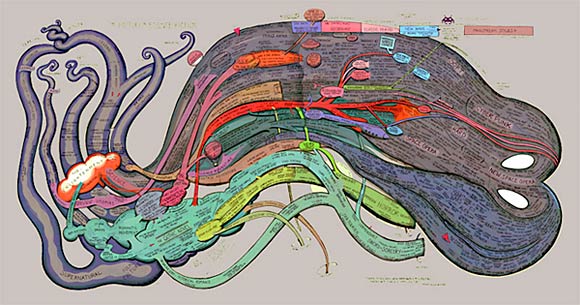 Do you remember that kick-ass History of Science Fiction info graphic we reported on back in March? Well, it's finally available for purchase as a poster-size (39.5" x 29.5") photo lithographic print. It's been updated and some spelling errors have been corrected and you can get yours for $26.95 – that's with 20% off if you order by June 15. I've already put in my order and I can't wait to get it. I've got a spot picked out for it at the office. Schweet.
Editor's Note: Please join us in welcoming guest blogger, Allie McCarn, to WWEnd. Allie reviews science fiction and fantasy books on her blog Tethyan Books which we featured in a previous post: Five SF/F Book Blogs Worth Reading. She has already contributed many great book reviews to WWEnd and has generously volunteered to write some periodic reviews for our blog. Be sure to check out her site and let her know you found her here. Thanks, Allie, and welcome aboard!
---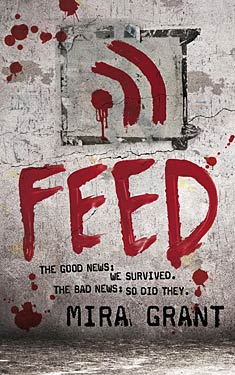 Feed by Mira Grant (Seanan McGuire)
Published: Orbit, 2010
Nominated: 2011 Hugo Award
The Book:
"In 2014, two experimental viruses—a genetically engineered flu strain designed by Dr. Alexander Kellis, intended to act as a cure for the common cold, and a cancer-killing strain of Marburg, known as "Marburg Amberlee"—escaped the lab and combined to form a single airborne pathogen that swept around the world in a matter of days. It cured cancer. It stopped a thousand cold and flu viruses in their tracks.
It raised the dead.
Millions died in the chaos that followed. The summer of 2014 was dubbed "The Rising," and only the lessons learned from a thousand zombie movies allowed mankind to survive. Even then, the world was changed forever. The mainstream media fell, Internet news acquired an undeniable new legitimacy, and the CDC rose to a new level of power.
Set twenty years after the Rising, the Newsflesh trilogy follows a team of bloggers, led by Georgia and Shaun Mason, as they search for the brutal truths behind the infection. Danger, deceit, and betrayal lurk around every corner, as does the hardest question of them all:
When will you rise?
When Senator Peter Ryman of Wisconsin decides to take a team of bloggers along on his run for the White House, Georgia and Shaun Mason are quick to submit their application. They, along with their friend Georgette "Buffy" M. are selected, and view this as the chance to launch their careers to a whole new level…that is, if they can survive the campaign trail."
I chose to read Feed due to its recent Hugo nomination. I admit that I set out to read it with a bit of a positive bias. I've never read anything by Seanan McGuire (Mira Grant's real name) before, but I'm a pretty big fan of zombie apocalypse stories. I've watched zombie apocalypse movies, read other zombie novels, such as World War Z, and comics, and I often play zombie survival video games. All of this may have slightly skewed my opinion of Feed, but I'm pretty sure that I would have loved it regardless.
My Thoughts:
Rather than recounting the zombie apocalypse, Feed takes place as the first generation – with no memories of a pre-Rising world – comes into adulthood. At this point, zombies are a constant, but manageable, threat. While there's certainly some zombie action scattered throughout the book, it's the human characters that take center stage. Georgia (George), Shaun and Buffy are 20-something bloggers who are the first non-traditional news media to be included in the coverage of a presidential campaign. It's a great opportunity for them, until things take a turn for the dangerous and they begin to uncover potentially deadly secrets. While the basics of the mystery might be a little bit predictable, I did not feel like that significantly detracted from the draw or emotional effectiveness of the story. The fascinating characters, complex world-building, and several unforeseen plot twists along the way more than made up for any predictability in the basic structure.
George, Shaun and Buffy intrigued me from the beginning, and I only grew to like them more as the book progressed. As professional bloggers, they keep themselves under near-constant surveillance, and they each have a carefully cultivated public personality. George, the viewpoint character, is considered a "Newsie" blogger, who reports the news with as little bias as possible. Her persona is sarcastic, hard-nosed, and aggressive. Thanks to her 'retinal-KA' (a zombie-related eye infection), she always wears sunglasses to protect her permanently dilated eyes from light. I empathized with her immediately over her eye problems. As a nearsighted person, I've regularly had my eyes dilated, and I can attest to how annoying it is. Her adopted brother Shaun, an "Irwin", uses his blog to provide thrills to people hiding safe in their homes. He tries to cultivate a carefree, daredevil attitude, and constantly gets himself into exciting and dangerous situations. Buffy is a "Fictional", who has a fondness for writing sappy poetry. She presents herself as friendly, eccentric, and kind of flaky, but she's also a highly skilled tech who takes care of all the electronics. We learn more about them, and their styles of blogging, in interesting excerpts from their blog files that are inserted between the chapters.
While these public personae are the first impressions we get of George, Shaun, and Buffy, there's much more to them than the 'characters' they play. George is an uncompromising reporter, but she's also a young woman from a troubled home life, who worries about the safety of her thrill-seeking brother. Shaun might act like an "Irwin", but he's also a stickler for safety measures in field situations, and he has an unexpected temper beneath his carefree veneer. Buffy might seem flighty, but she has depth to her that no one would expect. Also, none of them have ever really lost anything significant as a result of the zombie uprising. In this careful, post-Rising world, even though they regularly encounter zombies, they still have the typical youthful sense that disasters are something that happen to other people. I greatly enjoyed slowly growing to know and care about these characters over the course of Senator Ryman's campaign trail. Aside from the three of them, there was a multitude of minor characters, such as Senator Ryman, his wife, the latecomer blogger Rick, and other bloggers. While they are not explored in nearly as much detail, they do enrich the world that George, Shaun, and Buffy inhabit.
It's not only the many characters that make the world they inhabit so satisfyingly intricate. Grant goes into great detail describing the post-Rising society, the post-Rising blogosphere, the zombie virus, and how people have changed as a result of it all. In particular, the explanation of the zombie virus is one of the most thorough and interesting I've ever seen. To greatly simplify Grant's explanation, the Kellis-Amberlee (zombie) virus has actually spread in a dormant state through the entire world. Upon death or contact with an active virus (e.g., a zombie bite), the virus takes over the living creature, turning it into a zombie. Not only humans are susceptible to the virus, but also animals with sufficient body mass (anything of a size equal to or greater than that of a large dog).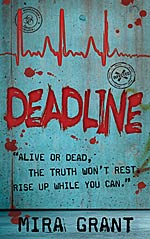 Since everyone reanimates after death, it seems like the zombie virus can never be extinguished. Most people are afraid of crowds, afraid of their neighbors, and even afraid of pets. As a result of this fear, their society is highly, almost obsessively, regulated. Most people live in high security communities, clean blood tests are constantly required when going anywhere, and the idea of burying the dead instead of burning the infectious corpse is regarded with horror. The threat of zombies is actually pretty blatantly conflated with terrorism, making this a pretty heavy-handed reference to living in a modern-day culture of fear. I don't think that Grant ever stepped over the line into sermonizing, though, and she didn't attempt to force any solutions. Their fear is certainly shown as reasonable, and the open question is how much they should let it govern their lives.
My Rating: 5/5
Feed ranks among the best of the books I've read this year. I can literally say that it made me laugh and cry, and there was never a point where I was less than intensely interested in the story. I could tell that a lot of thought went into the construction of the zombie virus and the post-zombie-apocalypse society, and I loved reading the descriptions of both. I found the public personae and private personalities of George, Shaun, and Buffy intriguing, and I quickly found myself deeply emotionally invested in their dangerous adventure. I think Feed definitely deserves its Hugo recognition, and I'm looking forward to reading the next book in the series, Deadline, which has just come out!