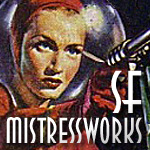 You may remember a few months back we posted a new list of books called the SF Mistressworks to WWEnd. The list is an effort by Ian Sales to bring to light some excellent science fiction books by women authors that have not gotten the attention they deserve. Certainly not as much as books by their male conterparts.
The list has proven to be very popular here at WWEnd and elsewhere on the internets and now Ian is back to up the ante with a new blog dedicated to women SF authors called the SF Mistressworks Blog:
"…I've set up the SF Mistressworks blog. Which will comprise reviews of classic and twentieth century science fiction by women writers. It will offset all those "classic sf" and "50 sf novels you must read" and "best sf novels" lists you see all over the internet which have few or no women writers on them. It will demonstrate that women have been writing sf since the genre's beginnings, and that many of their books are as good as, if not better, than many sf "classics"."
The Mistressworks list is intended to be part of the conversation about women sf writers – not to direct it – so the site won't be limited to just books from the list. In addition, the blog is a real community effort. So far, Ian has gotten over a dozen volunteer reviewers and has posted 14 reviews with many more waiting in the wings.
Definitely a site worth following. Check it out and let us know what you think of the effort.