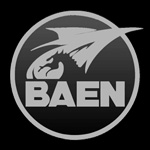 Late last year I set out to do someting about the shortage of Military SF on WWEnd. I looked around the internets for an award or a "best of" list but could not find anything of significance. At the time I was reading the Starship: Mutiny by Mike Resnic so I wrote to him for help. He very kindly gave us permission to post his essay, Military Science Fiction: A Brief History, which contains a large number of books that I added to our database. It was a great start but I was still looking for more so Mr. Resnick suggested I ask David Drake, the Dean of Military SF, for advice. Mr. Drake sent me the Baen Reader's List of Recommended Military SF. Huzzah! I finally had what I was looking for.
The Baen list is the result of a poll conducted by Toni Weisskopf, Editor of Baen Books, the leading publisher of Military SF in the industry. Participants of Baen's Bar, THE forum for fans of Military SF, came up with the list after much discussion and Miss Weisskopf hammered the list into a top 100 with one additional book added at the request of David Drake. Told you he was the Dean. With the list comes an excellent introduction that goes into more detail on the selection process.
Take a look and let us know what you think. Are you a MilSF fan? There's enough military action in this list to satisfy the hard-core fans and will provide some much needed guidance for us novices wanting to explore the sub-genre further. Many thanks to Mike Resnick and David Drake for their help and to Toni Weisskopf for putting it all together.