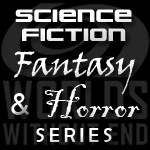 Most Science Fiction and Fantasy fans like a good series. Once we find a book we like we want to return to that universe time and again for more great adventures with the characters and settings we already know. Of course, Science Fiction and Fantasy authors and publishers are only too happy to indulge our obsession. Indeed, single stand-alone books are becoming a thing of the past with trilogies or better being the norm. More is more these days.
Our new list of Science Fiction & Fantasy Series contains all of the series in the WWEnd database for your easy perusal. So whether you're looking for a trilogy, tetralogy, pentalogy, hexalogy, heptalogy, octalogy, ennealogy or decalogy you've come to the right place. We've even got a trigintoctology for you serious gluttons.
Of course, if you're a WWEnd Member you'll be able to use BookTrackr™ to monitor your progress with the series you're reading and tag those that you want to read later. Check it out and let us know what you think of the list. What series have we missed that you'd recommend to your friends? Which series are your favorites? Full points if you can tell me how many books make up a trigintoctology and the name of the series we're referring to. Enjoy!