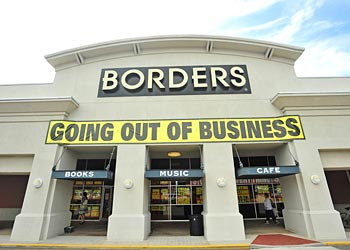 When I was a kid, looking for books was a serious enterprise. We had our mall stores and our mom-and-pop bookshops, but the selection was limited to bestsellers (in the mall) or miles and miles of Harlequin romances (in used shops). For a treat, I'd get to go 20 miles out to the only sizable bookstore in town. Taylor's Books was smaller than an average Barnes and Noble today, but back then it was enormous. They had a Dungeons and Dragons section that set my mouth watering, and the science fiction section spanned two whole rows (hey, I said it was big for THEN).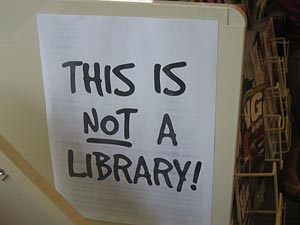 There was only one problem. I was a kid, and I couldn't buy everything I wanted. One thing a kid does have (in spades) is time. I would sneak a peek at the latest Stephen R. Donaldson book, only to get called out by an employee, who would say "this is NOT a library!" Chastened, I would put the book back, making a mental note to peruse it more briefly, later.
In the 90s, all that changed. Waves of new corporate bookstores, like Barnes and Noble and Borders, swooped in with larger inventories and new policies. People talked about how they served coffee, and gave customers places to sit. Their real advantage however was especially relevant to me:
They let you read books for as long as you wanted.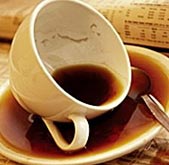 Look, before you give me the speech about poor mom and pop (how are they going to pay their mortgage), let me just say that I kept going to those places… for years. The DO NOT READ signs were still up. There was still an absence of chairs. Taylors eventually put out a single pot of (stale) coffee, almost as if to say "there's your stinking coffee, now shut up and shop with us again." Small business was not adapting to their competition. People talked about how local bookstores couldn't compete with behemoth store pricing, but it was really the customer service that wasn't competitive.
Today, the shoe is on the other foot. Last month, I walked into a Borders books with a huge "going out of business" sale. The whopping discount that generated all the crowds: 20%. Seriously. I mentioned to my buddy that Amazon had the same books at 40% with free shipping. A clerk overheard me and responded: "Yeah, but you can take this one home today. It's worth paying more." Ah, I thought, this is why you are going out of business. It isn't the price, per se. It's the expectation that I (the consumer) will behave the way he expects me to. I was supposed to adapt to them. That clerk was right about one thing: Price isn't everything. As a consumer, I am perfectly willing to pay more for something if I have a compelling reason… but it has to be my reason.
This is why mom-and-pops should celebrate the demise of Borders (and the subsequent troubles at Barnes and Noble). There is room, now, for brick and mortar competition. The little guys have a second chance, but now they have to adapt to Amazon as well as bigger (albeit struggling) stores. The good news? It can be done.
A couple of years ago, I had the good fortune to visit Borderlands Books in San Francisco. They are a small shop that specializes in SF/F books. The store is physically small, but beautiful. It has well polished hardwood floors, custom-made bookcases that leave little room for empty space, and an exhaustive selection of new and used books (many of which are rare). The real secret of its success, however, lies in its employees. I wanted to document the store's look, so I created a 2 gigapixel image to take home with me. While I waited for the gizmo to take its hundred or so pictures, I spoke with some of the employees, who had a great deal to say about virtually any book I mentioned. When was the last time I encountered real product knowledge from a clerk at a bookstore? Never. This was an entirely new experience for me, and I liked it. I also found out that Borderlands offers a monthly newsletter for their community (when have you ever heard of a Borders "community?"), and they seem to have 5-6 book signings each month. If these guys were in Dallas, I wouldn't shop anywhere else.
Here are the advantages that I see for independents:
They can be niche. There's no way a corporate store could have much depth, because they are incented to not stock slow selling books. We have a list of SF/F bookstores that are making niche work.
Higher margins. It may sound counter-intuitive, since chain bookstores get to buy new books at wholesale by buying in volume, but small shops often sell new and used books side-by-side. They can buy a $12 paperback off their customers for $3 and sell it for $6. That's a 100% markup.
The ability to browse. As good as Amazon is, it's still not ideal for browsing. Fan sites (like Worlds Without End) try to fill this niche by organizing books according to awards, best-of lists, and the recommendations of fellow fans. Nevertheless, even we can't compare to a brick and mortar store with a strong selection and knowledgeable staff.
As many shop owners may point out, there are many challenges to small bookshops that I have not addressed. Nevertheless, I believe having one fewer corporate chain in the mix can only be good for the sorts of stores I'd rather shop.