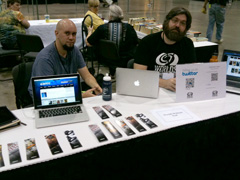 [Our fearless leader Dave has arrived at Worldcon with a few others. This is his first travel journal entry. -Jonathan]
The WWEnd Team finally made it to Reno for Worldcon! We arrived on 4 separate flights from the same city, don't ask, and hooked up at our hotel – our hopelessly gaudy yet comfortable hotel. This place is all Roman columns, huge flat screen televisions, red neon and gold filigree. Everywhere you look there's a flat screen showing you scenes from places you'd rather be – Tuscany, Rome, the Mediterranean. The effect is clearly not what they intended.
I've not seen much of Reno yet but I am loving the weather! It's 30 degrees cooler here than it is back home where we've had 40+ days of 100 degree weather in a row. What a relief to go outside and not be sweating instantly! All of this means we can walk between the hotel and the convention center and we can get out to some restaurants. This is especially important as the hotel/casino eateries are wicked expensive.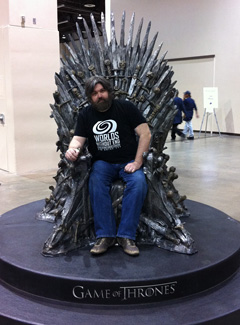 We got to the convention center in the morning and set up our fan table. We had the laptops out to demo the site and had piles of bookmarks there for people to grab. The bookmarks went over really well. Folks liked the designs and even the people who read ebooks, a rather high percentage of the folks we talked to, wanted them so they could get autographs. You can't really get your ebook signed after all.
The site demos were met with enthusiasm as well. We showed off the award pages, especially the Hugo, and the "best of " lists, the resources pages and reading stats. The folks who stayed long enough to see the stats really got excited when we demoed the comparison feature. They especially liked the cover galleries and that they could browse the books like they would in a bookstore. We were hoping to get people to sign up on the spot but there is a lot to see here and they were ready to move on. We did get lots of promises from people who said they would definitely sign up later so we're feeling pretty good about that.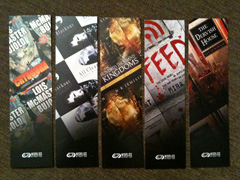 We took turns at the table and wandering the hall and seeing some of the programming. With so many book dealers here it took hours to get around the place. My suitcase will be heavy going back. Of the shows I only managed to get to two of them.
The first was a John Scalzi's slideshow presentation of his trip to the Creation Museum. Visitors to his Whatever blog challenged him to go and donated money for his trip expecting a full "snarkalicious" report on his return. They were not disappointed! The show was a total riot, as you might well imagine, and was packed to the rafters with giddy fans.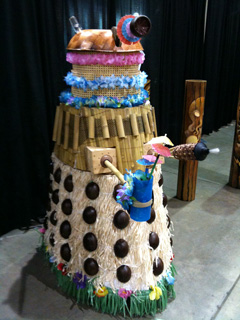 The second show was Dr. Demento! I grew up listening to the Dr. Demento show so I was really keen to see this one. It lived up to the hype. There was Dr. D up on stage in a tux spinning out those funny songs we all know and love and reminiscing of his years in broadcasting. He had a big screen for some videos as well and we were treated to a young Bill Paxton's first acting gig: Fish Heads! Who knew? There was a lot of Weird Al in the program including his Star Wars/American Pie parody and his first ever recording doing an Elton John tune on the accordion. There were also a couple live performances that were really fun though the song about funky smelling con-goes probably made more than a few attendees nervous.
After the display room closed went ventured out for some dodgy Chinese food and then went to a couple of the parties at the hotel. We made brief stops at the Texas, Chicago and Spokane bid parties but were pretty tied by that time so we made one more stop at the bar for a quick beer then turned in for the night.
The previous night was not so great with Rico snoring like a cartoon bear with sleep apnea so we rolled his bed into the bathroom and shut the door. He was a good sport about it. Everyone slept well and now we're off to do it all over again.