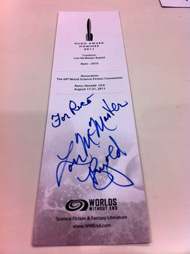 [And now for Day 3 of Dave's travel journal. -Jonathan]
Day 3 of the con and things just keep getting better. We set up shop the same as before and talked up the site to passers-by. Again the crowds were bigger than the day before which bodes well for Saturday. By now we're really getting the hang of things and we've learned how to draw folks in. Of course it could be the free bookmarks — people love free stuff. It has helped that the table next to us is giving out free books and videos etc. too. A very popular table as you can imagine and very convenient for us. I got my hands on a sweet paperback boxed set of Harlan Ellison's Dangerous Visions and a cool, but slightly cheesy, Spock collectors plate. Huzzah!
Speaking of our neighbors, the table on our other side has been promoting a mystery since Wednesday. "Come to our party and all will be revealed!" After hearing their spiel for days we were definitely going to attend to see what it was all about.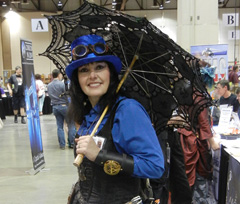 They also promised food and alcohol so it was a no-brainer. It turns out that they are launching a new convention called Convolution 2012: The Next Step (www.con-volution.com) to be held in San Francisco. The focus of the con will be professional development programming for aspiring writers and artists etc. who are looking to take "the next step" in their careers. Be sure to check out their site for details.
We talked to a lot of folks about the site and made a quite a few new fans in the process. We had the Banned SF/F Books list up on the big screen and it was a great conversation starter. It seemed like there were more costumes in evidence today, no doubt because of the costume ball tonight. One lady that stopped at our table looked like she jumped off the cover of a Parasol Protectorate novel. We had a great conversation about women authors and the SF Mistressworks list really piqued her interest.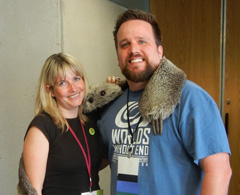 We took turns again manning the table and running around trying to see everything. Rico, Chris and I insisted on getting away to see Lauren Beukes reading from her novel Zoo City. The reading was a more intimate affair than the giant room used for George R. R. Martin with around 30 people in attendance. The passage she chose to read happens to be the exact spot that I'm at in her book so I was thrilled. Her personality and style really made the reading come alive and you could tell the crowd was eating it up. Lauren did a great interview for us that you should check out and we stayed after to say hello and get her autograph. When we mentioned WWEnd she remembered the interview fondly and commented on what a lovely fellow Emil is. I got to have a picture with her and she threw her sloth scarf over my shoulder for good measure when I told her the pic was going to make Emil jealous! She's a gracious lady and an excellent writer you should not miss.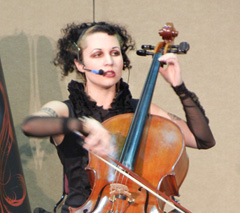 There was so much to see today that it just went by in a blur. Boris Valejo and family did a live demonstration of their art which was really fascinating. I kept going over to see the pictures take shape and they had quite a large crowd of admirers doing the same. There was a concert in the main hall by Unwoman that Rico described as "Tori Amos on cello" that was quite good. Rico managed to get away to see Cory Doctorow and panel discuss social media. There were some great sound bites from Doctorow including this gem: "Facebook is the high-fructose corn syrup of social media."
There were a ton of authors doing signings including one of my favorites Robert J. Sawyer! By the time I got to the table there was no line for Sawyer so I walked right up to him stunned I didn't have to wait. He was in good humor and since he had time he drew and excellent starship Enterprise on the back of my program and signed it. After he drew it, he showed it off to his neighbor at the table, Allen Steele, who was suitably impressed. I gushed a bit about his books and the talk he gave in Dallas some months back then moved over one step to Mr. Steele's line.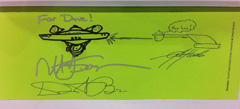 When I got to the front I said "You know, Robert J. Sawyer drew me a picture…" He took my program and drew a Klingon bird of prey attacking Sawyer's Enterprise and signed it. We all had a great laugh and I went away determined to read a Steele book right away.
I'll have to tell you about the parties and some of the great people we met in another post – we're late for the convention now. Until tomorrow!