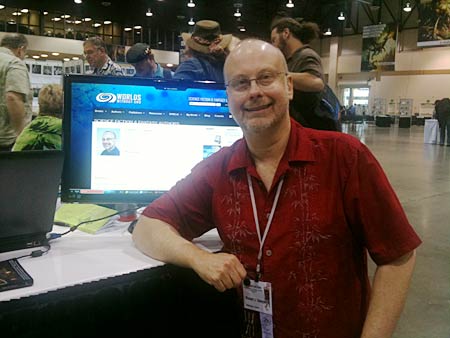 [Many thanks to Jonathan for posting my Worldcon reports last week, he did a great job. This post is a few days late because Sunday was the last day of the con and a travel day and Monday was back to work…]
Each day of the convention got better than the last and Saturday was no exception. We were expecting the biggest crowds of the week and we were not disappointed. There was a lot of traffic past the table and we talked our fool heads off all day.
Among the folks we got to meet were many of my favorite authors. Kay Kenyon, who I had the pleasure of interviewing for WWEnd some months back, stopped at our table and I got her autograph. I got to show her the site and it was neat pointing out the books of hers that I've read. She got a kick out of that I think. I was so excited to be showing off her author page that I forgot to get a pic! Later we got visits from Robert J. Sawyer, David Brin and the Grand Master himself, Robert Silverberg!
Robery J. Sawyer recognized me from the autograph I already told you about and he really liked the site when I showed him his author page and the Hugo listing. I asked for a picture and he said "Sure, how about I pose with my page?" That was cool. It's always a pleasure talking to Mr. Sawyer as he seems to really understand and appreciate his fans.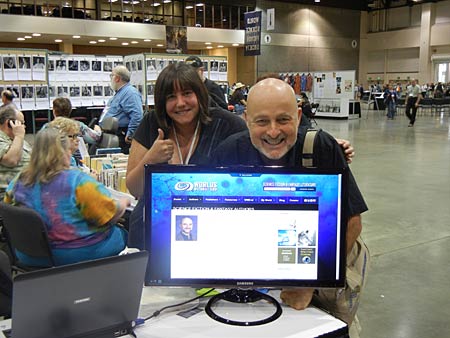 We had met David Brin at a party on Friday night and he was really great! I mentioned that my friend Tonya is a huge fan – Earth being her favorite book – and that she would be jealous we got to talk to him. He said he'd like to meet her and after we told him she was not with us he pulled out a business card and gave us a personalized autograph to take home to her. Classy. Liz had opted to go to the other hotel to do some gaming so missed out on seeing him too. When we spotted him coming down the tables the next day I thought she was going to pee herself! I pulled up his page and we lay in wait to ambush him. He looked over, saw his own picture looking back at him, and had to stop. He posed with his page too and had some nice things to say about the site. You might have guessed that the spazz behind him in the pic is Liz 😉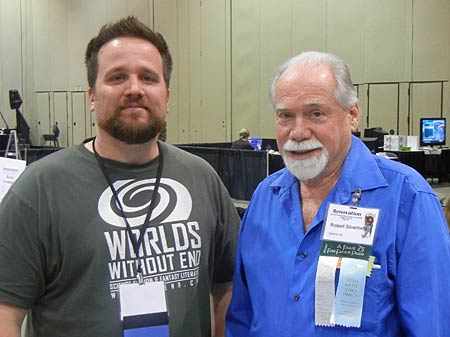 At one point I was looking through the program for author signing times and when I looked up there was Robert Silverberg sauntering past! Now it was my turn to squee like a little girl. I'm not proud of myself for that but he was one of the first authors I ever read and I dearly love his Majipoor series. Anyway, I called out that I was a huge fan and that I had him on my website. He stopped and asked "How does one manage to find oneself on your website?" I said, "We cover ALL of the best science fiction and fantasy." To which he replied, very matter-o-factly, "Why yes, of course," while stepping up for a closer look. Again I got to show off an author page to the author and he must have liked it because he posed for pics even though he clearly didn't want to. He's been doing this since before I was born so I guess he's well past mugging for the camera. If you missed his presentation of the best novella award you can catch it on USTREAM. Priceless.

I was really excited to be talking to all these authors and was content to man the table most of the day so I didn't see any of the programs. When I did get away from the table it was for autographs, shopping and food. One of my goals was to get all the autographs from the Hugo nominees on the bookmarks we made. I missed out on Lois McMaster Bujold the day before but I got a ticket to catch her at the SFWA table so I headed over there and got her sig then went and got in line for Ian McDonald. He had seen the bookmarks already but when he noticed my WWEnd shirt he commented on how much he liked them which was very cool. I never got to meet N. K. Jemisin but Rico did and got me her autograph so I now had 3 out of 5 with just a partial day left to get the other two.
The day was a real blur until around 5 when things really slowed down. Everyone was off getting ready for the Hugo Award ceremony. After the hall closed for the day we did the same. We were all eager to see the ceremony as you might imagine. We spend a lot of time covering the awards on WWEnd but this was the first time I've ever gotten to see them go down in person! The ceremony was fun though it went on a bit too long, as all such ceremonies do, and the seats were not the most comfortable. By the end I was ready to go.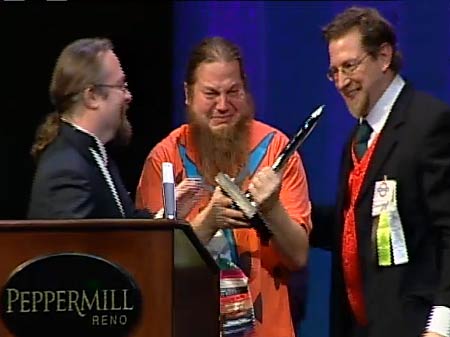 The MC's for the evening were Jay Lake and Ken Scholes and they did a fair job of it but they seemed to be trying too hard to be part of the show. They were funny in parts but like a SNL skit that goes on too long I just wanted it to end already. Some of the recipients of the awards were really entertaining especially Fanzine winner Christopher J. Garcia who was just completely overcome with emotion and Allen M. Steele who won for Novelette. He was clearly and genuinely caught off guard with the win.
After the Hugo ceremony we hit a few of the parties then went out and got some breakfast at the casino café. We were all pretty tired by then so we called it a night around one in the morning. A pretty damn fine day for the Worlds Without End team.