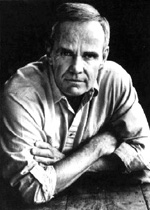 Cormac McCarthy's novel The Road made some big waves when it was promoted through Oprah's book club back in 2007. This led to an awkward interview on her talk show—McCarthy is notorious for avoiding any and all interviews—but it did wonders for his book sales. It's fascinating that such a dark tale would be promoted in what can accurately be described as a pop venue, but I'm sure Cormac got some laughs knowing that his story of a man and his son desperately trying to survive in a post-apocalyptic wasteland would be read by housewives around the country.
This drearily violent tale follows an unnamed man who is traveling to the ocean with his son (called only "the boy" by the author) across a land wasted by some unspecified disaster. At one point it's suggested that this is a nuclear winter, but McCarthy leaves the cause of the earth's death throes as unnamed as his protagonists. Realizing that they will not survive another winter at their current latitude, the father believes that moving south toward the ocean will bring some relief, and possibly better company than the roving gangs of thieves and cannibals they currently have to deal with at every turn.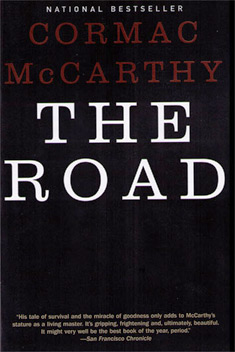 McCarthy doubles down on the horror first by taking a hard, long look at the devastation that's been brought down on the earth. There is little to no greenery left, nor any wildlife, and ash falls from the sky intermixed with snow. Just about the only food left is what can be scavenged from canned food stores, which leads to the second aspect of The Road's horror, the cannibals. Those who are not strong enough to physically protect themselves are often taken alive to be eaten gradually, or else are used to, shall we say, generate more food.
The man and the boy wind their way through one horror after another in search of their goal, each horror more emotionally scarring than the last. At one point they are walking down a stretch of the road that had been melted by surrounding forest fires during the first days of the earth's scorching. "The blacktop underneath had buckled in the heat and then set back again," as McCarthy describes it. He goes on,
Boxes and bags. Everything melted and black. Old plastic suitcases curled shapeless in the heat. Here and there the imprint of things wrested out of the tar by scavengers. A mile on and they began to come upon the dead. Figures half mired in the blacktop, clutching themselves, mouths howling. He put his hand on the boy's shoulder. Take my hand, he said. I dont think you should see this.
What you put in your head is there forever?
Yes.
It's okay Papa.
It's okay?
They're already there.
I dont want you to look.
They'll still be there.
He stopped and leaned on the cart. He looked down the road and he looked at the boy. So strangely untroubled.
Why dont we just go on, the boy said.
Yes. Okay.
They were trying to get away werent they Papa?
Yes. They were.
Why didnt they leave the road?
They couldnt. Everything was on fire.
They picked their way among the mummied figures. The black skin stretched upon their bones and their faces split and shrunken on their skulls. Like victims of some ghastly envacuuming. Passing them in silence down that silent corridor through the drifting ash where they struggled forever in the road's cold coagulate.
I didn't sleep well the night after finishing this novel.
(Image from stock.xchng, by Mario Alberto Magallanes Trejo.)