This is the first installment of our October series featuring Horror novels and stories. Rico and I will be blogging about some of our favorite scary books until the end of the month, even as we laboriously add new Horror-genre titles to the database. On Halloween, we intend to offer some general thoughts on the Horror genre, and why it's an important addition to the WWEnd site.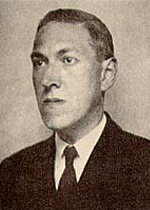 H.P. Lovecraft is a devisive but unambiguously influencial figure in the development of the Horror genre as we know it today. Writing what at the time was called "weird fiction," Lovecraft drowned the genre in a sea of purple, a sea that had strange and tentacled monsters living in its depths. His stories have maintained an influence far out of proportion to his actual skill as a writer, as even his staunchest fans will admit. Something of an anachronism even in his own time (1890-1937), for the modern reader he exudes an air smelling of the worst of a disintegrated aristocracy, while ironically eschewing all aristocratic literary standards in favor of the quality of prose one would most likely find on a fan fiction message board. And yet… and yet, his vision of a universe gone mad, of gods even more malevolent than Kali or Typhoeus, of terrors lurking in the ocean's depths, have made an impression entirely out of proportion to the man's literary skill.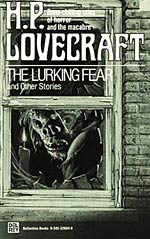 One of his most famous stories—and one of my personal favorites—is The Shadow Over Innsmouth, a novella that can be found in many volumes of his collected works (including The Lurking Fear and The Dunwich Horror and Others). Innsmouth serves almost as a Lovecraftian monomyth, containing his most popular tropes and plot elements in one place. Here we see the story of an ordinary man pulled gradually into an increasingly strange and terrifying revelation. Here we see the touch of madness that comes from a vision of something that ought not to be. Here we see even a hint of the Cthulu mythos that has spawned a school of imitators as numerous as the fish of the deep.
The narrator comes across Innsmouth almost by chance as a young man during his "coming of age" tour of New England. He is both repelled and attracted by the odd stories he hears about the town, stories of pagan cults, pirate jewels, human deformity, and an unusual abundance of fish. He decides to take the bus to Innsmouth only for a day to sate his curiosity, for he has been warned against staying the night. But, as these things often go, when he is set to leave in the evening he is told that the bus has had mechanical problems and won't be ready for driving until the morning. Left without a choice, he does what he must to survive through the night.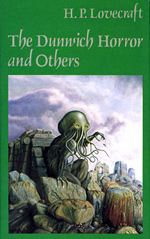 I'll end with a brief sample of Lovecraft's prose, also from Innsmouth. His language is colorful, but tends towards the higher end of the spectrum.
It was the end, for whatever remains to me of life on the surface of this earth, of every vestige of mental peace and confidence in the integrity of Nature and of the human mind. Nothing that I could have imagined—nothing, even, that I could have gathered had I credited old Zadok's crazy tale in the most literal way—would be in any way comparable to the daemoniac, blasphemous reality that I saw—or believe I saw. I have tried to hint what it was in order to postpone the horror of writing it down baldly. Can it be possible that this planet has actually spawned such things; that human eyes have truly seen, as objective flesh, what man has hitherto known only in febrile phantasy and tenuous legend?
Until next time, Iä-R'lyeh! Cthulhu fhtagn!