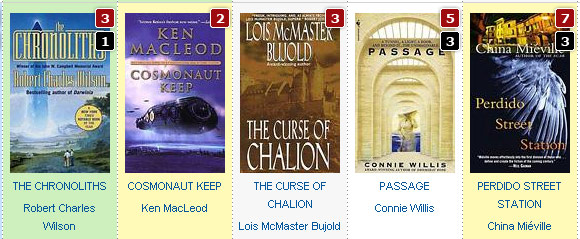 You may have noticed a few changes around WWEnd lately. We've been hard at work pushing out new updates as fast as we can. We just finished a major push to update our Horror coverage with the addition of The Bram Stoker Award and the HWA Reading List. That's a couple hundred more of the best books to pick from my friends!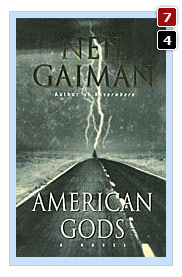 And since finding the best books is what this site is all about we've just added a new feature to our BookTrackr™ that we think you're really gonna like. You've probably already noticed the new numbered icons that appear on the book covers in the awards pages and elsewhere on the site. These new info icons are designed to help you identify the most celebrated books, at a glance, from amongst the thousands of books in our database. The red icon represents the number of award nominations that book has received, across the 11 awards we cover, while the black icon represents the number of Book Lists that the book appears on.
In the example above, which happens to show the nominees for the 2002 Hugo Award, you can see that all 5 books received multiple nominations but China Mieville's Perdido Street Station has a whopping 7 nominations and is included in 3 out of our 14 book lists! The yellow highlight indicates that it's on my reading list. Can you guess why? The book that won the Hugo in 2002, Neil Gaiman's American Gods, boasts a 7/4 and is one of my favorite fantasy books.
These numbers do more than just show nominations and lists, however. They reveal all kinds of interesting and useful information that you can use to find the books you want to read. For example, if you're wanting to try Vernor Vinge you would find A Fire Upon the Deep at a 4/4 to be pretty tempting.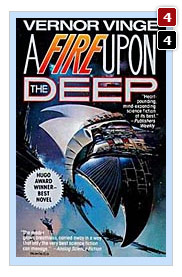 You can even see which years an author was hottest. Take a look at Gene Wolfe to see what I mean. He's been hugely popular for many years but was absolutely killing it in the early 80's in particular. Stephen King has nominations for 25 of the 29 of his books in our database which is a pretty clear indication of his consistent quality.
Say you want to try a cyberpunk novel but you don't know where to start. You can go to our sub-genres page, click on cyberpunk to get a list of all the books that have been tagged as cyberpunk. Now you can look for the books with the highest number of award nominations and list appearances. Neuromancer at a 5/7 looks like a pretty safe bet. Of course, an 8 1/2 rating from 131 member votes will further that impression too.
Some other indicators that have become apparent are that higher award noms tends to indicate a more recent book. There are more awards now than there were in the past so there's a better chance of getting multiple nominations. The converse of that is that the books with a higer number of book list appearances tend to be older works because they have been more widely read over the years. They've stood the test of time as it were. Frank Herbert's classic, Dune, is a great example. It has only 2 award nominations, from a time when there were only 2 awards, but that's offset by 7 book list appearances! They don't call it a classic for nuttin'!
These numbers can be found on all the awards lists, the author and publisher pages as well as the search page right now. We'll be adding them to the book lists pages and the members lists next so stand by for that update in the next few days. Take a look at this new feature and let us know what you think. What other useful information can you glean from these numbers? How do your favorite books stack up in noms and lists?