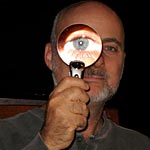 As part of our YA Genre Fiction Month on WWEnd we've added a new list of books for your reading pleasure:
Science Fiction for Young Adults: A Recommended List by David Brin
Why post a YA list by David Brin? Well, he's David Brin for crying out loud – which is reason enough for me. And it's a really good list. But mainly it because Mr. Brin has been actively working to spread the gospel of SF/F to younger fans for many years. I'll let him explain:
For two decades I've been involved in projects to help engage young readers with science fiction, from the AboutSF and Reading for the Future programs to my own WoW Prize and helping establish the Andre Nortion Nebula Award for Young Adult SF. After years replying to personal queries I finally compiled my own recommended reading lists for Young Adults as well as elementary and middle school kids. I hope they prove useful. Good sci fi correlates with vigor, creativity and success, not only for young readers, but for any civilization!
Bravo, Mr. Brin. Be sure to visit the author's blog, Contrary Brin, to read the original post of the list which contains short intros and commentary for each of the books.
So what do you think of this list? Anything you would want to add or take out? How many of these have you read? Check your reading stats to see. I've only read 16 out of 89 but I've got a half dozen more on my reading list.