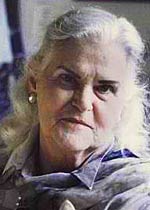 Anne McCaffrey, one of the most prolific writers in science fiction and fantasy, has died at age 85. She was one of the most celebrated and influential authors of her generation and has left behind an expansive body of work that amply demonstrates her mastery of her craft. Ms. McCaffrey was truly a master, garnering many awards and nominations for her short fiction and her novels. Her books have appeared on the ISFDB and NPR 100 Best SF/F lists, and were also recognized as Masterpieces by the Easton Press collection. Her early success in a male-dominated field earned her a spot on Ian Sales' SF Mistressworks list, and David Brin included two of her books in his list of recommended young adult books.
Here's what other early eulogizers have said about her:
io9 highlights her personal favorite story:
"Besides the Pern books, McCaffrey wrote the classic space-faring novel The Ship Who Sang, in which a severely disabled girl becomes the core of a starship, or Brainship, with her mind controlling all its major functions. McCaffrey's novel provided a startling new way to think about personhood and the nature of the mind/body connection, but also helped pave the way for a whole subgenre of posthuman space opera, in which heavily modified humans explore space."

From Wired:
"McCaffrey helped pave the way for women writers in fantasy and science fiction, and was both the first woman awarded a Hugo Award and the first awarded a Nebula Award. Even in her 80s she continued to write, and over her lifetime produced a prodigious number of books and short stories. She was still answering readers' mail on her website as of a few weeks ago."

From Publisher's Weekly:
"She introduced a generation of readers to both fantasy and science fiction, and was known for being gracious to her legions of fans. She will be greatly missed."
To my knowledge, there may be two books in her famous Pern series that have yet to be released. We are not yet done with Anne McCaffrey's rich universe.