Chicon 7, the 70th World Science Fiction Convention, Chicago, IL – August 30 to September 3, 2012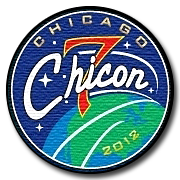 Chicago, Illinois, USA – Chicon 7, the 70th World Science Fiction Convention (Worldcon), is bringing seasonal joy to science fiction fans everywhere through "The 7 Days of Chicon." From December 20 to 26 inclusive, Chicon will be reducing its adult Attending membership rates by $15, with young adult Attending membership rates lowered by $10. Family rates will also be reduced. Full details of this special sale can be found on the convention's web site at www.chicon.org.
The first six days of the discount period will celebrate our five Guests of Honor and our Toastmaster. The seventh day, December 26, is our gift to the fans, in appreciation of everyone who has made Worldcon into a unique event since it was first held over 70 years ago.
Chicon 7 is comfortably on track to be the largest and most spectacular Worldcon since 2006, when the event was held in Los Angeles. Nearly 2500 people have already registered, and some 5000 are expected to attend the five-day event which will take place at the Hyatt Regency Hotel in downtown Chicago from August 30 – September 3, 2012.
According to Chicon 7 chair Dave McCarty, "Chicago has hosted the Worldcon more often than any other city, and we're delighted by the enthusiasm of fans who will be visiting us again next year. Over a thousand members have joined us in the last five months alone, and we expect many more to join in January when we open our hotel bookings and start accepting nominations for the 2012 Hugo awards. We have a great site, with the whole event happening under one roof. We hope many people will take advantage of this offer to sign up now and save money on their memberships."
Chicon 7 is the 2012 World Science Fiction Convention ("Worldcon"). The first Worldcon occurred in New York City in 1939 and Worldcons have been held annually since then except for 1942-45 when there was no event due to World War II. Chicon 7′s Guests of Honor are five-time Hugo winning author Mike Resnick, artist Rowena Morrill, art agent and collector Jane Frank, science fiction fan and former Worldcon chair Peggy Rae Sapienza, and astronaut Story Musgrave. Chicon 7′s Toastmaster is John Scalzi.
For more details about the convention or to purchase memberships, visit www.chicon.org.