Rhonda Knight is an Associate Professor of English at Coker College in Hartsville, SC. She teaches Medieval and Renaissance literature as well as composition courses. When she looked over last year's reading list, she was shocked to see that only 17% of the authors she read were women. This blog will record her attempts to read authors that are generally considered out of the science fiction norm: women, persons of color, and non-U.S. and non-U.K. authors.
---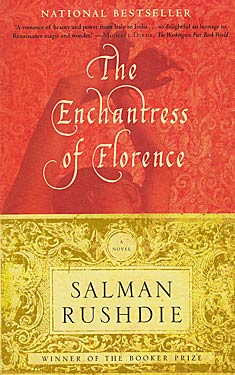 When I thought about authors whom I might read for this blog, Salman Rushdie never came to my mind. The Enchantress of Florence has been on my to-read stack for a while and I vowed to read it this year, but I never thought that I'd write about it here. A few things occurred in a wonderfully serendipitous way that led me to write this blog. First, my blog about Margaret Atwood's novels produced an interesting discussion about the label "science fiction" and started me thinking about what that label means.
Second, I recently read an anecdote from Brian Aldiss in which he recounts that he, Arthur C. Clarke, and Kingsley Amis were on a panel to give an award for best science fiction novel. These prestigious panelists chose Salman Rushdie's first novel Grimus as the winner, but the publisher pulled the book at the last minute because they did not want Rushdie to be pigeonholed as a science fiction writer. Aldiss discusses this in an article, "Why Don't We Love Science Fiction," by Bryan Appleyard in The London Sunday Times (Dec. 2, 2007). Aldiss supports the publisher's actions, saying that if Rushdie had "been labeled a science-fiction writer… nobody would have heard of him again." I'm not sure that I agree that Rushdie would have been doomed to obscurity, but I keep running across the fact that science fiction writing is not bad writing, but the label is a bad label. Aldiss goes on to discuss the fact that the British embrace fantasy novels as books written for children that it's okay for adults to read (ex. Tolkien, Pullman, Pratchett, Rowling), while they see science fiction as "adolescent" in the pejorative sense.
This claim, finally, leads me back to The Enchantress of Florence: it is fantasy, but fantasy written for adults. So, what do we do with it? Call it magic realism to legitimize it? We could, but this novel is different from Rushdie's other novels that I've read and do consider to be magic realism. My main argument against the magic realism category is The Enchantress of Florence contains no hint of a modern setting. From the beginning, it immerses the reader in a world that is a magical past and stays there. Do I think that it belongs on the F&SF shelves on my local bookstore? Maybe, maybe not, but I do think that it is the kind of book that many WWEnders would enjoy but might not immediately pick up. (Rushdie's The Satanic Verses, his only book in the WWE database, shows only eleven readers.)
Like many of Rushdie's works, The Enchantress of Florence juxtaposes East and West. Its historical settings are the court of the Mughal Emperor Akbar the Great and the Renaissance Florence of the de Medicis and Machiavelli. These two settings are linked by the arrival of a blond stranger in Akbar's city of Fatehpur Sikri. This stranger is a Florentine, pretending to be Queen Elizabeth's ambassador. (How this comes about makes an interesting start to the novel.) Once that disguise is exposed the stranger begins calling himself by the alias the Mogor dell'Amore (the Mughal of Love). Through this persona, he gains access to Akbar. He says that he has come to tell Akbar a story: "All men needed to hear their stories told. He was a man, but if he died without telling the story he would be something less than that, an albino cockroach, a louse" (89). This story concerns Akbar's great aunt, the sister of his grandfather. Her name was Qara Köz, and she had been erased from Mughal history. As a young girl, she was a pawn in her brother's political chess game. She and her sister were given as hostages to the enemy. When she made the choice to remain with her captor, rather than returning to her brother's court with her sister, her brother, Babar, begins a campaign to erase all traces of her from her native culture.
While unknown in her homeland because of this, she becomes famous in other parts of the world because of her beauty. That beauty evokes power over all men who come in contact with her. Her maid servant, known as the Mirror, is only slightly less beautiful than she is. Here is the experience of one admirer:
"the women coming down toward him were more beautiful than beauty itself, so beautiful that they redefined the term, and banished what men had previously thought beautiful into the ranks of dull ordinariness. A fragrance preceded them down the stairs and wrapped itself around his heart." (258)
Her beauty is her magic, which she uses to make her way through the world from India to Persia to Anatolia to Florence to the New World, always under the protection of powerful men.
The Mogor dell Amore's recounting of Qara Köz's story resembles the tale of The Thousand and One Nights. He portions out his story with digressions and necessary back stories to Akbar, and as he does so, he becomes more and more valuable to the emperor. He is not Scheherazade, telling stories to save his life. Instead he tells the story to find his own place in the world; he is a wanderer looking for a home and implicit in the story he tells is the message that the Mughal empire is his home. However, Rushdie does not model the format of the novel on The Thousand and One Nights. It is not a frame story that focuses on each part of the story as a separate story. Instead, Mogor dell Amore's story is woven into the narrative of Akbar's world, which is peopled with trusted advisors, rebellious sons, and multiple wives.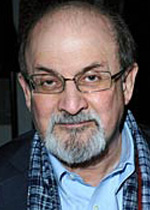 One of these wives, Jodha is particularly interesting, as she sets one of the novel's themes, man's search for the "perfect" woman. Jodha is Akbar's "imaginary wife, dreamed up by Akbar in the way that lonely children dream up imaginary friends, and in spite of the presence of many living, if floating, consorts, the emperor was of the opinion that it was the real queens who were the phantoms and the nonexistent beloved who was real" (27). His other wives, of course, are jealous of Akbar's phantom favorite, especially since they claim that he built her "by stealing bits of them all" (45). The only woman he wants is a woman who is not. In her well-considered review of the book, Ursula K. Le Guin points out that all the women in the book are "all stock figures, females perceived solely in relation to the male." While Le Guin is absolutely correct, women's power in the book comes through the stereotyped arenas of sex or magic; the men are not any better developed and fall into typical roles of mercenary, trickster, king, despot, etc. I believe that this is because Rushdie is trying to tell a fairy story about history and fable and the fine line between them. The Florentine mercenary, Antonino Argalia, is one of my favorite characters. He becomes a Janissary, fighting for Islam's most powerful leaders and gains so much power that he can command his own mobile community. Among his loyal followers are gigantic Swiss albino brothers–Otho, Botho, Clotho, and D'Artagnan.
These names and other little gems demonstrate Rushdie's humor and style. The sentences are lush and inventive, all the while giving the reader a knowing wink. An example of this occurs when Rushdie describes the ways that the Mogor dell Amore's story of Qara Köz filters through the citizens of Akbar's city:
"As the story of the hidden princess began to spread through the noble villas and common gullies of Sikri a languid delirium seized hold of the capital. People began to dream about her all the time, women as well as men, courtiers as well as guttersnipes, sadhus as well as whores…. She even bewitched the queen mother Hamida Bano, who ordinarily had no time for dreams. However, the Qara Köz who visited Hamida Bano's sleeping hours was a paragon of Muslim devotion and conservative behavior. No alien knight was allowed to sully her purity." (197)
The Qara Köz who visits Hamida Bano's sister-in-law, Old Princess Gulbadan, in her dreams, is quite different:
"a free-spirited adventuress whose irreverent, even blasphemous gaiety was a little shocking but entirely delightful… Princess Gulbadan would have envied her if she could, but she was having too much fun living vicariously through her several nights a week." (197)
If you enjoyed these sentences, you will enjoy The Enchantress of Florence. If you didn't, you won't. It's that simple.