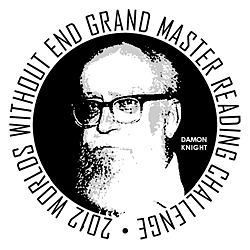 The GMRC February Review Poll is now closed and the winner is Emil for his excellent review of A Time of Changes by Robert Silverberg. Emil hails from South Africa and is a huge WWEnd supporter. Well done, Sir!
As the winner Emil will receive a GMRC T-shirt, a GMRC button and a set of commemorative WWEnd Hugo Award bookmarks. Emil also got his choice of books from the WWEnd bookshelf. He picked Planesrunner by Ian McDonald (Pyr 2011). I know Emil has been wanting to read this one for some time and I hope we'll be seeing a review of it soon!
Thanks to everyone for participating in the challenge and for the many great reviews. Runners up will be getting a GMRC button and a set of bookmarks in the mail.
March has started off strong and we keep getting new readers signed up which is awesome. We'll be at 100 soon! If you have any friends that are up for a reading challenge the GMRC is one that you can easily catch up on if you miss the start. Let 'em know it's not too late to sign up and there is plenty of time to get in your reviews for March. There are more prizes to be won too so good luck to you all!