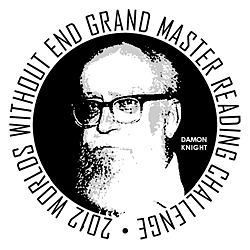 The GMRC March Review Poll is now closed. The winner is RhondaK101 for her excellent review of Ursula K. Le Guin's The Word for World is Forest. This win will come as no surprise to anyone who's read Rhonda's reviews and blog articles here on WWEnd. Congrats, Rhonda!
As the winner, Rhonda will receive a GMRC T-shirt, a GMRC button and a set of commemorative WWEnd Hugo Award bookmarks as well as her choice of books from the WWEnd bookshelf. Runners up will be getting a GMRC button and a set of bookmarks in the mail. Great job to all who participated.
If you have any friends who are up for a reading challenge the GMRC is one that you can easily catch up on if you miss the start. Let 'em know it's not too late to sign up and there is plenty of time to get in your reviews for April. There are more prizes to be won too so good luck!