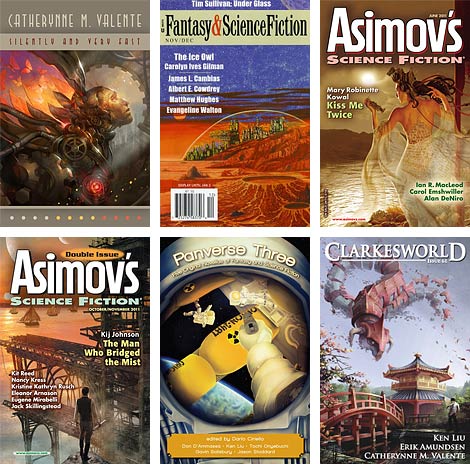 First, we posted links to all of the Hugo nominated short stories (all free and digital), then we followed up with the novelettes (mostly free and all digital), and now we have… novellas! Of the six nominated novellas, five are available digitally, and four are free. Considering Hugo defines a novella as being up to 40,000 words, that's a lot of reading for not much.
Do remember that Chicon 7 (Worldcon 70) members get digital copies of all five novels, six novellas, five novelettes, and five short stories for FREE. Even if you don't plan on attending Worldcon this year, you can get a supporting membership for only $50, and you'll be able to vote.
If membership isn't in the cards this year, you can still get the novellas (most of them for free):
A note on the two stories that are not free: Countdown is a real book, published by Orbit, which sells digitally for $2.99. This, I think, is the beginning of a trend. Shorter stories are starting to sell on Kindle at less-than-novel prices. Even though the other books on this list are free, I think the trend to charge small amounts for novellas, novelettes, and even short stories means that otherwise unaccessable stories will have a longer shelf life, giving us more to read. While Seanan McGuire is being all cutting edge, "The Ice Owl", by Carolyn Ives Gilman, does not seem to be available anywhere online. If that changes, we will update this article and let you know by tweet (@WWEnd).
Links to all of the award winning books are, as always, available through BookTrackr. So, now you have no excuse when someone asks you who you think should win. Get to reading!