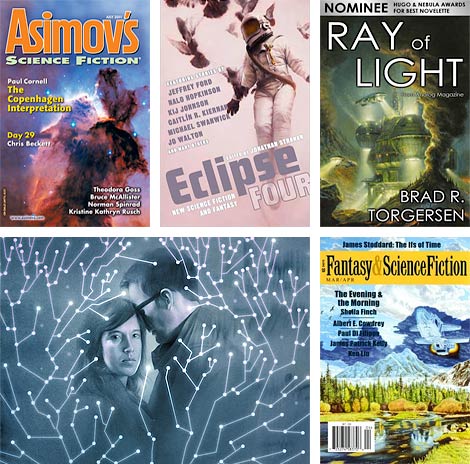 Our recent post on where to read the Hugo nominated short stories for free has been by far our most popular post ever (500 clicks from our Twitter feed, and counting). We should have seen that coming. After all, who doesn't want free award-nominated SF/F? Since it was such a hit, we thought we'd do a follow up on all of the novelettes that were recently nominated for the 2012 Hugos.
Before I show you the list, I should (once more) remind you that a Chicon 7 (Worldcon 70) membership will garner you digital copies of all five novels, six novellas, five novelettes, and five short stories. We highly recommend you attend the con, of course (because then you can visit our booth!), but even if you lack the spare time (and spare change) for that, you can get a supporting membership for only $50… far less than the cost of buying all those stories and books. Plus, you get to vote, which gives you the right to complain about who actually won, Christopher Priest style.
Still, it's possible that you don't care to vote, or can't afford the cash, or (as is the case with me) can't wait for the Chicon committee to release the reader packets in May. Well, your wait is over. I looked far and wide to find the nominated novelettes, and while they are not all free, most of them are. They are as follows:
If there are any updates on these novelettes, I will redact this blog post, and I'll tweet that I have done so (@wwend). Fair enough? Next up: Novellas!