Greg Zehr (Greg), is a discontinued nerd-jock hybrid model and a cave-dweller who possesses slightly more than a passing knowledge of what a blog is. He is proficient at reading science fiction books made of paper, and has been to the used book store near your house many times. He admires and respects people who make computer thingies go, and is younger than you think for being so technologically stunted. This is his first GMRC review.
---
It's 2060. Time travel is used for intellectual purposes. Think The Redemption of Christopher Columbus by Orson Scott Card, as opposed to Timecop starring noted thespian Jeanne Claude Van Damme.
Protagonists. Merope Ward, an Oxford historian, is playing nanny with English (child) evacuees during the blitz. Misbehavior, mischief, and confusion ensue. Big surprise there for Connie Willis fans.
Polly Churchill, an Oxford historian, is posing as a shop-girl during the Blitz. Fabulous idea. Whatever could go wrong Polly? Capital idea!
Colin Templer, a teenager-with-a-rager who is enamored with Polly, devises to spend research time in the middle ages in order to catch up in age to Polly. Space-time continuum stuff. Chronological trickery. Janeway could never quite get this stuff right. Digression.
Michael Davies, another Oxford historian, attempts to witness some thrilling heroics (Jayne Cobb, REPRESENT!) during the aftermath of the battle of Dunkirk, where fishermen and octogenarians and various other non-combatants assist in the evacuation of soldiers, who, thanks to them, live to stab Nazis another day. Good times.
Mr. Dunworthy, thesis advisor – slash – Indiana Jones – slash! – hopelessly confused Englishman comes to the rescue (not really).
Trouble with the timeline!
Time travel affecting the past!
Goddamit Janeway, stop messing with the continuum! Sorry, wrong story.
The once widely-held truisms of time-travel (historians cannot affect the past) are suddenly questioned by these endearing characters. Small discrepancies start to crop up. Things may be able to be altered. This could turn out really badly, you see, because the good guys won WW2. It would be… uh… not good to mess that little detail up.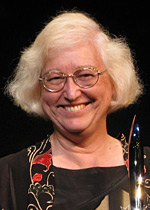 I apologize right now if you are under the impression that this book is anything but excellent. It is excellent. Connie Willis' 'who's on first' narrative could become tiresome if it wasn't so damn well done. I shall be clear. It is damn well done. I was in a tube station rehearsing a play during the Blitz. I was bombed by Stukas, which sucked, as you might surmise. I fell in love with a girl in a pub, whilst trying to figure out where and when the bloody hell I was.
Rationing!
Annoying British children!
Unexploded ordinance!
Corkers!
This is a very good book. Get Blackout first, 'cause it's a two-parter and you'll be confused if you start with this book. It is worth it.

Guest Blogger and WWEnd member, valashain, reviews science fiction and fantasy books on his blog Val's Random Comments which we featured in a previous post: Five SF/F Book Blogs Worth Reading. Val has posted many great reviews to WWEnd and this is his sixth for the GMRC. Be sure to visit his site and let him know you found him here.
---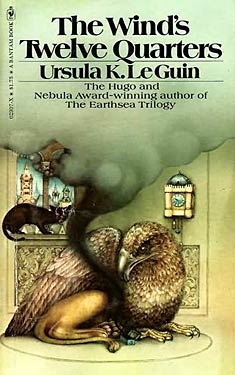 The Wind's Twelve Quarters is Ursula K. Le Guin's first collection of short fiction and was published in 1975. Quite unusual for a single author short science fiction collection, it is still in print decades after it has been first published. It is generally regarded as the strongest of her collections of short fiction. Not having read the others, I don't have an opinion on that but I did think The Wind's Twelve Quarters is a bit of a mixed bag. It contains a total of seventeen stories, presented more or less in the order they were published and cover the period between her first publication in 1962 and 1974, by which time she had published some of her best know and most critically acclaimed novels. Le Guin chose this order so the reader could experience her growth as an author. In that respect the collection certainly succeeds. The later stories are much stronger than the earlier ones. Most of the stories have a short introduction by Le Guin about the inspiration for the story and the editorial changes compared to the original magazine publications. A fair number of stories in the collection are what Le Guin calls psychomyths. These stories are hard to pin down but they are independent of setting and often have a surreal quality to them. Le Guin herself puts it like this:
…more or less surrealistic tales, which share with fantasy the quality of taking place outside any history, outside of time, in that region of the living mind which – without invoking any consideration of immortality – seems to be without spatial or temporal limits at all.

Le Guin on psychomyths – Foreword
Most of the stories that are not tied to her novels seem to fall into this category. Quite a few of the stories are linked to her novels though. There are Earthsea stories in this collection as well as stories set in the Hainish universe and even a story tied to her novel The Dispossessed (1974). The opening story, "Selmy's Necklace" (1964), is essentially the prologue of Le Guin's first novel, Roccanon's World (1966). It is set in her Hainish future history and in some ways, reminded me a lot of some of Poul Anderson's Technic Civilization stories. It is seen mostly form the point of view of a member of a less technically advanced race trying to retrieve an heirloom that that was lost decades ago. She doesn't properly comprehend the consequences of her request to be allowed to visit the aliens but to the reader the tragedy that is unfolding is quite clear. A science fiction story written in language that is more often found in fantasy. This story clearly shows why Le Guin usually doesn't make too rigorous a distinction between the two.
The second story is "April in Paris" (1962) is the earliest story in the collection and Le Guin's first sale. I can't say I liked it much. I guess you could say it is a time travel story. I thought it was pretty predictable with more than a bit wish fulfilment in it. Le Guin then moves on to a story that is also a bit predictable but conceptually more interesting. "The Masters" (1963) deals with a man who is brought up in a very strict guild like environment where things have always been done a certain way and where deviating from this way, or trying to improve upon it, is heresy. He can't resist the lure of progress though. There is another story that is thematically related to this one in the collection. "The Masters" is very dark, full of despair. Stylistically probably not the strongest piece but certainly an interesting one. "The Darkness Box" (1963), like "The Masters" is a piece that can be considered a fantasy or perhaps an early psychomyth. It's a story with a sense of inevitably about it, of pointless repetition. Not a story that makes one feel happy although one of the characters sees things differently.
"The Word of Unbinding" and "The Rule of Names" (both 1964) are Le Guin's first Earthsea stories. I haven't read any of the Earthsea novels so putting them into the perspective of the whole series is going to be a bit difficult. I think they lay the groundwork for the system of magic found in the Earthsea novels. A system that appears to be quite sophisticated judging from these few pages. The stories are uncut fantasy, the only ones in this collection. I will have to read one of the Earthsea novels to be sure but I think I prefer Le Guin's science fiction. Still, Earthsea is on the to read list.
"Winter's King" (1969) is another story tied to one of Le Guin's novels. It is set on the same planet as The Left Hand of Darkness (1969), a novel in the Hainish cycle that is also on my to read list. The version in this collection has been changed to fit the novel more closely and features the wintry world of Gethen. Le Guin plays with titles and particular pronouns to underline the androgyny or the inhabitants. The story itself is one of mind control and a King struggling to do what is best for the kingdom. It certainly makes me curious about the novel. Gethen seems like an intriguing place and the way gender appears to play no role in society opens up all kinds of interesting possibilities. Something that struck me about this story is how, like in "Selmy's Necklace", Le Guin presents a technologically less advanced society in a science fiction story. Some readers would say there is a hint of fantasy in this story.
"The Good Trip" (1970) is a story that is probably contemporary. As the title suggests it is about drug use among other things. The trip makes it quite a strange story full of weird cognitive leaps and odd situations. Le Guin didn't seem to be opposed to people experimenting with LSD at the time, which was no doubt frowned upon. She does mention in the introduction that she feels that "people who expand their consciousness by living instead of taking chemicals usually come back with much more interesting reports of where they've been." Now there is a bit of wisdom for you.
"Nine Lives" (1969) is one of the longer pieces of the collection and is a classic science fiction story. One that explores the possibilities of a new technology, in this case cloning. Le Guin studies the bond between genetically identical individuals, who shared most of their formative years and education and have been brought up to function as a team. The idea is disturbing on many levels. These people are a product, designed to outperform ordinary humans but also to be so self sufficient that without each other, they'd be lost. In a way, it is a barrier to get ideas of their own, which of course Le Guin can't help but challenge. As with the best science fiction stories, this one contains plenty of food for thought.
The next story, "Things" (1970) is another psychomyth. I guess you could say it is about a man who has to take the last leap. It is beautifully written but personally I think it doesn't quite take that many words to convey the message. Le Guin creates quite an elaborate setting. One which could have been explored in more detail, but Le Guin takes the story in another direction and much of the setting ends up being only marginally relevant to the story. This one was a miss for me. The collection continues with "A Trip to the Head" (also 1970). All I have to say about this, is that it went right over my head. I guess Le Guin's writing is too intelligent for me sometimes.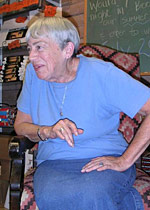 What follows is the story with the most beautiful title in the collection. "Vaster Than Empires and More Slow" (1970) is a story in the Hainish Cycle, covering the lonely journey of a ship of explorers. Given the nature space travel at relativistic speeds, they give up everything they've known to go on this journey. Something not everybody is willing to do. The crew consists of misfits, people who have nothing to loose and the occasional completely dysfunctional character. A recipe for trouble and indeed, the first planet they survey, puts them to the test. This again is pretty straight forward science fiction, with perhaps a touch of horror. Or suspense if you will. I liked it a lot but it is not outstanding.
"The Stars Below" (1973) explores in a bit more depth, one of the themes we also encountered in "The Masters". Scientific curiosity clashes with custom or religion and ends in violence. Where "The Masters" deals with the event itself, this story shows us the aftermath. An astronomer who's instruments were destroyed hiding in an abandoned mine from his tormentors. It is a tragedy, even when he finds something to replace his interest in the stars. A moving story. I thought it was one of the better ones in the collection.
The collection continues with another science fiction story that is unrelated to a novel. "The Fields of Vision" (1973) about a group of astronauts who discover a strange city, for lack of a better word, on Mars that messes with their perceptions. One of them does not survive the trip back, the other two have lasting problems with their sense of hearing and sight. Their adjustment to this situation takes very different routes. I liked how Le Guin linked our perceptions with religious experiences in this story, and how much our brain relies on what our senses tell us. Most people trust what their senses tell them without question. In this story the characters know the input they are receiving is somehow changed. The author depicts this as quite a scary experience.
The next story is a very short, to the point science fiction story in which the main character is a tree. "Direction of the Road" (1974) is a highlight in the collection for me, a brilliant little story about relativity. It would spoil the story to say anything about the plot but it is such a strange reversal of how we think the world works, that I just had to read this story again right after I finished it. If I had to pick a favourite, this story might well be it.
For "The Ones Who Walk Away from Omelas" (1974), Le Guin received a Hugo Award as well as a nomination for the Locus Award. It is another psychomyth, perhaps the one closest to the loose definition Le Guin put in the foreword to this collection. The story is very abstract in a way, no details on the setting (the author basically tells us to imagine our own), or characters are given. The story revolves around a scapegoat, one who is necessary to keep the rest of society happy. Once again a disturbing thought. One, as the story points out, not everybody can live with.
The final story of the collection is also one of the strongest ones. "The Day Before the Revolution" (1974) won a Nebula and a Locus award and was nominated for a Hugo. The story is tied to the novel The Dispossessed, a novel that I still consider to be one of the best in science fiction. It's main character is Odo, who is a historical figure in the novel, the inspiration for the anarchistic society on Anarres. She may be honoured after her death but the life of a revolutionary is not easy. The story shows us an ageing Odo, full of grief and a premonition of death. The subtitle of The Dispossessed is An Ambiguous Utopia and this story is another expression of it. Odo achieved a lot but at a high price. I love the final paragraph of this story. As far as I am concerned, it should have won that Hugo too.
The Wind's Twelve Quarters ends on a high, that is for sure. Some of the stories in this collection are no doubt among the best Le Guin as produced. All things considered, it isn't one of those very rare collections that manage a consistently high quality though. It is a collection that shows Le Guin's style, themes and development as a writer however. With links to her most important works and some award winning stories, perhaps it is not so strange this collection has been in print for more than three decades. I would not recommend someone with an interest in Le Guin's work to start here, it is probably better to have read a few novels first, but for the real fan it is definitely a must read.

Jeremy Frantz (jfrantz) reviews SF/F books on his blog The Hugo Endurance Project where he has given himself just 64 weeks to read every Hugo Award winner. This is his fourth GMRC review.
---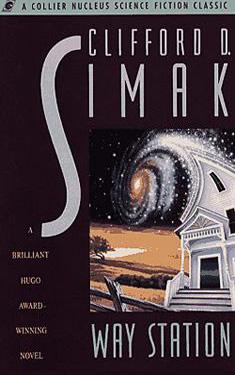 As Way Station begins, we learn that the CIA has been monitoring Enoch Wallace for many years. He has committed no crime; he is no threat to national security. Instead they're concerned because he is nearly 125 years old. He fought in the Civil War at the Battle of Gettysburg and no one can explain his elongated years, nor do his neighbors care to figure it out. What they find when they start to investigate his property more closely is alarming to say the least.
Turning a Phrase
Way station is a welcome respite from the pace and paleness of many of the other early Hugo winners. The way that Simak could create a sense of place and fill it in with the kind of details that stick with you, was something completely different than the other winners up to this point. Imagine you visited the same valley every summer, then one year you don't make it until autumn and you see all the colors of the leaves and smell the crisp air and it is an entirely new place. That was exactly my experience with Way Station. Well…not literally, but so much SF lures you in with incredible science and fantastic spaceships or intergalactic warfare and just generally assaults the senses into shock and awe. Simak invites you in, pours you tea and introduces you to a character-led story that is both relaxing and as gripping as any high-flying SF.
I may have complained before that some, especially Zelazny, like to throw their readers into the middle of a story and let them catch up in their own time, likely many pages in. Simak eases you into a world which is every bit as strange, but helps you to feel so much a part of it you can't help being interested from the very first page. Of course both styles are absolutely respectable methods for beginning a tale, but in this case, Simak introduces his characters with a grace and thoughtfulness that rivals any of the best literature (mainstream or genre). Just have a taste or two:
The noise was ended now. The smoke drifted like thin, gray wisps of fog above the tortured earth and the shattered fences and peach trees that had been whittled into toothpicks by the cannon fire. For a moment silence, if not peace, fell upon those few square miles of ground where just a while before men had screamed and torn at one another in the frenzy of old hate and had contended in an ancient striving and then had fallen apart, exhausted.

…

There were proud names that were the prouder now, but now no more than names to echo down the ages—the Iron Brigade, the 5th New Hampshire, the 1st Minnesota, the 2nd Massachusets, the 16th Maine.

And there was Enoch Wallace.

He still held the shattered musket and there were blisters on his hands. His face was smudged with powder. His shoes were caked with dust and blood.

He was still alive.

Chapter 1

"His name," said Lewis, "is Enoch Wallace. Chronologically, his is one hundred and twenty-four years old. He was born on a farm a few miles from the town of Millville in Wisconsin, April 22, 1840, and he is the only child of Jedediah and Amanda Wallace. He enlisted among the first of them when Abe Lincoln called for volunteers. He was with the Iron Brigade, which was virtually wiped out at Gettysburg in 1863."

Chapter 2
You could see the smoke right? Smell the gunpowder and just picture yourself among the peach trees? I know I could. And if that wasn't enough to make you want to dive head first into Way Station, then he begins Chapter 2 with that second gem. Come on—that's just too much fun!
Building a Universe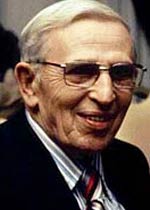 Amidst those beautiful descriptors exists some pretty loosey-goosey scientific descriptions and alien creatures. Simak was nowhere afraid to dismiss laws of physics or explanations of some of the underpinnings of the universe. In contrast to such precision in his storytelling elsewhere, is that a bad thing?
My first thought is that this would normally detract somewhat from any story. Certainly people always notice, and many are bothered, when some anachronistic bit of science or defunct company name pulls you out of the story. When alien technology is so foreign and unexplainable, or when something is so glaringly ridiculous, it can interrupt a story just as much as the worst anachronism.
This is exactly the kind of thing that happens in Way Station. What's that—an amorphous blob in a tank, clicking at Enoch to leave him alone? How does that work? Not sure, but let's not think about it too much and just move on. How about the suggestion to make everyone in the world too stupid to understand technology? Well, practically everything we use is some kind of technology and that so much of the meaning of our existence comes from our interaction with technology (so says Heidegger anyway) so I'm not sure exactly how that might work.
But you know what? Those "problems" are also what make this book wicked cool! Super-freakazoid aliens and wacky theoretical science are pretty rad in themselves and Simak, finds a way to make it rad-er! In Enoch's universe, it is precisely the unintelligibility that contributes to his feeling of loneliness, hopelessness and on-again off-again pessimistic view of humanity. I mean, what could have had me questioning the story so much that it could have been difficult to read, actually ended up propelling the story and contributed to the feeling of dis-ease about the world. Yeah, that's bad…Michael Jackson bad.
Recommendation
If the Clifford D. Simak Estate were looking to pay someone to just read and re-read this book over and over forever…I'd do it. No lie. I can't say enough good things about this novel. It reads like literature, poetry sometimes, and sounds like SF. There are crazy aliens, sweet space travel, an awesome house, beautiful landscapes, complex personalities and despair at the human condition. Is there really anything more you could ask for?

Sarah Pinsker (SarahPi) writes songs and short stories and the occasional review. She will be making use of her blog at sarahpinsker.com again sometime in the near future. This is Sarah's first GMRC review.
---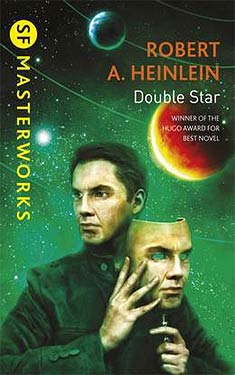 A couple of years ago I attended an event at which Connie Willis spoke about her research for Blackout and All Clear. She referenced numerous romantic comedies and several war movies in addition to her factual historic research. I don't recall that she brought up many works of fiction, but Double Star was one of them, and it stuck in my mind as something I wanted to read. Between the Hugo win and the subject matter, I thought it would be worth a try.

Willis said that Double Star was inspired by the story of M. E. Clifton James, who was sent to North Africa and Gibraltar in Field Marshal Montgomery's place in order to confuse the Germans. She borrowed these events in her own depiction of the intelligence war. Heinlein's version is less madcap than the Willis version, and possibly less madcap than the true story, given that James was an alcoholic and a smoker (and was missing a finger!) and Montgomery was not.

Double Star is fast paced and somehow manages a light tone despite the serious subject matter. The Great Lorenzo (nee Lawrence Smith) is an out of work actor when he is plucked out of a bar to perform the role of a lifetime: impersonating the kidnapped Expansionist leader John Joseph Bonforte. At the beginning, the actor's character is painted somewhat broadly. He spends a lot of time talking about his own acting chops, and it takes the reader a while to trust that he is actually as good as he says. This journey mimics that of Bonforte's inner circle, who agree to the deception out of desperation, but have little confidence that it will work.

Most of this shortish novel takes place over the span of a few weeks. It manages to flesh out the political situation fairly quickly, and with enough depth that there is a sense of what is at stake in the impersonation gambit. The character development of the support players is a little lacking, but Smith is fully realized, as is Bonforte in a more oblique fashion. It's interesting to see Smith's own fears and prejudice and strong personality twist to conform with the role he is forced to play.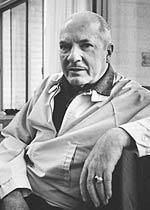 On the whole, I think this book has aged well, but as usual with mid-century SF I had some issues with the characterization of women. Smith learned his profession from his father, but doesn't seem to have had a mother to speak of. Bonforte's assistant, Penny, is intelligent, but also moody and petulant and subject to fainting spells. She is also deep in unrequited love for Bonforte. Thankfully, she is only threatened with a spanking once by a co-worker. If it had been twice I would have been tempted to put the book down.
I'm glad I didn't put it down. I was impressed by the taut plotting and the contained timeline. I'd be very curious to find out where the breaks were in the original Astounding serialization. The will-he-be-found-out moments dripped with suspense, and Smith's personal journey was well depicted. This is a worthy Hugo winner, and I'd place it near the top of my personal best-of-Heinlein list.

On his blog Stainless Steel Droppings blogger Carl V. Anderson reviews SF/F books and movies, conducts author interviews and even hosts his own reading challenge: The 2012 Science Fiction Experience. This is Carl's third GMRC review.
---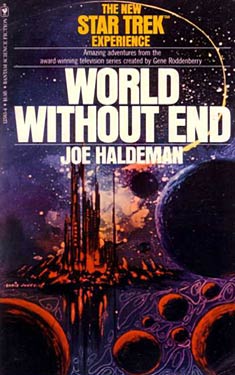 After a month of benchmark tests Captain James T. Kirk is bored. He laments the lack of "action", something the crew silently disagrees with. As things are wont to happen in the Star Trek universe, Kirk soon gets the action he seeks in the form of the discovery of an ancient generation ship, a Bussard ramjet-powered vessel in the shape of a large planet. Scans indicate that roughly a million lifeforms live within this spherical planet that has been traveling for roughly 3,000 years. The Enterprise crew also discovers that the ship is in its braking phase and will eventually end up in a location that could not have originally been planned, for it will cost everyone on board their lives. So what is a Federation crew to do? Why beam down into the planet, of course!
After a test to ensure that the transporters will function properly, Captain Kirk, Dr. Leonard "Bones" McCoy, and a small team beam inside the planet only to discover that the metal which encases this ship will not allow them to beam out. With the use of their language translator they soon make contact with the natives, a roughly humanoid species that can fly thanks to membranous wings. This race, the Chatalia, have no knowledge that they are inside any kind of ship, label Kirk and crew as 'magicians' and 'blasphemers', and take them captive. Circumstances mount upon circumstances and the crew within this world as well as those remaining in the Enterprise soon find themselves in a race against time for their very survival. For the Chatalia have met beings like humans before, beings arrived in violence and murdered many Chatalia before finally being subdued. And it just so happens that the Federation crew is very familiar with the people the Chatalia believe them to be a part of… the Klingon Empire.
Throughout the novel there is evidence of Haldeman's strengths as an author. First off he wastes no time "introducing" these characters. By 1979 the cast of the original Star Trek series were well known to the fans. Instead he reveals his solid knowledge of who these characters are by their actions and dialogue which are spot on, especially for Kirk, Spock and McCoy. One of the treats of the original series is the banter between Spock and McCoy and here it is done to perfection. The humor is wry and present in just the right measure to entertain without any degree of overkill. Haldeman avoids many of the things that are now cliche in Star Trek stories, including the inevitable demise of any "redshirt" crew members. Much of the focus is on the caste system of the Chatalian peoples, including a very interesting custom in which members of different classes speak different languages and only communicate with other classes by means of an interpreter. Haldeman builds a complex world system, works in ideas of cloning and advanced intelligence, and throws in a measure of "science".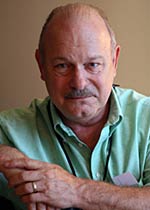 Where the novel stumbles is in its attempt to do too much in too little space, something that I actually give Haldeman credit for trying to pull off. In the end the length of the novel (148 pages) inhibits some of the storytelling because situations have to be resolved quickly. In that respect it actually has some of the same structural flaws as trying to fit a complex adventure into an hour television block (less when factoring in commercials). That does not keep the novel from being entertaining. Three simultaneous storylines: the crew in the planet, the crew on the Enterprise, and a crew of Klingon warriors make for an exciting story, coupled with Haldeman's skill in rendering characters that are beloved to many make for a novel worth reading.
To summarize: In this, Haldeman's second Star Trek novel, he demonstrates a deft touch in capturing the essence of these characters while crafting an adventure more complex than what Roddenberry and company could manage in a one hour television show. The novel stumbles at times, mostly due to the attempt to combine intricacy in plot and brevity in novel length, but overall it is an entertaining volume in the lore of Captain Kirk and the starship Enterprise.
Rhonda Knight is a frequent contributor to WWEnd through her many reviews and her excellent blog series Automata 101 and Outside the Norm.
---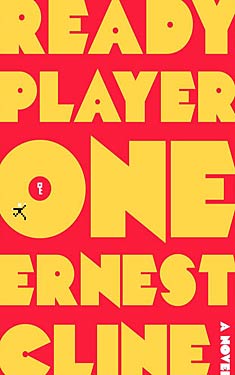 I love the 80s and not just on VH1
Ready Player One is a fantastic book that finds a way to do something really interesting with nostalgia. The setting is the bleak future, a time of gas shortages, which have led to the collapse of suburbia. In 2044 the slums have become "stacks," trailer parks with trailers stacked twenty or thirty high. The cities grow upward because the lack of gas means they cannot grow out. The only leisure activity in this new landscape is a virtual world called the OASIS, "a sprawling virtual utopia that lets you be anything you want to be, a place where you can live and play and fall in love on any of ten thousand planets" (from the blurb). Membership for OASIS is free, all one needs is a computer, a visor and haptic gloves, all of which seem to be affordable in this world. Much of this virtual society is free for anyone to use and enjoy; however, real money equals virtual credits, which allows the rich to travel far and wide in OASIS, build homes and purchase all of the virtual creature "comforts," including weapons, armor and space ships. The poor, however, can use the virtual equivalent of mass transportation to participate in all sorts of free experiences and adventures and enjoy themselves as well. This world seems to be the SIMs plus Second Life plus World of Warcraft.
The protagonist Wade Watts is an orphan living in the stacks with an aunt who only values him for the extra food vouchers his presence brings. He lives with her and thirteen other occupants in a double-wide trailer near the top of their stack. Like most teenaged boys, Wade has found himself a hideout, a hidden van, long abandoned by its owner, that he uses to avoid his home life. He only enters the trailer when the weather is too cold for him to stay in the van. While Wade lives a life of poverty, he is able to receive a good education via the OASIS public school system. Wade's avatar attends one of the thousands of identical schools on the virtual planet Ludus. He takes classes lead by teacher avatars who are able to use the educational power of the virtual worlds to take the students on field trips anywhere in time or space.
Wade is sure he is destined to be one of the many unemployed when he graduates high school. Then, the creator of OASIS, James Halliday, dies, and his avatar, Anorak, announces that his billions will be won by the person who can complete his contest, quickly dubbed the Hunt (i.e., the hunt for the Easter Eggs Halliday built into the OASIS programming). The clues and puzzles are scattered throughout this virtual world. Wade, along with every other person in the world, sees this as his opportunity to escape poverty. The catch is that Halliday was a teenager in the 1980s and for his whole life has been a collector of 1980s movies, music, TV shows and games. His love for pop culture continued throughout the 20th century. The Hunt will test the gunters' skill in trivia and gaming–gunters, a portmanteau word for egg hunter. A good clue to gunter culture comes through their recommended reading list: "Douglas Adams, Kurt Vonnegut, Neal Stephenson, Richard K. Morgan, Stephen King, Orson Scott Card, Terry Pratchett, Terry Brooks, Bester, Bradbury, Haldeman, Heinlein, Tolkien, Vance, Gibson, Gaiman, Sterling, Moorcock, Scalzi, Zelazny" (62).
In the opening of Ready Player One, the Hunt has been going on for five years, and not one aspirant has scored a point on the big scoreboard; Wade is 18 years old and has spent the past five years immersing himself in the 1980s: "That was what saved me, I think. Suddenly I'd found something worth doing. A dream worth chasing. For the last five years, the Hunt had given me a goal and a purpose. A quest to fulfill. A reason to get up in the morning" (19). He can manage high scores in video games like Joust and Donkey Kong, and he knows all the dialogue of Back to the Future and all the 80s "classics." Wade, in the form of his OASIS avavtar, Parzival, has a virtual best-friend, Aech, and a virtual crush on a gunter blogger, Art3mis. He hangs out in Aech's Basement, a chatroom "programmed… to look like a large suburban rec room…. Old movie and comic book posters covered the wood-paneled walls. A vintage RCA television stood in the center of the room, hooked up to a Betamax VCR, a LaserDisc player, and several vintage videogame consoles" (37). Here Aech and Parzival argue about which movie is better, Legend, Labyrinth or Ladyhawke and other issues that should've left social conversations before their parents were born.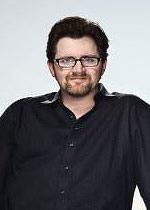 Wade finally figures out Halliday's first clue one day in Latin class, locates the first Easter Egg, and beats the first Boss. Within a day, Parzival is famous. The name tops the scoreboard, and he has made some real money endorsing gunter products as Parzival (without him giving out his real identity.) Of course, there's an evil empire that wants to force him to reveal the first location—this is really just a quest myth after all, so there has to be an evil empire. In the first part of the book, almost all the action takes place in the virtual world with Wade holed up in his hideout and Parzival participating in the Hunt. In the latter part, Wade is under threat so there's more of a mixture of real world and virtual action. I don't really read cyberpunk, so I found it interesting that I was so enthralled by a book in which the protagonist is sitting in a room for its majority.
Admittedly, I am in the correct age demographic to get all of Ernest Cline's 80s references, and although I did not play all of the video games that litter its pages, I spent enough time in arcades to understand the lifestyle that Parzival emulates in his cyberworld. There's a two-page riff that Wade does describing his self-education, in which he "learned the name of every goddamn Gobot and Transformer" (63) that is absolutely hilarious to anyone who grew up in the 80s. As Parzival goes about his business in the OASIS, Cline provides Wade with lines and an interior dialogue straight from movies (often unidentified). The one that made me laugh out loud is Wade's spoken pass phrase that enables him to login to OASIS: "You have been recruited by the Star League to defend the frontier against Xur and the Ko-Dan armada" (26). This book offers some interesting parallels to The Last Starfighter, which makes this reference all the more fun.
Cline's book is a very successful attempt to translate a video game to a written form. Anyone who has played NES games like the Zelda series will recognize all the beats of Parzival's quest. And those of us who have some 80s knowledge try to figure out the clues before he does (I never did, which made me like this book all the more fun). It is no secret at this point in my review that I loved this book. In fact, writing this review is making me want to read it again, but I'm going to resist… for a while. However, one of the messages of this book is that it's no shame to geek out over the pop culture we love. After all, Wade watched Monty Python and the Holy Grail 157 times.

Guest Blogger and WWEnd Member, Charles Dee Mitchell, has contributed a great many book reviews to WWEnd including his blog series Philip K. Dickathon and The Horror! The Horror! He can also be found on his own blog www.potatoweather.blogspot.com. This is Dee's third GMRC review in our blog.
---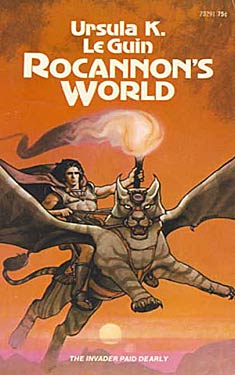 Rocannon's World is Ursula K. LeGuin's first published novel and is the first of her novels I have read. I've always thought that if I read Le Guin I would read The Left Hand of Darkness, since it was the big prize winner and the one everyone read back in the 1970′s, during the years after it first appeared and Le Guin's reputation was on the rise. But I was not reading SF at that time, so I had only minimal interest, and, even worse, the novel always came with the dreaded recommendation, "No, even if you don't like science fiction you are going to love this book." So I never read anything and only now, with both a renewed interest in SF and a self-directed tour through those writers who have earned Grand Master Status from the Science Fiction Writers of America, am I discovering the pleasures of her prose and storytelling.
Having decided to dive in, I headed straight for Left Hand but saw that it was the fifth novel in something called The Hainish Cycle. I like to start at the beginning, and in the Le Guin omnibus edition I got from the library, Rocannon's World was a tempting ninety pages long. I didn't know until after I finished and enjoyed it that in fact there are two chronologies to the Hainish Cycle, the order written and the order in which the stories occur. I could have started anywhere, since in some cases a millennium passes between narratives, but I still like the idea to seeing how Le Guin's writing and sense of her future world develops in the real time of her composition.
Ninety pages, but since I was reading a bargain omnibus edition they were longish pages. Rocannon is still a short novel, only 144 pages in its PB editions. But in those few pages, and in her first novel, Le Guin creates an small-scale epic, both a classic quest tale and a story that spans several generations.
On the planet Formalhaut II, as the advanced space lords refer to the novel's local, the culture is medieval and, unusual for all the inhabited worlds they investigate, there are multiple HILF's, Highly Intelligent Life Forms. In the prologue, Semley, child of an ancient family wedded to the Lord of Hallam, endures the fallen estate of her family — good name but short of wealth. In a culture where display of wealth assures rank she sets out to retrieve a magnificent jewel that has somehow left the family treasure and been traded back to the Clay People who mined it. Within the first dozen pages, Semley has left her home, recruited the aid of the charming Kirien people and journeyed to the altogether less engaging caves of the Clay People. That this journey is made on large flying cats is likely to be the first narrative hurdle for readers who like their SF harder than softer. The hints of hard SF occur when the Clay People enter the action. Grungy and unappealing as they are, they live in underground cavern's equipped with electric light and railways.
When Star Lords investigate new planets with multiple HILF's they choose a species most likely to accept the technological head starts that will prepare them to join the League of all Planets. The Clay People have won out on Formalhaut II. They even have a space ship, into which they bundle Semley for transport to the planet where her jewel now rests in a museum of interplanetary artifacts. There she catches the eye of Rocannon, an anthropologist employed by the League, and he easily arranges for the return of the jewel. (This was written in 1966, and I wonder when the controversies over the return of imperialist plunder from European museums began to take shape.)
Upon return to Formalhaut II, Semley understands the consequences of her journey. In Le Guin's universe, FTL travel is only possible in unmanned spacecraft. Although Semley feels her trip has taken no more than a year, she returns to a home where her husband and mother-in-law have been dead for a decade and her children are grown. Her courageous and adventurous journey has secured her nothing more than a long, solitary life.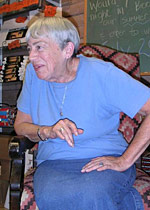 That took me almost as long to tell as it does Le Guin, but it sets up the story of Rocannon's establishment decades later of a base of Formalhaut II. We learn of this base only as it is destroyed, along with Rocannon's survey team and all the work they have done. The universe is in a constant state of war preparedness, but this attack seems to have been sabotage, the first signs of divisions within The League of All Planets. Rocannon, unable to communicate with his own people, learns from satellite surveys that the enemy has established a base in the still unexplored Southern Continent. He puts together his own plucky crew of various species and it is back onto the flying cats.
This is a quest adventure, that without Rocannon's, or more properly, Le Guin's eye for anthropological detail and interesting world building, would slide into adventure fantasy of a most ordinary sort. But the swiftness of her writing, the predicaments she creates for her believable multi-species characters, and also her willingness to kill off so many protagonists kept me wrapped up in a narrative that seemed much larger than its ninety pages. Before his departure, an aging Semley gives Rocannon her precious jewel, should he need it along the way. And so this absurd, medieval artifact remains as crucial to the story as the special body suit Rocannon has on hand that although it makes him appear naked allows him to survive fire and torture.
When men like Rocannon join the star service, they know they are abandoning anything resembling a normal life of family or human contact. They may age slowly and inexorably as they poke about the universe, but centuries will pass on earth. Although contacts with home can be accomplished with a device capable of instantaneous communication across 120 light years, they have volunteered to become exiles in the name of science. It's the respect Le Guin feels for their choices and the fundamental loneliness of their existence that give the novel its emotional depth. And I liked the flying cats.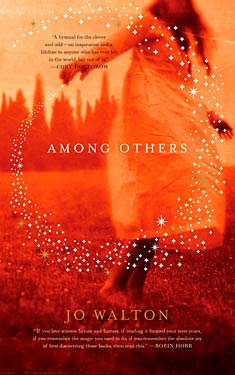 The 2011 Nebula Award winners were announced last night at the Forty-Seventh Nebula Awards Weekend ceremony in Arlington, Virginia. The winner for best novel is:
The other nominees in the novel category were:
See the complete list of winners in all categories on Locus Online.
Congrats to Jo Walton and all the nominees! What do you think of this result? Among Others is flying high with this win and still has 3 other nominations in the works. With 16 WWEnder ratings so far, it's averaging 4 stars so you might want to check it out for yourself.
Rhonda Knight is an Associate Professor of English at Coker College in Hartsville, SC. She teaches Medieval and Renaissance literature as well as composition courses. When she looked over last year's reading list, she was shocked to see that only 17% of the authors she read were women. This blog will record her attempts to read authors that are generally considered out of the science fiction norm: women, persons of color, and non-U.S. and non-U.K. authors.
---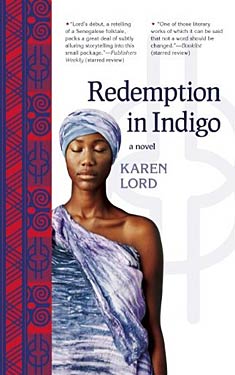 Nalo Hopkinson calls Karen Lord's Redemption in Indigo "[t]he impish love child of Tutuola and Garcia Marquez." I have never read Tutuola, but I immediately understood Hopkinson's comment when I started reading the book and thought it was a mixture of Laura Esquivel's Like Water for Chocolate and Chinua Achebe's Things Fall Apart. So, no matter what authors or book the readers use for their analogies, the most compelling feature of Redemption in Indigo is its ability to mix New World magical realism with Old African folktales, in her case the world of Barbados and its undying spirits, the djombi, with the Senegalese folktales of Anansi, the spider trickster god.
The book begins by setting up the narrative as a tale told by a storyteller: an "I" who is talking to a group of "yous," of which the reader is one. The story playfully ends with the storyteller's solicitations:
"it is terribly dry and thirsty work, speaking these lives into the dusty air of the court, speaking for you to hear and ponder and judge. Perhaps, if you would be so kind as to contribute, I could purchase some refreshments now, find a place to rest my head later, and return to you on the morrow with my voice and memory and strength restored. Please, ladies and gentlemen, if you have at all enjoyed my story, be generous as the pot goes around, and do come back again soon." (182)
He similarly begins the epilogue by telling us that he has been "authorised" to tell us more. This narrative method enhances the folktale elements because it provides an inventive way to fill in cultural background for readers who probably aren't familiar with the ways of the greater and lesser djombi and the other supernatural beings they encounter.
Our storyteller begins with the story of Paama, who's left her husband, Ansige, and returned with her family to her village. Paama leaves her husband because of his gluttony. He was "not an epicure, but a gourmand," his every thought and action controlled by his desire for food and his only worry about his next meal (7). When Ansige finally arrives at the village to beg her to return to him, his exploits demonstrate his origin in East African folktale characters. His gluttony gets him into all kinds of trouble from which Paama has to rescue him. However, Paama has bigger problems than her husband. Before Ansige even arrives at her village, two djombi have decided to steal Chaos from another djombi and give it to Paama, which will give her immense power. Just as Paama starts to understand her unwanted power, the indigo djombi, the original wielder of Chaos, has tracked his power to her village.
The relationships Lord forges between the supernatural beings and humanity elevate the plot beyond the typical tale of a heroine who must fight to save her people and their way of life. The supernatural beings are complex characters who are dissatisfied with the way their identities often limit their roles. The storyteller speaks about the indigo djombi:
The djombi are like the human creatures they meddle with, apt either to great evil or great good, and sometimes they switch sides.

This one was the unknown danger. He had switched sides. He had started with benevolence, with the belief that there is the fine potential in humankind waiting only to be tapped. He now viewed the whole stinking breed as a pest and a plague. (58)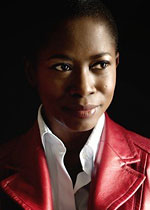 As a symbol of his change from benevolent to malignant, the djombi changes his color to indigo, "a stark and utter setting apart that provoked as much of horror as of awe" (59). Another supernatural being, the Trickster, who usually appears in the form of a spider, changes in the opposite direction. He began "delighting in the frailties of humans and exploiting those weaknesses for his own entertainment" but became bored with "playing the same old practical jokes" (102). After a while he started "turning people to situations of mutual benefit rather than merely gratifying his own sense of the ridiculous" (102). The pleasure in this novel is observing these beings as they learn about their omnipotence and start to interact with Paama and her community in a meaningful way. The ending, while somewhat predictable, gives the readers the happy endings and the redemptions that the title tells them to expect.
Because Karen Lord explores these big ideas of omnipotence and redemption in a Caribbean setting, her book has garnered attention outside the F/SF community. It won the 2008 Frank Collymore Award, given to an unpublished Barbadian work. It was also nominated for the 2011 Bocas Prize for Caribbean Literature. Back in the F/SF world, the book was a finalist for the World Fantasy Award and won the 2011 Mythopoetic Award and the 2011 Crawford Award for the best fantasy novel by a new writer. For more on its awards, see Karen Lord's interview with Chesya Burke.
The adjective that comes to mind when I think about Redemption in Indigo is fresh. The story has recognizable elements–heroes, gods meddling with the affairs with humans, mythological characters and folktales–but Lord uses these elements in unexpected ways, except for the ending, which is satisfying in its predictability. Her style of fantasy is smart, inventive, and innovative. I look forward to Lord's next book.