The good folks at Pyr recently sent us three fantastic looking books from their new Young Adult line. These are first run hardback editions from some exciting new authors and we're putting them up for grabs. How can you get your mits on 'em? Simple, retweet, share or comment.
We've recently expanded our presence on Facebook and Twitter, and we're eager to get the word out, so here's how we're going to do this. To enter the drawing, just retweet this tweet or share this Facebook post on your wall. We know not all of you are on social media, so you can also enter by commenting on this post. If you do all three, then you'll triple your chances of winning.
We'll randomly draw three names from all the entries. The first person will get their choice of the 3 books, the second will choose from the 2 remaining and the third will get the last available book. We'll even throw in a set of our 2011 Hugo bookmarks. The drawing will be held on the 14th and is open to all – even our friends over the pond.
Be sure to include the name of the book you'd like to win in your entry.
---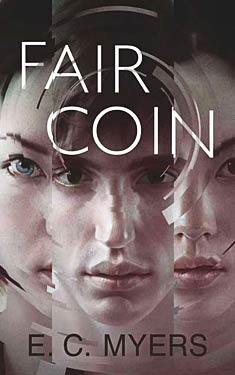 Fair Coin
E. C. Myers
Ephraim is horrified when he comes home from school one day to find his mother unconscious at the kitchen table, clutching a bottle of pills. Even more disturbing than her suicide attempt is the reason for it: the dead boy she identified at the hospital that afternoon-a boy who looks exactly like him.
While examining his dead double's belongings, Ephraim discovers a strange coin that makes his wishes come true each time he flips it. Before long, he's wished his alcoholic mother into a model parent, and the girl he's liked since second grade suddenly notices him. But Ephraim soon realizes that the coin comes with consequences-several wishes go disastrously wrong, his best friend Nathan becomes obsessed with the coin, and the world begins to change in unexpected ways.
As Ephraim learns the coin's secrets and how to control its power, he must find a way to keep it from Nathan and return to the world he remembers.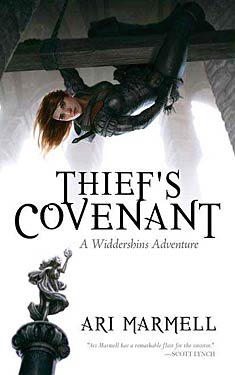 Thief's Covenant
Ari Marmell
Once she was Adrienne Satti. An orphan of Davillon, she had somehow escaped destitution and climbed to the ranks of the city's aristocracy in a rags-to-riches story straight from an ancient fairy tale. Until one horrid night, when a conspiracy of forces-human and other-stole it all away in a flurry of blood and murder.
Today she is Widdershins, a thief making her way through Davillon's underbelly with a sharp blade, a sharper wit, and the mystical aid of Olgun, a foreign god with no other worshippers but Widdershins herself. It's not a great life, certainly nothing compared to the one she once had, but it's hers.
But now, in the midst of Davillon's political turmoil, an array of hands are once again rising up against her, prepared to tear down all that she's built. The City Guard wants her in prison. Members of her own Guild want her dead. And something horrid, something dark, something ancient is reaching out for her, a past that refuses to let her go. Widdershins and Olgun are going to find answers, and justice, for what happened to her-but only if those who almost destroyed her in those years gone by don't finish the job first.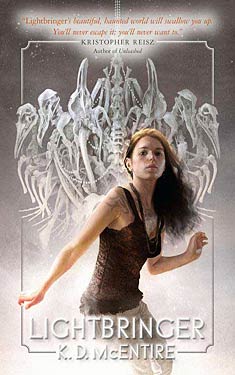 Lightbringer
K. D. McEntire
Wendy has the ability to see souls that have not moved on-but she does not seek them out. They seek her. They yearn for her . . . or what she can do for them. Without Wendy's powers, the Lost, the souls that have died unnaturally young, are doomed to wander in the never forever, and Wendy knows she is the only one who can set them free by sending them into the light. Each soul costs Wendy, delivering too many souls would be deadly, and yet she is driven to patrol, dropping everyone in her life but her best friend, Eddie-who wants to be more than friends-until she meets Piotr.
Piotr, the first Rider and guardian of the Lost, whose memory of his decades in the never, a world that the living never see, has faded away. With his old-fashioned charms, and haunted kindness, he understands Wendy in ways no one living ever could, yet Wendy is hiding that she can do more than exist in the never. Wendy is falling for a boy who she may have to send into the light.
But there are darker forces looking for the Lost. Trying to regain the youth and power that the Lost possess, the dark ones feed on the Lost and only Wendy and Piotr can save them-but at what cost?