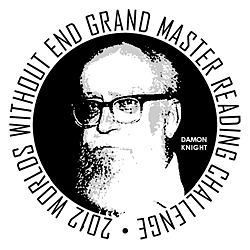 The people have spoken and the May GMRC Review Poll winner is Jeremy Frantz (jfrantz) for his excellent review of Way Station by Clifford D. Simak. Jeremy is a huge WWEnd supporter and has posted many fine reviews both here and on his blog The Hugo Endurance Project. Take a minute to click over and bookmark his site. He's got lots of great SF/F for you to enjoy.
Jeremy will receive a GMRC T-shirt, a GMRC button and a set of commemorative WWEnd Hugo Award bookmarks as well as his choice of books from the WWEnd bookshelf and the Everlasting Glory he's been seeking. All runners up will be getting a button and a set of bookmarks in the mail.
Continuing with our streak, we've now had 5 different winners in 5 months so jump in with your own review – there are more prizes to be won and plenty of time for June. You could be our next winner!
We're happy to report that, after 5 months, the Grand Master Reading Challenge is still going strong. We jumped up 12 participants in May to 128 and went from 285 books read to a whopping 353 with an additional 27 reviews taking us to 127 total. Huzzah, indeed! So, how high can we go? Seems the sky's the limit. The GMRC is a challenge that you can easily catch up on if you miss the start. Heck, if you come in half way through you can still hit 12 books by the end of the year. Especially people who visit this site!