I love a good list. From Letterman's latest Top Ten to IMDb's Top 250 Movies to the FBI's Ten Most Wanted I can't get enough of them. Especially book lists! They fascinate and infuriate in equal parts and provide endless points for discussion and contention among fans. Especially when the list purports to be the "best of" something or other.
Genre fiction is replete with "best of" lists and based on your response to the 20 SF/F/H Lists we have here on WWEnd it seems you folks can't get enough of 'em either. No sooner do we post a new one than we start getting calls for another! I love it. There are so many out there I doubt we'll ever run out of new ones and since each list offers a different take on what's best we're perfectly happy to keep adding more.
We've added some new ones recently–including one just yesterday–that you guys asked for specifically and we wanted to let you know they're up. Enjoy!
---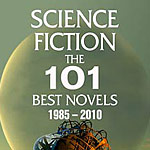 Damien Broderick and Paul Di Filippo's book list, from their new book Science Fiction: The 101 Best Novels 1985–2010, is a continuation of David Pringle's Science Fiction: The 100 Best Novels. Pringle passes the torch in a foreword to the new volume: "Having been unable to keep up with all those new SF works myself, I am delighted that Damien Broderick and Paul Di Filippo have taken it upon themselves to do the job, and I am very happy to endorse their excellent book."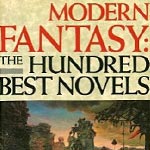 David Pringle has written several guides to science fiction and fantasy. His famous book, Science Fiction: The 100 Best Novels, is a highly regarded primer for the genre. In 1988 Pringle followed up with his Modern Fantasy: The 100 Best Novels (1946-1987). Primarily the book comprises 100 short essays on the selected works, covered in order of publication, without any ranking. It is considered an important critical summary of the field of modern fantasy literature.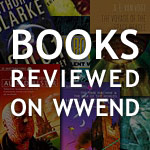 Worlds Without End has over 800 reviews of some of the best books in science fiction, fantasy and horror. These reviews have been submitted by our members and range from simple opinions ("This book sucked!") to well reasoned technical reviews of some of your favorite genre books. We've created this list so you can find all the reviewed books in one place and, if you're a logged in WWEnd member, you can use BookTrackr™ to easily find reviews for any of the books you've read.